Yemen Crisis Update: Houthi Rebels Seize Central District In Aden, Presidential Site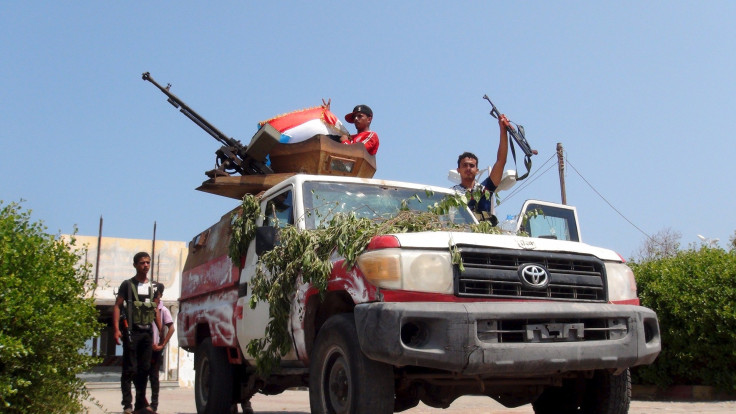 Yemen's Houthi rebels seized a central district in the southern port city of Aden on Thursday, despite weeklong airstrikes conducted by Saudi Arabia-led coalition to halt the advances of the Iran-backed Shiite militant group and return Yemen's exiled President Abed Rabbo Mansour Hadi to power.
After taking over Aden's central Crater neighborhood on Thursday, the Houthis successfully fought their way into a presidential residence. By nightfall, the rebel fighters had managed to reach the edge of Aden's port district of Mualla, Reuters reported, citing residents.
The latest reports come after Houthi forces reportedly pulled back from positions in central Aden on Thursday following airstrikes by the Saudi-led coalition. The rebels -- some of whom remained in different parts of the neighborhood -- had entered Aden's Khor Maksar district using tanks and armored vehicles a day before, the Telegraph reported.
According to residents, a Houthi position located north of Crater was targeted by three airstrikes, while a fourth was launched at the presidential residence soon after the rebels took control of it, Reuters reported.
By midday on Thursday, Aden's Crater neighborhood was reportedly in full control of the Houthis, who deployed tanks and foot patrols through the streets, which were emptied after heavy fighting in the morning.
The Houthi rebels' recent gains in Aden, which has been the last major foothold of fighters loyal to Hadi, have delivered a heavy blow against the Saudi-led coalition, suggesting that the airstrikes have had little impact on the rebels' advances.
Yemen's Foreign Minister Riad Yassin recently called for Saudi Arabia to escalate the war against the Houthis into a ground intervention. Riyadh also said that its troops have gathered along the border in preparation for a possible ground offensive. However, the Saudi authorities did not provide a specific timeline.
"I don't think they're going to do that," Reuters quoted a senior U.S. military official in Washington as saying, playing down the possibility that Saudi Arabia would send ground troops to Yemen. "I think they are arraying their forces along their border to prevent a Houthi incursion. ... They're postured defensively."
© Copyright IBTimes 2022. All rights reserved.
FOLLOW MORE IBT NEWS ON THE BELOW CHANNELS