Yemen Risks Disintegration As South Rejects Shi'ite Group's Takeover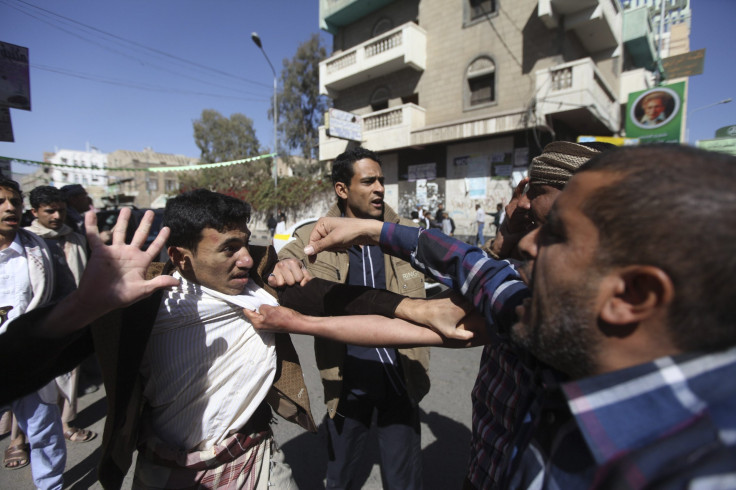 SANAA (Reuters) - No sooner had Yemeni President Abd-Rabbu Mansour Hadi announced his resignation than his country's tenuous political fabric began to disintegrate.
Provinces across a nation barely held together by a complex web of tribal and religious alliances said they would no longer take military commands from Sanaa after the Iranian-allied Shi'ite Houthi group besieged Hadi's home and palace this week.
The emerging fragmentation of the Arabian Peninsula country has sparked fears of the "Somalization" of a state which is home to a revitalized al Qaeda insurgency as well as a neighbor to top oil exporter Saudi Arabia.
For Washington, Yemen's splintering would make it hard to carry out a counter-terrorism strategy against al Qaeda plotters who have targeted it and its ally Saudi Arabia and claimed responsibility for the Jan. 7 Charlie Hebdo attacks in Paris.
Through Hadi, a supporter of U.S. drone strikes on al Qaeda, Yemen was a top U.S. ally in the Washington's fight against islamist militancy.
For Yemen's neighbors, especially Saudi Arabia, the rise of the Mouths resembles yet another fallen domino in capitals where allies of regional rival Iran have risen to power - including Damascus, Beirut and Baghdad.
The Houthi fighters, a guerrilla force drawn from a Shi'ite minority that ruled a thousand-year kingdom in Yemen's highlands until 1962, first seized the capital Sanaa in September.
They managed to coexist with Hadi until last week, when fighters crushed the president's guards and deployed outside his home. Although Hadi signed a deal acceding to many of the Mouths' demands, that attempt to defuse the crisis failed and he unexpectedly resigned soon afterwards.
ANGRY, SCARED
His move sparked a chain reaction from other provinces, some home to powerful military divisions, to dissociate themselves with the capital, where the Mouths are ostensibly in control even if they have not quite figured out a way to govern.
"People are angry, people are scared. The worst is that it could turn into a civil war," a diplomatic source said.
"It's chaos," said another diplomat.
In the southern city of Aden, once the capital of a Marxist independent South Yemen, the local security committee said it would no longer receive orders from the capital Sanaa.
Yemen's north and south united in 1990 but civil war broke out four years later, with then-President Ali Abdullah Saleh crushing southern secessionists to maintain the union.
Now, various leaders of a long stagnant separatist movement have announced their secession. None speak for the entire region, comprised of eight provinces, sparking fears of further localized fighting among southerners.
"WE REJECT THE COUP"
In Aden, local groups raised the flag of the south in the general security building. In Mukallah, the capital city of the Hadramout province, militia fanned out across the city.
In Ateq, capital city of the restive Shabwa province, local media reports said joint patrols by a secessionist group and local security had also taken over security of the area.
In the eastern oil-rich province of Marib, which has emerged as a flashpoint between the Mouths and Sunni tribesmen in recent months, local political and security officials denounced the Jan. 19 events as a coup and said they would no longer take orders from Sanaa either.
In Taiz and Ibb, thousands of anti-Houthi protesters also took to the streets. "We reject the coup," they said, in festive street protests reminiscent of the 2011 "Arab Spring" demonstrations that brought down Hadi's long-serving predecessor, Saleh.
Even in Sanaa, factional fighting is a possibility with the army torn in its loyalties to the ousted Saleh or to the orders of the Mouths.
The political vacuum showed no signs of easing as parliament indefinitely postponed its session to approve or reject Hadi's resignation as backroom political dealings carried on to negotiate a way out of the crisis.
PARALYSIS
In recent days the capital has seen the first serious rejection of Houthi rule since their takeover.
Many Sanaa residents have complained as fighters have set up checkpoints, taken over government ministries and spray painted their green-and-red Iranian-inspired "Death to America, Death to Israel" slogans on mosques and the wall around the Old City.
Initially there was little public action in a country that has gone through numerous cycles of instability. But this week saw the largest anti-Houthi demonstration since the movement took over the capital.
"We say no to the coup. No to Abdelmalek al-Houthi," said Samar, 35, referring to the Mouths' leader, whose family name is carried by the group.
In a sign the Mouths might be losing patience, witnesses said they broke up a small protest outside Sanaa University on Sunday, firing shots in the air and arresting eight protesters.
For Ahmed Ali, an elderly corn seller on the busy streets of Sanaa, the protests are no use.
"The Mouths are bulls. I support these protests but what is the use? The Mouths deal with force."
(Editing by William Maclean and Peter Graff)
FOR FREE to continue reading
✔️ Unlock the full content of International Business Times UK for free
offer available for a limited time only
✔️ Easily manage your Newsletters subscriptions and save your favourite articles
✔️ No payment method required
Already have an account? Log in
© Copyright Thomson Reuters 2023. All rights reserved.