Your iPhone 5 Can Spin Itself: Cycloramic App Makes The Phone Rotate On Its Own To Take 360-Degree Video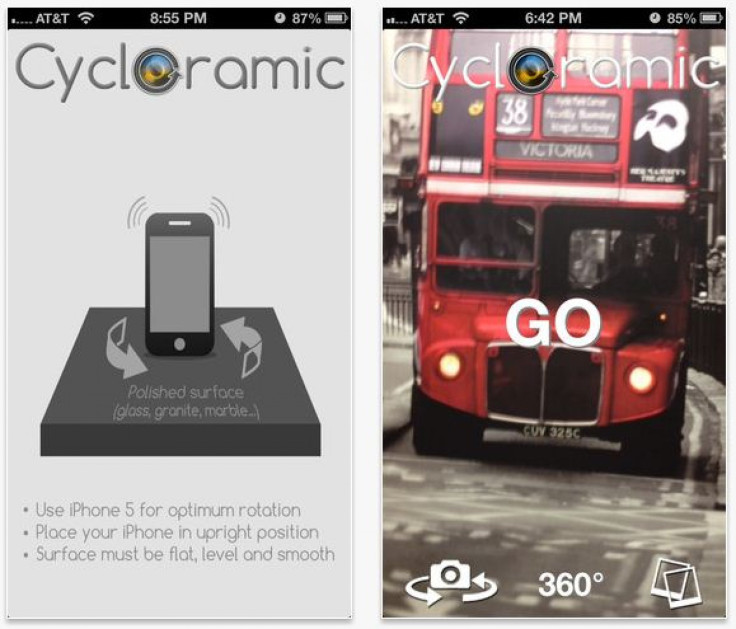 Innovation has no limits and it has got proved yet another time by a new iPhone app that literally makes the phone spin itself.
You read it right. The app called Cycloramic from Egos Ventures makes the iPhone 5 vibrate in such a way that it spins in a 360-degree circle handsfree standing on end, all while recording a video of the surroundings.
"Gathered around a dinner table, in a bar, in a club, at home, at a conference table, or at a historical monument? Cycloramic allows you to capture the moment (handsfree) in a unique and fun way whilst making you and your phone the talk of the event," reads a description on Cycloramic's Facebook page.
To watch the app in action, you need to place your iPhone upright on a flat smooth surface. After you tap the "Go" icon, the app will count down from three make the phone rotate on its own while recording video even without you touching it. Once it's done, the video will be saved on iPhone's camera roll.
You can also configure the app's settings to use the front-facing camera or to make the iPhone spin two or three times instead of once.
According to the developers of Cycloramic, the app is "specifically designed for the iPhone5 and must be used on a smooth, hard and level surface (Glass, granite, ceramic, laminate wood...)." Although it opens with other iPhone models, only the iPhone 5 will spin around hands-free.
Ever since its release Dec. 21, Cycloramic has made a lot of waves around the tech world, even making Apple co-founder Steve Wozniak, who took a video of the app in action, fascinated by its performance. Watch Wozniak in the video here, trying out the app in his kitchen.
Jason Cipriani of CNET was also amazed to see his iPhone 5 "dance."
"I shook my head in disbelief as I watched an iPhone 5 spin in a circle -- hands-free -- while standing on end. I was convinced there had to be some sort of special effects or movie magic going on. Obviously this was a prank. Right? Boy was I wrong," Cipriani said.
Cycloramic, available in the App Store for $0.99, has some limitations as well, said a Tech Crunch report. The user has to ensure that the phone's vibrator settings are set properly or else the app won't work.
"If, for example, your phone is set to silent mode, you must have the 'Vibrate on Silent' setting turned on. If the phone is set to ring, you must have 'Vibrate On Ring' turned on," the report added.
Here are some more demo videos from the developer's YouTube page:
© Copyright IBTimes 2023. All rights reserved.