Yuna Kim Sochi Scandal: South Korean Figure Skater Robbed Of Gold In Russia's Controversial Olympics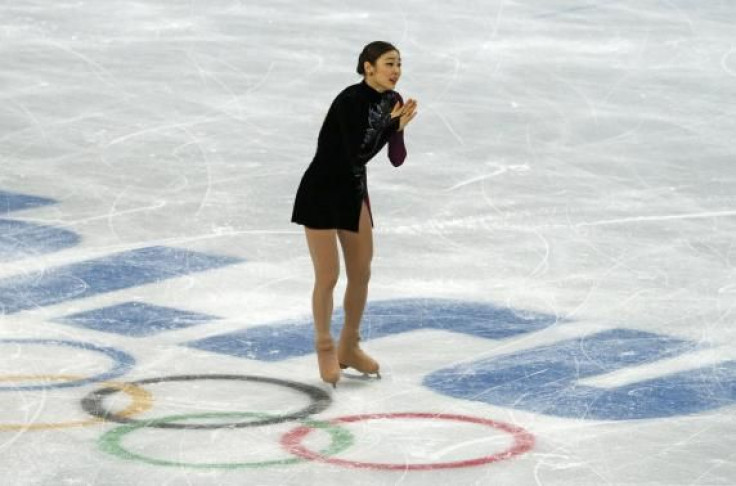 SOCHI, Russia – If Russian President Vladimir Putin's overall intent for the 2014 Winter Olympics was to show the West that the nation deserves to be taken more seriously, the results of Thursday's women's figure skating competition, as well as some other notable absurdities related to the Sochi Games, are a funny way of showing it.
To many of the unbiased spectators and media at Iceberg Skating Palace on Thursday, it seemed obvious that South Korean superstar Yuna Kim, the gold medal winner at the 2010 Winter Olympics in Vancouver, had skated to a nearly flawless performance in the free skate, and after leading in Wednesday's short program.
But when Kim's final score (219.11) was read, the gold medal would go to Russia's Adelina Sotnikova (224.59), leading to a cascade of roaring cheers from the large Russian contingent in the arena, which weren't drowned out by sharp, derisive whistles and jeers from others. While Sotnikova had a strong performance, Kim was particularly exquisite, with perhaps just one wobble on her jump denying her perfection.
The final scores seemed to stink of "home-ice advantage" and served as another painful reminder of how past Olympics have been shrouded in controversy. The consensus opinion of the skeptics exiting Iceberg was that Russia needed to go home with a gold medal, and the best Russian was destined to finish on top no matter how well the actual top skater performed.
The most magnified issue plaguing the controversy was the collection of judges who were well-represented by Eastern bloc nations, and their anonymous scoring. Sotnikova's technical score was 5.85 points better than Kim, though Kim was able to land nearly all of her jumps without any noticeable difficulty.
Sotnikova's first-place score wasn't completely outlandish. While many would view the results as clearly biased toward the Moscow native, Sotnikova did land seven triple jumps in her long program to Kim's six.
Though it may not have been the greatest miscarriage of justice in sports history, it still seems difficult to overlook how Kim did exactly what she needed to in order to win gold, and popular opinion sure seems to be on Kim's side. On change.org, there are already roughly 1.6 million petitions signed for an "Open Investigation into Judging Decisions of Women's Figure Skating and Demand Rejudgement at the Sochi Olympics."
The jam-packed post-competition press conference felt surreal. Russian media would loudly cheer Sotnikova's remarks, while a stoic Kim just stared ahead with what appeared to be indifferent interest in answering questions or being in the spotlight.
Sotnikova, who is just 17 years old, seemed to be oblivious to the fact that she received what most would judge was a gift, as she gleamed with pride over her performance. Meanwhile, veteran skater Carolina Kostner was beaming with content, seemingly satisfied with a bronze effort that was only slightly surprising.
And then there was Kim, the alleged victim of gold-medal robbery, taking it all in.
"The most important thing for me is to participate in the Olympic Winter Games," Kim said. "It's my last competition, and I'm a happy to be here."
While many tend to perceive figure skaters as being consumed with gold-medal aspirations, Kim provided little evidence that she was desperate to win a second gold. Even her body language in warm ups and the short program indicated that she was so capable of nailing a triple Axel that it no longer felt like a challenge.
There also may have been some foretelling in her Wednesday statements.
"Personally, it's not my ambition to defend my gold medal," Kim said after the short program.
"It's meaningful, but not significant. I did well today, but nobody knows what will happen tomorrow."
The very next day, staring ahead while providing just short answers to reporters' questions, Kim seemed to be well above the pettiness of gold, silver or bronze, or even judging controversies. When she announced her retirement to reporters, she gave little elaboration and showed almost no emotion.
Sotnikova would oddly exit the press conference during the last question when she learned it wasn't directed to her, while Kim and Kostner remained seated for the question. It seemed that Sotnikova wasn't being rude or a prima donna by leaving, but just didn't know press-conference etiquette.
It was that kind of night in Sochi. It was hard to tell what you were hearing and what you were seeing.
As most know, sports scandals are nothing new, and not just at the Olympics. Whenever a sport or competition's outcome is decided by judges, controversy often follows not far behind.
Perhaps the most dreaded phrase in boxing is, "Ladies and gentlemen, we go to the scorecards." When you compare judges' scorecards with that of sports writers, popular opinion often seems to sway to the journalists' opinions, which was the case with Manny Pacquiao's loss to Timothy Bradley in 2012, just to cite one example.
So why would figure skating in Russia be any different? It isn't even new in Sochi.
Near the start of the Games, French sports publication L'Equipe published a report that U.S. and Russian figure skating judges had conspired to help Russia win the gold in the Olympic team event at the expense of Canada by giving higher scores to a U.S. ice dancing pair. The article would receive a sharp rebuttal from the U.S. Skating Federation, but the seeds of skepticism were firmly planted.
Figure skating competitions revolve around judges rating artistry and a skater's ability to effectively land a number of spins and difficult jumps. The entire sport lends itself to debate, and it's of little surprise that there is plenty to debate in Russia.
It didn't help that Russia had failed to win gold in much of the high-profile Winter Olympic events, such as the early elimination of the men's hockey team. Entering the Sochi Games with a "gold medal or bust" attitude, they not only failed to earn first-place honors, but were bounced in the quarterfinals by underdog Finland. The combination of the host nation's medal struggles, along with perhaps the perception that South Korea would enter the 2018 Winter Olympics in Pyeongchang with two-straight gold medals in the same prominent event, may have been additional reasons for judges denying Kim her rightful place atop the medal stand.
On the outside looking in after the free skate were some prolific skaters who also may have also been denied their rightful spot, like Mao Asada of Japan and Ashley Wagner of the U.S.
Russia's Yulia Lipnitskaya finished at a highly questionable fifth place, despite a rather uneven performance, and one in which she took a tumble. Some might wonder if she had executed the jump with even moderate success that it would meant Kim dropping to a bronze medal.
The 15-year-old Lipnitskaya seemed to received some help from the judges after finishing ahead of seventh-place Wagner. The Russian barely edged Wagner in the short program, 65.23 to 65.21. In the free skate, the judges generously awarded Lipnitskaya a 135.34 score, which was well ahead of Wagner's 127.99.
Combining Sotnikova and Lipnitskaya's inflated scores in front of their home crowd seemed ample evidence to some that changes need to be made in the sport.
"It's not fair to skaters who work so hard," said the candid Wagner. "People need to be held accountable. They need to get rid of the anonymity if they're going to create a fan base. People don't want to see a sport where someone falls down and goes above someone who doesn't."
While figure skating has its own governing body, and is separate from Russian politics, it doesn't change the fact that the controversial outcome of perhaps the most visible sport in the Winter Olympics just plain looks bad for Russia. Whether valid or not, disgruntled global viewers want to point the finger some place, and why not at a country that has a dubious reputation when it comes to fairness.
It's yet another public relations nightmare for a country that is viewed as stuck in a tyrannical past with an overall flawed way of doing just about everything. The gold-medal controversy seems to accomplish the antithesis of what is perceived that Putin had set out to accomplish: to showcase what's great about Russia.
But the outrage in Iceberg Skate Palace pales in comparison to the outrage that should be happening outside the arena. The so-called "protest zone," set up in a town of Khosta and about a dozen kilometers away, is barren, with the consensus reasoning being that there is fear that protesters will be punished for expressing their views in public. It also demonstrates how the nation finds a way to bury dissent with bureaucracy.
The punk activist rock group Pussy Riot knows all about it. Video footage showed band members Nadezhda Tolokonnikova and Maria Alyokhina, who were recently released from being detained in the nearby town of Adler, and other band members, being beaten by Cossacks.
Indeed, figure skating is probably the most irrelevant scandal plaguing the Sochi Games. There is a long list of larger issues, such as reports of environmental damage caused by the construction of the Olympics.
Meanwhile, numerous journalists have been killed for their dissent of Kremlin policies, and laws are in place forbidding gay "propaganda." According to a Forbes report in May, the average wage of a Moscow resident is 53,953 rubles (roughly $1,700) per month, while the all-Russia average is 25,046 (around $800), in a country where things seem to be much more expensive than other countries.
Olympics sports are a pleasant distraction for most people, but this Olympics is different, and the overt examples of human rights violations in Russia are not as subjective as figure skating scores.
What is happening to gays, brave journalists, grossly underpaid Russian workers, and to Russia's environment is the real travesty.
FOR FREE to continue reading
✔️ Unlock the full content of International Business Times UK for free
offer available for a limited time only
✔️ Easily manage your Newsletters subscriptions and save your favourite articles
✔️ No payment method required
Already have an account? Log in
© Copyright IBTimes 2023. All rights reserved.