Zinedine Zidane's Star Striker Frustrated At Real Madrid Teammate
KEY POINTS
Karim Benzema was caught on tape criticizing Vinicius Junior
Benzema was criticized for his harsh words thrown towards his teammate
The French striker downplays the uproar from football fans
Emotions were high on the field for Zinedine Zidane's starting XI in Real Madrid's 2-2 draw against Borussia Monchengladbach in their UEFA Champions League match on Tuesday.
Los Blancos struggled throughout the match as they found it difficult to generate any offense against the Bundesliga squad. A brace from Marcus Thuram put the Santiago Bernabeu-based club's backs against the wall early with a 2-0 deficit.
The tension hit a fever pitch for the reigning La Liga champions as Karim Benzema was caught on camera lashing out on forward Vinicius Junior's ability to play.
Entering the tunnel at halftime, Benzema could be heard venting to teammate Ferland Mendy how frustrated he was with the Brazilian.
"Brother, don't play to him. On my mother's life. He is playing against us," Benzema said.
Despite a tightly-contested second half, Real Madrid mounted a gallant effort to salvage a stalemate versus Borussia Monchengladbach. Benzema scored at the 86th minute before Casemiro tied the ball game at two apiece in extra time.
Pundits questioned the team's cohesiveness with Benzema's footage making rounds across social media. Due to his harsh choice of words, the 32-year-old star has drawn the ire of many football fans.
Benzema responded by posting an Arab proverb that translates to: "Dogs bark but the caravan moves." It is one way of saying that life goes on even if some will try to stop or talk against progress.
Although Real Madrid came out victorious in their La Liga head-to-head with FC Barcelona over the weekend, they have yet to make a stride in this year's Champions League.
It has been a rough stretch for the Zidane-mentored brigade as they find themselves at the bottom of the tourney's Group B with a winless record.
Benzema and the rest of the crew will return to the pitch on Saturday, hoping to shrug off their lackluster outing with Borussia Monchengladbach by winning their La Liga match-up against SD Huesca.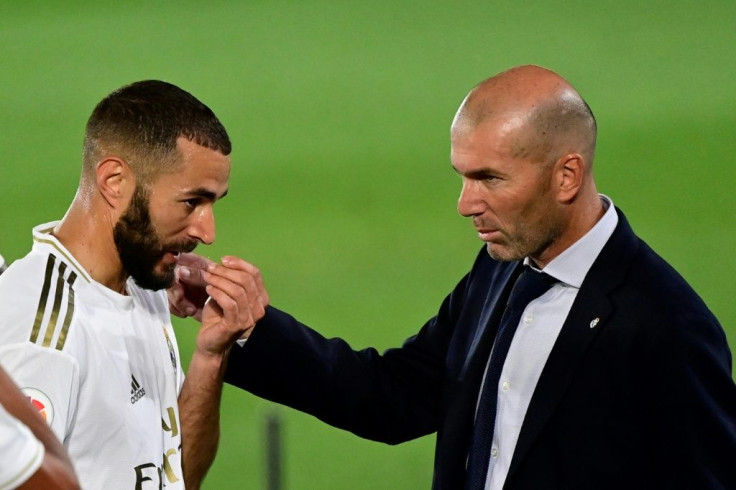 © Copyright IBTimes 2023. All rights reserved.