The 10 Best Airport Freebies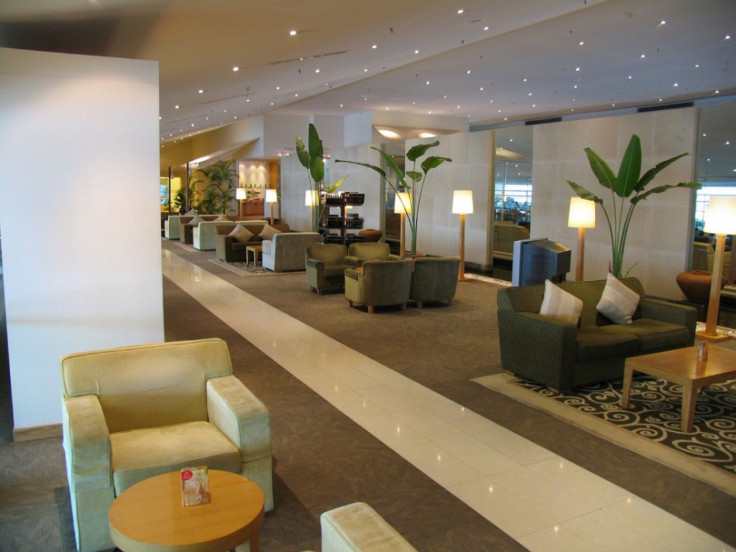 Frequent fliers love their airport freebies -- but then again, who doesn't?
While stuck inside one of these 10 airport terminals -- which you could easily mistake for a shopping mall -- it doesn't take a specific type of traveler to appreciate complementary offerings like a free city tour, some Wi-Fi or a kids play area.
Although the above freebies are uncommon in many international airports, most frequent fliers know when and where to get the most valuable free commodities.
Even though some of the most unique freebie options may be exclusive to a specific airport, these days there is typically at least one thing that the airports offer up to show their appreciation for your business and loyalty.
So what are the best freebies available? Here's a look at both domestic U.S. airports and those further afield.
Domestic Airports
Cleveland Hopkins International Airport: The Bob Hope USO lounge, named after one of America's greatest comedians and a Cleveland native, is available to traveling U.S. Military Service Men and Women and their families. It is located on the North end of the airport's baggage claim level, adjacent to Carousel 1 and is open daily from 8:00 a.m. until 10:00 p.m. (EST). The USO, free for all service men and women, provides a place to grab a snack, email a loved one, read a book, watch a movie, or just find some quiet time on a travel day.
Chicago O'Hare International Airport: The interfaith Airport Chapels of Chicago offers passengers a place for silent prayer, as well as a place for worship and liturgies, free of charge. Located inside O'Hare International, the chapel can be found on the Mezzanine Level of Terminal 2 above the US Airways ticket counters (outside the security checkpoint).
Phoenix Sky Harbor International Airport: Sky Harbor welcomes pets and service animals at free pet parks near each of their three terminals. The airport is very animal friendly as an assortment of animals can be spotted at the airport each day welcoming, bidding goodbye to, or traveling with close friends and loved ones. Sky Harbor has three areas for pets to stretch their legs, drink water and take potty breaks (mitts for cleaning up provided). The Pet Patch is located just east of Terminal 2. The Paw Pad is located just outside of the west doors of Terminal 3. The Bone Yard is on the west side of Terminal 4 just outside of baggage claim, level 1.
Boston Logan International: If you are traveling in Boston with children, be sure to check out Logan International's play areas, also known as Kidport. The Kidport play areas offer a fun-filled space for little travelers and give parents and caregivers a place to unwind before or after a flight.
Kansas City International - Airport Ambassadors at the Kansas City International Airport are dedicated volunteers collectively spending over 10,000 hours a year warmly greeting travelers. They are easily distinguished by their brick-red blazers and welcoming smiles. KCI Airport Ambassadors provide free directions, offer assistance and respond to inquiries. They also provide information on transportation, hotels, dining, shopping, area attractions and points of interest. It's almost like having your very own travel agent.
International Airports
Tallinn, Estonia: In April 2011, the first free Skype video chat booth popped up at Tallinn's airport, and you can use it to make unlimited, free video calls worldwide. If the line is too long, you can send an e-mail from 14 free Internet kiosks or hook up your laptop through the airport's free Wi-Fi.
Changi International Airport: Changi Airport is well known for its wide range of facilities and services to keep passengers occupied while waiting for their connecting flights. The Entertainment Deck, located on Departure Transit Lounge, Level 3 of Terminal 2 (next to the Sunflower Garden), is a one-stop integrated, multi-media entertainment centre with something to thrill everyone from X-Box to Sony PlayStation and an MTV booth that screens your favourite music videos on a 50-inch plasma television.
Calgary International Airport: Calgary International offers two free-access lounges where passengers can enjoy beautiful surroundings, business facilities, and refreshments. The Servisair Chinook Lounge is open to all guests departing from Concourse D and the Rocky Mountain Lounge is open to all guests departing from Concourse C (U.S. departures). Enjoy all the benefits of an executive lounge, regardless of what airline you are flying. Treat yourself to your own personal upgrade!
Hong Kong: Sony PlayStation gaming systems are scattered throughout the terminals at Hong Kong International Airport. Located in the arrivals and departures halls and past security on the north and south concourses, it's never been so easy to play around in an airport.
Taipei Taoyuan: The Taiwan Tourism Bureau offers free morning and afternoon city tours of Taipei from the airport. The morning tour visits an ancient temple and a pottery-making center; the afternoon tour visits another temple, Taiwan's tallest skyscraper and the home of Taiwan's president, Ma Ying-jeou.
© Copyright IBTimes 2023. All rights reserved.
FOLLOW MORE IBT NEWS ON THE BELOW CHANNELS