A 12-Year-Old Gets Married In Iceland -- But For A Good Cause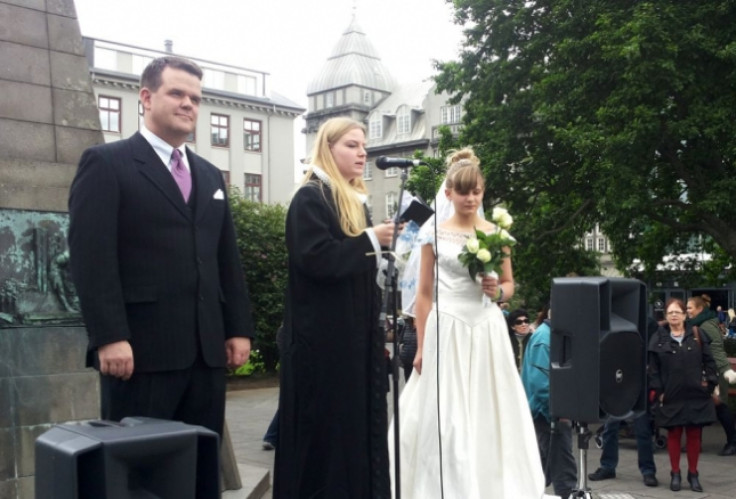 She was wearing a long white dress with a veil, and he was wearing a black suit. She looked a bit scared, maybe sad, and he had a wide smile on his face. She was 12 years old, and he was 47. The guests were shocked when they realized that the bride was only a little girl.
This unusual marriage took place last weekend in Iceland. But soon, the wedding was stopped, and the guests discovered that the ceremony had been staged, because this was not a real wedding.
The News of Iceland site reported that the United Nations Women Youth Team and an Icelandic youth organization, Hitt Husid, organized the fake event to bring awareness of a widespread practice -- widespread, that is, but not in the developed world.
"We thought that it would be clever to put this into Icelandic reality, because, for us, it is so ridiculous that such a young girl would be marrying some old man," Snaefridur Olafsdottir, a member of the U.N. Women Youth Team, told News of Iceland. "We want people to think about this, because this is considered normal in many places."
Indeed, hundreds of millions of young girls could have faced this situation had they been born in another country. To this day, weddings involving a child under 18 remain one of the largest problems girls face in the world.
At the current rates of child marriage, more the 140 million girls will marry between the years 2011 and 2020, according to the United Nation Population Fund.
That's because 14.2 million girls are married annually, 39,000 per day. More than a third are under 15, according to U.N. data.
Last March, during the 57th Commission on Status of Women at the United Nations, the subject of child marriages was broached. People are aware that young boys and girls are getting married (the number of girls is largely superior to that of boys), but the issue has seen little improvement over the years.
One-hundred-fifty-eight countries have set the legal age to marry at 18, but others, mainly from rural Sub-Saharan Africa and South Asia, do not follow these rules. In Niger, the rate of child marriage is 75 percent, while it is 68 percent in Chad and the Central African Republic and 66 percent in Bangladesh.
Child marriages also bring more issues for the girls than the boys. Girls usually stop their education; they are more exposed to risks of pregnancies and more complications, with an estimated 50,000 dying from pregnancy or childbirth complications between 15 and 19. And they are exposed to sexual violence and HIV infection.
As the world's population keeps expanding, so is the number of young people in developing countries and the number of child marriages.
In Iceland, the organizers of the event are hoping that people will have heard their messages and understand what the situation is for these children in the world.
"These are people our age, and I, for example, remember eight years ago a girl born the same year as me was married," Salka Margret Sigurdardottir, a chairman of the U.N. Women Youth Team, said. "Everybody should care about this, and together we can eliminate violence against young girls."
© Copyright IBTimes 2023. All rights reserved.
FOLLOW MORE IBT NEWS ON THE BELOW CHANNELS