Is The 2012 Atlantic Hurricane Season Living Up To Predictions?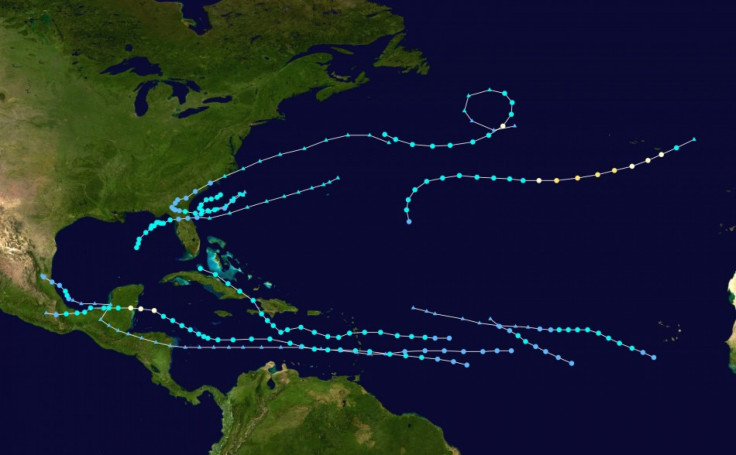 The 2012 Atlantic hurricane season got off to a busy start with two tropical storms sideswiping the United States in May, well before the traditional beginning of the season on June 1. Yet, it's been more than three months since Alberto and Beryl breezed by the coast, and the country has not been threatened by a single hurricane. Tropical Storm Isaac, however, may change that.
The National Oceanographic and Atmospheric Administration's Climate Prediction Center raised its Atlantic hurricane season forecast earlier this month after the strong start, increasing the chance of an above-normal year. Across the entire Atlantic Basin, NOAA said it expected 12 to 17 named storms in 2012 with winds 39 mph or higher. Five to eight of the storms are predicted to be hurricanes, of which two or three could become major hurricanes with winds of at least 111 mph.
NOAA's initial outlook in May called for between nine and 15 named storms, four to eight hurricanes, and one to three major hurricanes. Gerry Bell, lead seasonal hurricane forecaster at the Climate Prediction Center, said the agency increased the outlook "because storm-conductive wind patterns and warmer-than-normal sea surface temperatures are now in place in the Atlantic."
"These conditions are linked to the ongoing high activity era for Atlantic hurricanes that began in 1995," he added. "Also, strong early-season activity is generally indicative of a more active season."
Some 70 percent of Atlantic tropical storms occur between August and October. Since NOAA made its updated predictions on Aug. 9, there have been four additional storms, bringing the total to 10. Bell, however, predicts things will slow down earlier than normal this year as El Niño develops in September.
"El Niño is a competing factor," Bell explained, "because it strengthens the vertical wind shear over the Atlantic, which suppresses storm development."
Isaac is projected to become the fourth hurricane of the season after Chris, Ernesto and Gordon. It would be just the second to hit land following Hurricane Ernesto, which slammed into the Yucatan Peninsula on Aug. 8 as a Category 1 storm with winds of 85 mph.
According to Monday's 1 p.m. CDT alert from the National Hurricane Center in Miami, Isaac was about 280 miles southeast of the mouth of the Mississippi River with maximum sustained winds of 65 mph. It is expected to strengthen into a hurricane Monday night before approaching New Orleans as a Category 2 storm on the seventh anniversary of Hurricane Katrina this Wednesday.
Elsewhere in the Atlantic, NOAA is monitoring two tropical disturbances developing off the coast of Africa, though neither is expected to become a tropical cyclone during the next 48 hours. If NOAA's predictions come true, however, expect a busy few weeks of tropical cyclones until El Niño kicks in to calm the waters.
© Copyright IBTimes 2023. All rights reserved.