2014 Football World Cup: Brazil Says All 6 Stadiums Under Construction Will Miss FIFA Deadline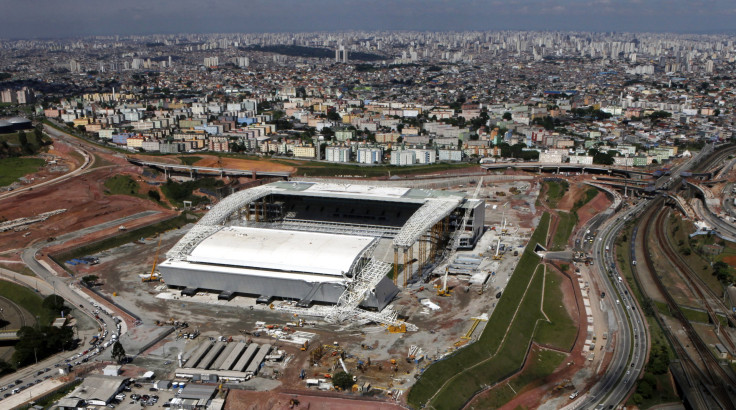 All six of Brazil's stadiums that are being constructed for the football World Cup in mid-2014 will not be ready by FIFA's original deadline of Dec. 31, the country's sports minister, Aldo Rebelo, said on Wednesday.
Rebelo said construction at six venues in Sao Paulo, Curitiba, Porto Alegre, Cuiaba, Manaus and Natal is expected to be completed in January, after delays partly attributed to mass protests against spending on World Cup-related development, amid high taxes, rising inflation, corruption, and poor infrastructure and public services. Brazil's admission follows FIFA's repeated warnings that there would be "no compromise" over deadlines set for the World Cup, which is scheduled to begin on June 12 in Sao Paulo's yet-to-be-finished Arena Corinthians.
"There are delays but they will not be significant. What matters is that we are ready to go in January," Rebelo said, BBC reported. Drawing comparisons between the World Cup preparations and organizing a wedding, Rebelo said: "In every wedding that I attended the bride was late. I've never seen a bride arrive on time -- but never saw a marriage that didn't go ahead."
Rebelo, however, maintained that all 12 of Brazil's stadiums, including the six under construction, would be ready to host test events early next year. Six of the 12 stadiums hosted FIFA's 2013 Confederations Cup in the second half of June.
However, FIFA General Secretary Jerome Valcke, offered a different picture about the pace of construction.
"I will say that three stadiums will not be ready by the end of the year. One [will be ready] by the end of January 2014, and the two - between end of February and early March," Valcke told BBC, and appealed to the Brazilian public to support football's biggest event.
"It is a right to demonstrate. For them it's the best time -- for me it's the wrong time," Valcke told BBC. "[It's] the wrong time [to protest] because it is a time where Brazil should enjoy a unique time, a time they have not enjoyed since 1950."
"We are asking [them] to support an event they won five times already and they dream to win for the first time at home," Valcke said.
World Cup preparations faced a serious setback late in November, when a crane collapsed, killing two construction workers at the Arena Corinthians stadium. Meanwhile, there were also reports from one of the host cities, Cuiaba, that hotel rooms also are not ready to accommodate all the visitors expected to throng to the South American country for the event.
FIFA had originally asked for at least eight stadiums in total for the World Cup, but Brazil increased that number to 12, in an effort to accommodate demand from Brazil's football fans.
© Copyright IBTimes 2023. All rights reserved.