2014 Hurricane Season: Atlantic Ocean Hits Season's Peak With Calmer-Than-Average Performance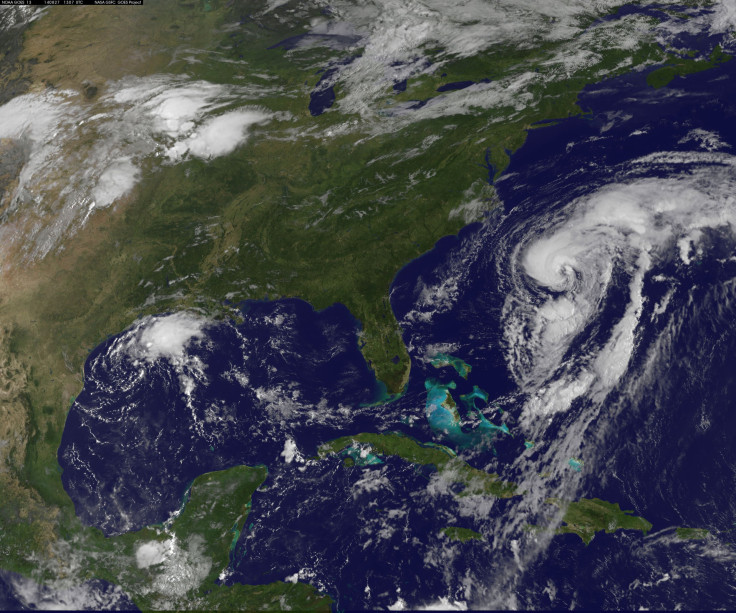 The Atlantic Ocean's hurricane season hit its peak on Wednesday, marking the end of a largely lackluster first half. The relatively calm waters will continue in the second half, subdued by the early signs of an El Niño event and "suppressive" climate conditions, federal scientists say.
So far in the Atlantic, a mere four tropical storms have been named, three of which claimed hurricane status -- Arthur, Bertha and Cristobal -- though no major hurricane has appeared yet. The average season, which lasts from June to late November, sees about 12 tropical storms, about six of which achieve hurricane wind levels. Scientists consider Sept. 10 the climatological "peak" because hurricane development begins to decrease after this point.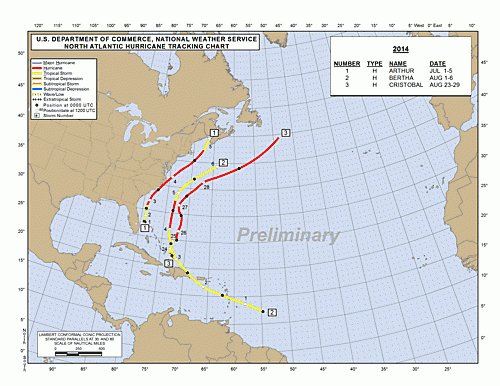 The U.S. National Oceanic and Atmospheric Administration had expected a "below-normal" Atlantic season from the outset. Early in the summer, scientists projected hurricane-dampening conditions like increased stability in the atmosphere, drier air and a strong vertical "wind shear," or changes in wind direction and speed that can disrupt the formation of tropical storms.
The El Niño system brewing in the Pacific is strengthening these conditions, the climate agency said. Scientists haven't officially declared El Niño's full arrival yet, though its earliest indicators are already having an impact. NOAA's Climate Prediction Center gives El Niño a 60 to 65 percent chance of appearing during the late fall and early winter.
"If El Niño develops, it could make the already suppressive atmospheric conditions [in the Atlantic] even less conducive to hurricane formation," according to NOAA's hurricane outlook.
During an El Niño, warm water that typically pools near Asia and Australia migrates eastward toward the Americas, propelled by shifting winds and currents. In the process, the Pacific's overall sea-surface temperature heats up, which then warms the atmosphere as water evaporates. The warmer atmosphere, in turn, creates more stable air and brings more wind shear to the Atlantic, Climate Central reported on Tuesday.
In the eastern Pacific, by contrast, the El Niño conditions are revving up tropical storm formation, the climate news site noted. The coast of South America, Mexico and California has seen about 14 named storms since the start of the season in May, nine of which have become hurricanes. That's about what you'd expect to see by the end of November.
© Copyright IBTimes 2022. All rights reserved.
FOLLOW MORE IBT NEWS ON THE BELOW CHANNELS