Winter Weather 2014: Why El Niño May Save The Central, Eastern US From A Frigid Forecast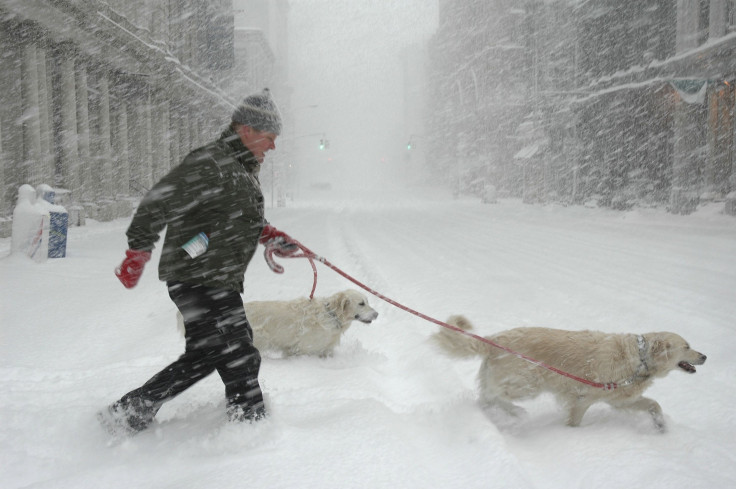 During most summers at Cleveland's public swimming pools, the demand for a refreshing dip is so high that lines form outside the gates. But this year it's been relatively quiet, with lower-than-normal temperatures hampering attendance as residents aim to stay warm – not cool off.
"A lot of the pools aren't used when it is 70 degrees [Fahrenheit] and the winds are blowing," Mike Cox, director of public works for the city of Cleveland, told International Business Times. Visits to the city's 21 outdoor pools this summer could end up as low as 100,000, about half the number of visits made in 2013, he said.
Last month Cleveland saw its tenth coldest July on record, part of the pattern of cooler weather that is blanketing cities from east of the Rocky Mountains clear to the Atlantic Coast – and that could lead to a frigid winter weather forecast. Chicago, which normally sees highs in the 80s in mid-July, experienced temperatures in the mid-60s during a recent cold snap. Around the same time, the Dallas-Forth Worth area saw temperatures dip to 65 degrees, down from the usual 95 degrees. In the typically brisk city of International Falls, Minnesota, the temperature hit 39 degrees one day in mid-July, a record low.
"If you look at the entire globe, we're the only cool spot [right now]," Jeff Masters, the meteorology director at Weather Underground, said by phone from Ann Arbor, Michigan.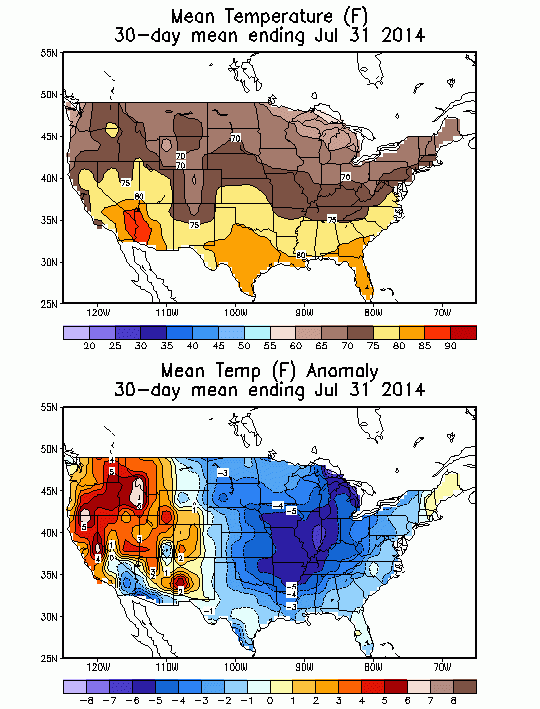 The cool-weather phenomenon is largely caused by a persistent dip in the Northern Hemisphere's jet stream – the current of air that hovers in the atmosphere – which is pushing chilly Arctic air down on much of the central and eastern United States. Across that region, average temperatures were more than 5 degrees below normal during July, a significantly large anomaly, said Dan Collins, a research scientist at the U.S. Climate Prediction Center.
In New York City, the jet stream dip is causing an unusually mild and rainy summer. "We've had many relatively cooler days ... and not too many hot days," Edgard Nunez, a weather forecaster at local news channel NY1, said. Last month was the city's wettest July in five years, he noted, and so far this summer, only four days have reached 90 degrees or above, up from 17 days last year.
Nunez said he hasn't heard many complaints from NY1's viewers or Twitter followers. Most people seem to welcome a respite from the sweltering summer heat waves that normally rack the five boroughs. "It gets very difficult here at times" with extreme heat, he said. "We can't complain much this summer. We've had plenty of nice weekends."
Even so, fewer residents are visiting the city's public beaches this summer. Visits fell by about 650,000 to 10.3 million visits from late May through July 28 compared to the same period in 2013, according to figures provided by the NYC Department of Parks and Recreation.
Jennifer Francis, a research professor at Rutgers University in nearby New Jersey, said that the cooler-than-normal temperatures are tied to other weather phenomena occurring across the Northern Hemisphere, including the recent warm winter in Alaska and extremely heavy rainfalls in Britain. "We're seeing a big uptick in all sorts of extreme events, and most of them are connected to the unusual pattern in the jet stream," she said.
Above-average temperatures in the western U.S. and Europe are also related. That's because as the jet stream dips – creating a U-shaped "trough" – it also hikes up in other places, forming a high-pressure "ridge" that pushes warmer, drier weather toward the north. West of the Rockies, particularly near Washington and Oregon, temperatures hit as high as 10 degrees above normal in early July, Collins said. The hot summer is exacerbating drought conditions in California and the U.S. Southwest, where residents are thirsting for rains.
On Monday, the Baltic region saw the hottest temperature in its recorded history, when the mercury in Latvia hit 100 degrees. And worldwide, the warmest May on record and the warmest June on record were recorded this summer, according to the U.S. National Oceanic and Atmospheric Administration.
The same temperature patterns could continue through August in the United States, according to the Climate Prediction Center's latest probability forecast: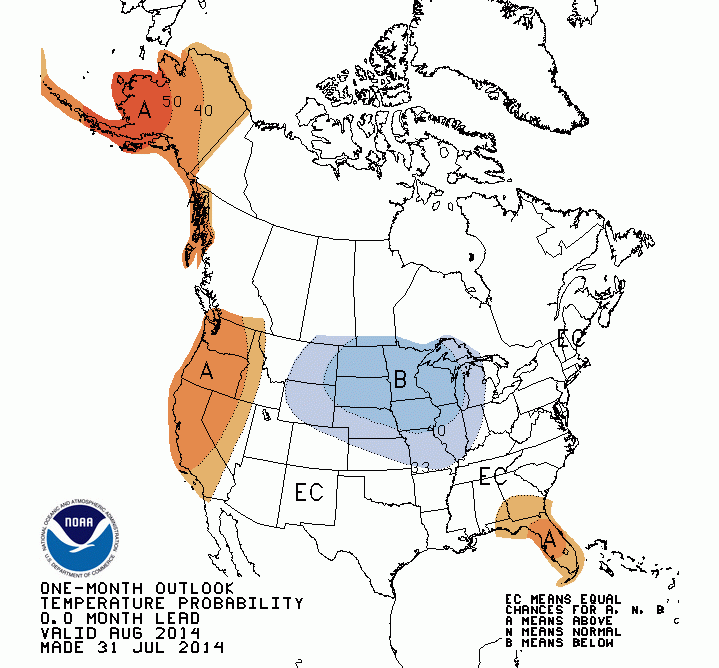 Masters of Weather Underground said that fluctuations in the jet stream this summer can be partly tied to the ongoing typhoon season off the coast of Japan. Neoguri, for instance, the super-typhoon that weakened into a tropical storm in early July, caused the jet stream to accelerate, which amplified the reach of its dips and hikes and caused a subsequent cold snap over the Midwest.
The storms "put a huge amount of moisture into the atmosphere, and that causes a ripple effect downstream," he said. Another cold spell is expected for the second week of August, he added, as typhoons continue to form in the eastern Pacific Ocean.
Winter in the central and eastern U.S. could also be colder and wetter than normal if the jet-stream pattern persists, Master said, which "would be a bummer" for drought-stricken spots like California. Whether that will happen largely depends on if an El Niño event forms later this fall.
During an El Niño, warm weather that typically pools in the eastern Pacific migrates toward the west, aided by shifting winds and currents. The water sloshes as it moves, in turn raising the sea surface temperatures in the world's oceans. The effect would "bump us out of this persistent jet-stream pattern" and possibly bring temperatures back to normal. "If it doesn't happen, then maybe we're stuck here," Masters said.
NOAA says there's still a 70 percent chance of an El Niño forming later this summer, and an 80 percent chance of it happening in the fall. But the conditions needed to create an El Niño – especially one strong enough to substantially warm the oceans – have steadily declined in the last month. Climatologists say they are increasingly uncertain about what will happen this winter with El Niño.
"It's a total toss-up right now" between a normal and an unusually cold winter, Masters said. "The coin could fall 50-50 either way."
FOR FREE to continue reading
✔️ Unlock the full content of International Business Times UK for free
offer available for a limited time only
✔️ Easily manage your Newsletters subscriptions and save your favourite articles
✔️ No payment method required
Already have an account?
Log in
© Copyright IBTimes 2023. All rights reserved.