3 Delivery Drivers Sue Amazon For Allegedly Forcing Them To Urinate In Bottles, Defecate In Bags
KEY POINTS
The lawsuit accused Amazon of violating Colorado labor laws
Driver Leah Cross said she's fighting for Amazon to "treat humans like humans"
The three drivers are seeking unpaid wages and improvements in Amazon's policies
Three Amazon delivery drivers in Colorado have sued the e-commerce giant, alleging poor working conditions, which forced them to skip bathroom breaks, among other issues.
In the 16-page class action filed in Denver District Count on May 22, the three drivers, including two women and an Iraq War veteran, alleged they were forced to urinate in bottles and defecate in dog waste bags in their vans in order to keep pace with timely deliveries, according to New York Post.
The lawsuit also accused Amazon of violating Colorado labor laws that mandates employers to provide workers with paid rest breaks every four hours.
"I fought for this country in Iraq, but I had an easier time going to the bathroom in a combat zone than I did while working for Amazon," 28-year-old Ryan Schilling, one of the three drivers, said in the suit. "Twice I've had to defecate so badly that I've had to use dog waste bags in the back of delivery vans. I knew that if I tried to stop to go to a gas station, I'd get yelled at and maybe lose my job. What choice do Amazon drivers have?"
According to the drivers, who were employed by "Delivery Service Partners," Amazon's "pace-of-work policies" necessitated them to urinate in bottles and defecate in bags in the back of their vans, risking serious health consequences.
"This case is about one of the wealthiest and most powerful companies in the world, Amazon, maintaining work policies that require its delivery drivers ... to restrain themselves from using the bathroom at risk of serious health consequences," the suit said, as per CBS. "Amazon operates this scheme through harsh work quotas and elaborate tracking and workplace surveillance technology that make it impossible for Amazon delivery drivers to fulfill basic human needs while on the job."
The suit also alleged that trash cans at Amazon fulfillment centers "are frequently overflowing with bottles full of urine that drivers have thrown away at the end of their shifts." Leah Cross, one of the drivers suing Amazon, said she's fighting for Amazon to "treat humans like humans."
"As a woman, I can't just easily pee in a bottle," Cross noted. "When I worked for Amazon, I had to bring a change of clothes in case I peed my pants while trying to hit Amazon's delivery metrics. I was told I couldn't even stop to pick up some sanitary products."
Responding to the suit, Amazon spokesperson Simone Griffin expressed commitment to encouraging Delivery Service Partners to support drivers.
"We want to make it clear that we encourage our Delivery Service Partners to support their drivers. That includes giving drivers the time they need for breaks in between stops, providing a list within the Amazon Delivery app of nearby restroom facilities and gas stations, and building in time on routes to use the restroom or take longer breaks," Griffin said in a statement.
Represented by non-profits Towards Justice and Public Justice, and Seattle-based Terrell Marshall Law, the three drivers are seeking unpaid wages, penalties and improvements in Amazon's policies.
"Workplace health and safety laws protect the right to reasonable bathroom access, but workers have suffered from underenforcement of those protections for decades," Towards Justice Executive Director David Seligman said. "It's a moral abomination that in 2023, people working at one of the wealthiest and most powerful companies in the history of the world have to bring a change of clothes to work in case they pee themselves."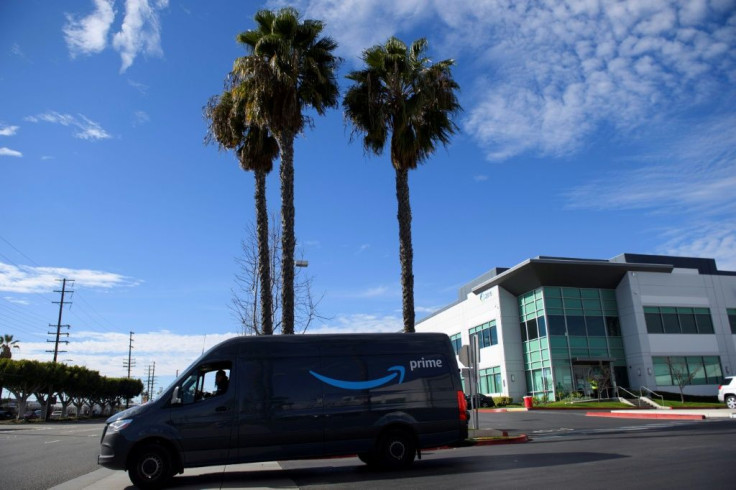 © Copyright IBTimes 2023. All rights reserved.