3 States Recorded Lowest Unemployment Rate In US In May - IBT Graphics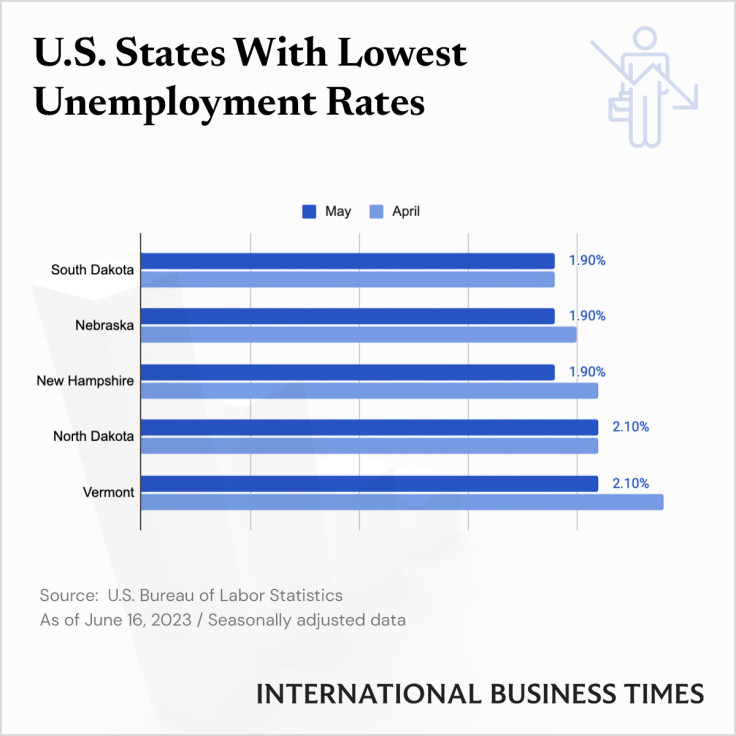 South Dakota, Nebraska and New Hampshire reported the lowest unemployment in May, with a jobless rate of 1.9%, reflecting the strong job markets in these states. They were followed by North Dakota and Vermont with a jobless rate of 2.1% each.
The U.S. national unemployment rate remained low in May at 3.7%, the highest since October 2022. It was a 0.3 percentage point rise from the 3.4% unemployment rate during the previous month. At the same time, the unemployment rate was 0.1 percentage point lower than at the same time last year.
The robust numbers in South Dakota, Nebraska and New Hampshire compare to states like Nevada (5.4%) at the other end of the spectrumDistrict of Columbia (5.1%) and California (4.5%), according to statistics released by the bureau on June 16.
Total non-farm payroll employment surged by 339,000 in May, with major job gains occurring in business services, government, health care, construction and transportation. In May, 11 states saw low unemployment rates, while 39 others observed a stable development.
© Copyright IBTimes 2023. All rights reserved.