45 years On, The Voyager Probes Continue To Provide Valuable Data
KEY POINTS
Voyager 2 launched on Aug. 20, 1977, followed by Voyager 1 on Sept. 5, 1977
Each Voyager probe carries a golden record providing an insight into life on Earth
Their data continues to further our knowledge, and is still being used by researchers
In 1977, NASA launched two probes named Voyager 1 and Voyager 2. Being the longest-lived missions, the probes recently completed 45 years in space. Rather than being relegated to antiquity, the probes continue their journey, making them the farthest man-made objects in space.
These two Voyager probes are a reminder of the era they left behind. These "time capsules" carry an eight-track tape player for recording data, accommodate about three million times less memory than modern cellphones, and transmit data at a speed about 38,000 times slower than a 5G internet connection.
However, their data continues to further our knowledge, and is still being used by researchers -- some younger than the probes themselves -- in combination with newer missions to study the Sun and the heliosphere. The heliosphere is a bubble formed by the solar winds and extends far beyond the orbits of planets.
"The heliophysics mission fleet provides invaluable insights into our Sun, from understanding the corona or the outermost part of the Sun's atmosphere to examining the Sun's impacts throughout the solar system, including here on Earth, in our atmosphere, and on into interstellar space," said Nicola Fox, director of the Heliophysics Division at NASA Headquarters in Washington in a press release.
"Over the last 45 years, the Voyager missions have been integral in providing this knowledge and have helped change our understanding of the Sun and its influence in ways no other spacecraft can."
These Voyager probes are the only ones to ever explore interstellar space -- the galactic ocean that our Sun and its planets travel through, and are managed and operated by NASA's Jet Propulsion Laboratory (JPL) in Southern California.
Interestingly, each Voyager probe carries a golden record providing an insight into life on Earth. Containing images of life as we know it on Earth, diagrams of basic scientific principles, audio from nature, greetings in multiple languages, and music, these probes are our ambassadors in space.
The gold-coated records act as a cosmic "message in a bottle" for whoever might encounter the space probes. Calculating the rate at which gold decays in space and is eroded by cosmic radiation, the records are predicted to last more than a billion years.
Voyager 2 launched on Aug. 20, 1977, followed by Voyager 1 on Sept. 5 the same year. Both were destined to travel to Jupiter and Saturn, with Voyager 1 overtaking Voyager 2 and reaching them first. Together, the probes uncovered a great deal about the solar system's two largest planets and their moons.
"The Voyagers have continued to make amazing discoveries, inspiring a new generation of scientists and engineers," said Suzanne Dodd, project manager for Voyager at JPL. "We don't know how long the mission will continue, but we can be sure that the spacecraft will provide even more scientific surprises as they travel farther away from the Earth."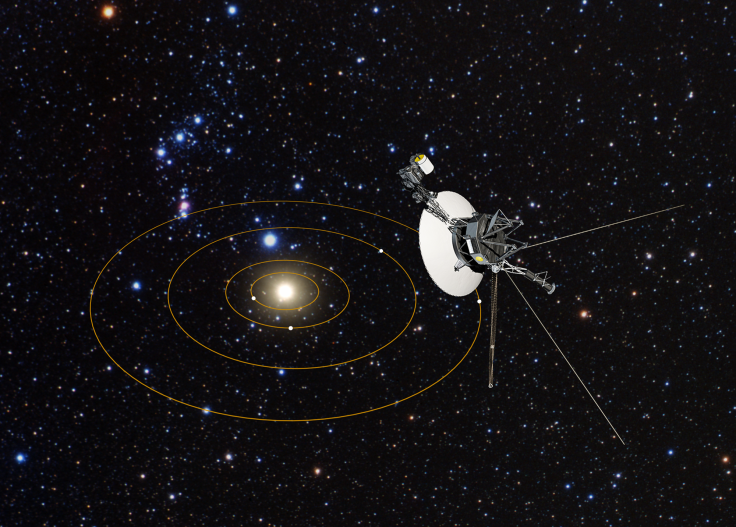 © Copyright IBTimes 2022. All rights reserved.
FOLLOW MORE IBT NEWS ON THE BELOW CHANNELS