7-Time Powerball Winner Richard Lustig And Other Victors Offer Lottery Advice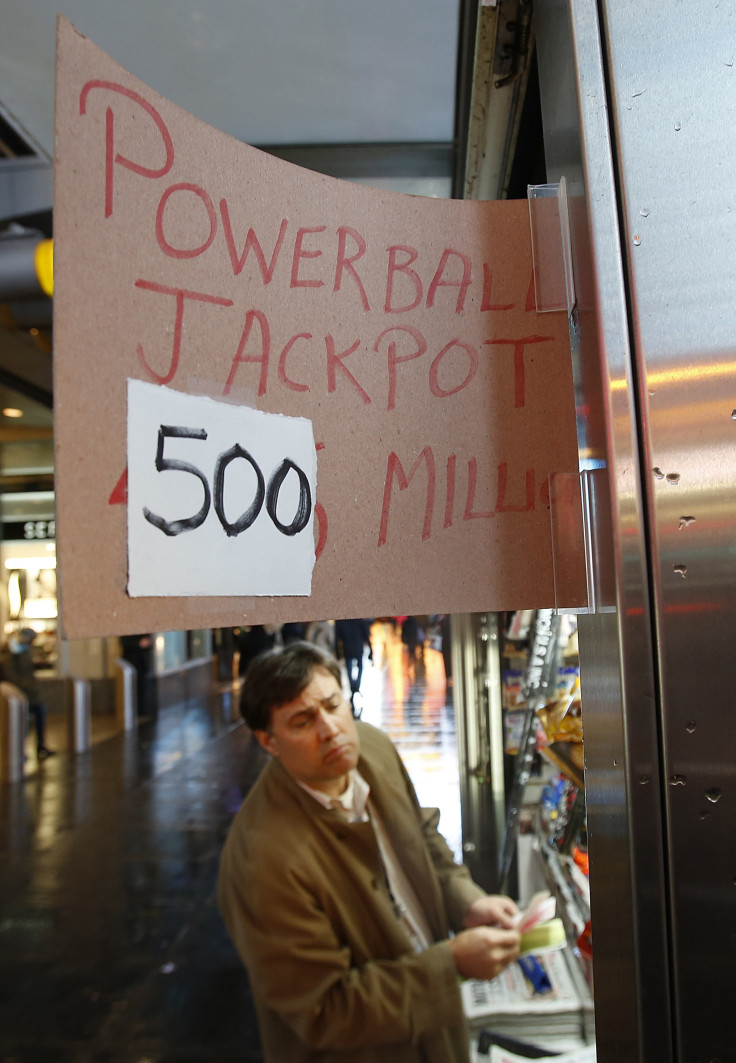 Since winning the lottery seven times over, Richard Lustig has made a name for himself. When a U.S. lottery's stakes get high (tonight's $500 million Powerball jackpot certainly qualifies), Lustig goes on a press tour espousing his lottery-winning principles. Don't, he says, go crazy spending money on tickets. Habitual spending is not a bad thing, but keep your gambling in moderation. The multi-ticket winner also advises players to pool their tickets, pick the same numbers and avoid quick picks.
While Lustig relishes his spot in the limelight, other past winners have reclaimed their ordinary lives after cashing in on their windfall.
Sandra Hayes, who split a $224 million Powerball jackpot with a dozen coworkers in 2006, felt the sting of leeching friends and family members after her fortunes improved dramatically.
"I had to endure the greed and the need that people have, trying to get you to release your money to them," the former child services worker told the AP. "That caused a lot of emotional pain. These are people who you've loved deep down, and they're turning into vampires trying to suck the life out of me."
Hayes, 52, kept her job -- which paid her less than $500 a week -- for a month after her victory. After taxes, she took home $6 million, which she used to pay off an estimated $100,000 in student loans and a $70,000 mortgage. Hayes also bought a Lexus and took a trip to Hawaii, but today her life is relatively modest. She stills shops at discount stores and monitors her spending.
"I know a lot of people who won the lottery and are broke today," she said. "If you're not disciplined, you will go broke. I don't care how much money you have."
David Gehle, a former ConAgra meat processor, split a $365 million winning ticket with seven coworkers in 2006. He left the company three weeks later and traveled to Australia, New Guinea and Vietnam, but it took him several years to buy a $450,000 home in his hometown of Lincoln, Neb. At 59, he spends most of his time today woodworking and playing racquet sports.
"My roots are in Nebraska, and I'm not all that much different now than I was before," Gehle said. "I'm pretty normal. I never was the kind of guy who went for big, expensive cars or anything like that. I just want something that runs."
Former winner Michael Tepestra also keeps a low profile, and he worries sometimes that his new life is too good to be true.
"At times I'd wake up and this would all seem like a dream," the 54-year-old said. "I'd have to walk around the house and tell myself, I did win. I'm not working anymore, and I do live here. I didn't get drunk, break into someone's house and go to sleep. This is where I'm supposed to be."
Tepestra bought a new home and a new truck, but he made sure all of his purchases were necessities. He used part of the money to hire lawyers and accountants who advise him on his investments.
"I can't buy a super yacht. I can't buy a Gulfstream," he said. "Then again, I don't think I'd use either one, so why would I buy one?"
Tepestra, Hayes and Gehle offer prudent tales of moderation following a cash windfall. Others, like a two-time New Jersey winner, have squandered their $5.4 fortune. A West Virginia man who won $315 million a decade ago blames the winnings for ruining his marriage and causing his granddaughter's fatal drug overdose.
Winners still play, though. Hayes admits to buying 10 tickets for Wednesday's jackpot, and Dung Tran, who shared the prize with Gehle, bought 22 from the same employee who gave him the winning ticket.
"We joked about it," cashier Janice Mitzner said. "I told [Tran], 'Wouldn't it be something if you won again?'"
© Copyright IBTimes 2023. All rights reserved.