Adrien Broner Gives $1,000 To Homeless Man, Draws Stunned Reaction: 'You Don't Know How Much It Means To Me' [VIDEO]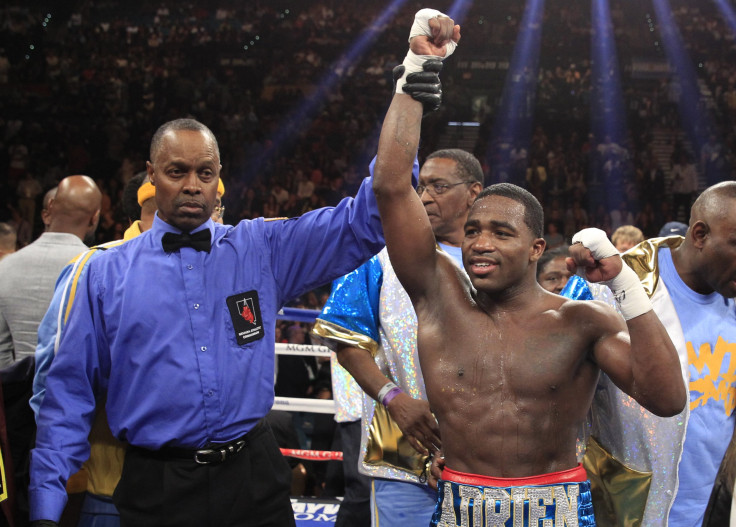 Boxer Adrien Broner has endured plenty of bad publicity during his six-year professional career. But the reigning WBA International Super Lightweight champion likely earned some goodwill for his charitable actions on Thursday.
On Friday morning, Broner posted a video of his recent encounter with an unnamed homeless man. "Now this is going to make his f---ing day right here," the 24-year-old boxer said.
In the video, Broner called the homeless man over to his car window and proceeded to peel several bills off a stack of cash. When the man approached the window, Broner handed him $1,000.
"I'll give you $1,000. Do something with it nice, man," Broner said. The homeless man was so surprised at the boxer's generosity that he repeatedly asked Broner if the gift was a joke.
"Thank you, man. Thank you, man. Bless you so much," the homeless man said. "You don't know how much it means to me."
Broner's $1,000 gesture occurred just weeks after he drew criticism for remarks he made in the wake of his May 3 victory by unanimous decision over Carlos Molina. After the fight, Broner made disparaging comments about his opponent's nationality.
"At the end of the day, I'm still Adrien "The Problem" Broner, the "Can Man," anybody can get it, Africans, I just beat the f--- out of a Mexican," he said.
The comments prompted the World Boxing Council to suspend Broner until he issued a public apology. He took to his Instagram account on May 12 to address the situation.
"Lately I've been portrayed in the news/media as racist for the comment I made after my fight," he wrote. "I am the furthest thing from that. I love all of my supporters and all people for that matter! And last time I checked "Mexican" isn't a race, it's a nationality. If I said "Canadian" would their [sic] have been this much of an uproar?"
"My team is built of all races and nationalities, and I respect and appreciate them all I sincerely, apologize if my comment offended anyone but it did not come from a place of hate. The Mexican fans are the people that keep boxing alive and well. Without them, there would be no AB."
© Copyright IBTimes 2023. All rights reserved.