Afghan Security Forces To Take Over From NATO Next Summer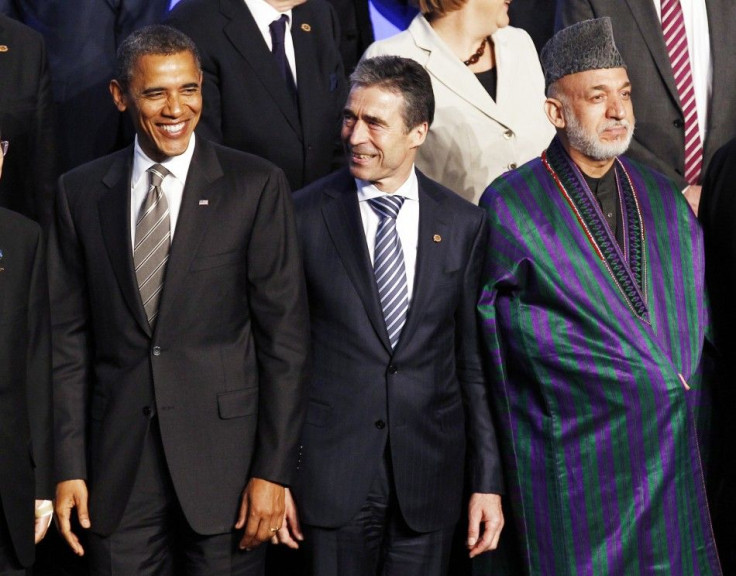 U.S. President Barack Obama and NATO allies agreed Monday to end all combat missions in Afghanistan and transfer security responsibilities to the country's armed forces next summer after more than a decade of war.
While NATO has declared it will complete its mission in Afghanistan by 2014, it has pledged continuing support to Afghan's security forces in the coming years.
Today is also an opportunity to ensure our hard-won progress is preserved, Obama said, according to the New York Times.
Today, we can agree on NATO's long-term relationship with Afghanistan beyond 2014, including our support of Afghan security forces.
The 28-member organization gathered for the second day of its summit in Chicago to finalize the agreement in the presence of Afghan President Hamid Karzai and other key regional leaders such as Pakistani President Asif Ali Zardari.
There are currently 130,000 NATO troops in Afghanistan, nearly 90,000 of them American. NATO pledged to begin drawing down troops and fully transition from a combat role to an advisory capacity starting in mid-2013.
Transition means the people of Afghanistan increasingly see their own army and police in their towns and villages providing their security, NATO Secretary-General Anders Fogh Rasmussen said, the Associated Press reported.
This is an important sign of progress toward our shared goal: an Afghanistan governed and secured by Afghans for Afghans.
While it was agreed that all NATO troops would pull out by the end of 2014, there was no clear timetable set for the rate of troop withdrawal, while some countries have expressed the intent to pull out troops far earlier than expected, creating a rift between NATO allies.
Newly elected French President Francois Hollande reaffirmed his pledge to withdraw France's 3,300 troops from Afghanistan by the end of this year, saying his country would maintain support in other ways.
Another rift between the U.S. and Pakistan remained unresolved, regarding Pakistan's closing of NATO supply routes at its border with Afghanistan last November, following a drone strike that killed 24 Pakistani soldiers.
No agreement was reached to re-open the supply routes, though both sides have indicated that the issue will ultimately be resolved.
Although NATO has laid out the framework for exiting Afghanistan, President Obama offered a sobering message that there is still more fighting to come before the mission is over.
We still have a lot of work to do, and there will be great challenges ahead, he said. The loss of life continues in Afghanistan.
© Copyright IBTimes 2023. All rights reserved.