After A Night Of Rioting, Quiet Acceptance In Greece's Capital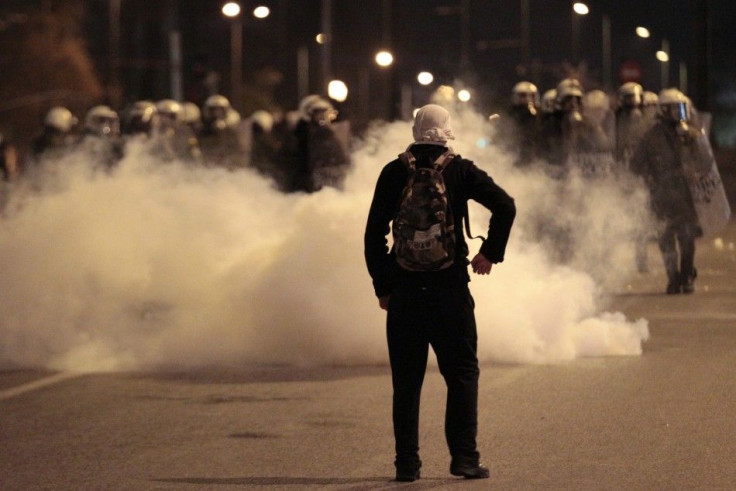 ATHENS, Greece -- Following a night of riots, after Greece's parliament passed a new round of tax reforms and pension cuts in return for a 7 billion euro ($7.6 billion) bridge loan and a third bailout, the streets around Syntagma Square were empty save for white gas-powder blotches on the asphalt and anarchist fliers blowing in the wind.
Wednesday's protesters are now at home but they still have the sting of tear gas in their eyes. "You couldn't breathe," says Yiannis, a 30-year-old engineer and active member of the governing left-wing party Syriza, who prefers not to give his last name. Around 200 protesters started throwing firebombs at the police who responded with tear gas.
Thirty-six people were detained, with 25 of them arrested on charges of vandalism. "At first it was as if they [the police] were bored with this rioting again but then they were brutal. A motorbike fell on protesters and hit them. A cop beat a girl with his baton while mocking Syriza's pre-electoral 'left for the first time,'" Yiannis told International Business Times.
As riots continued outside, inside parliament was no calmer. "You thought we were fools but we're not. Don't misinterpret our bourgeois manners when we give you our support," said opposition leader Vangelis Meimarakis, accusing Prime Minister Alexis Tsipras of weakness.
Tsipras, for his part, did his best to defend his decision to remain in office despite breaking almost all of his pre-election promises. "Our big enemy is within the country's borders. It's the cartels and those who benefited from austerity," he told parliament Wednesday night.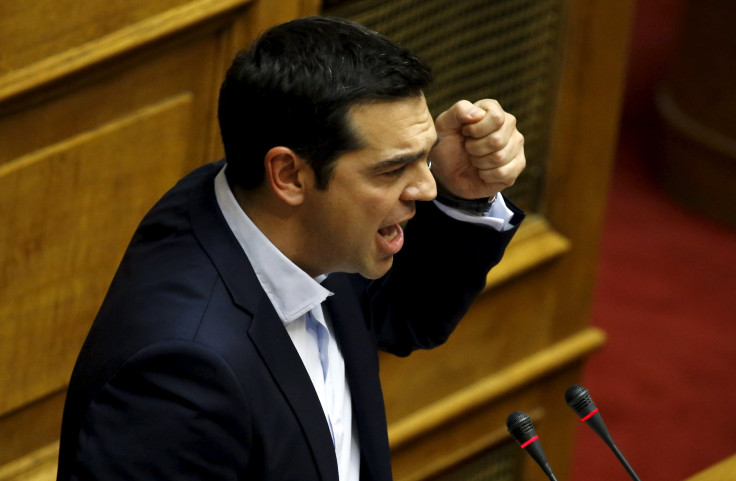 Many Syriza supporters, who voted Tsipras in on an anti-austerity platform, are unconvinced. "He betrayed the people. Whoever signs the selling off of the country is a criminal," said Vassiliki, a left-wing activist and former supporter, who also chose to be identified by one name.
Despite protests from former supporters the rest of the country is largely supportive of Tsipras and the bailout deal. According to a recent opinion poll, almost three-quarters of the Greek population think the agreement is a necessary evil, while more than two-thirds think Tsipras should not resign but instead lead Greece through the next round of cuts.
Strikingly, the Greek mainstream media, traditionally hostile to the Left, and pro-austerity voices are changing their tone, coming out in support of Tsipras, and presenting recent events as a coming-of-age tale from left-wing romanticism to maturity and realism. Some conservatives, ideologically comparable to the tea party movement in the U.S., have not held back from crowing about the deal in vulgar terms. One editor of Kathimerini, the leading pro-austerity Greek daily newspaper, wrote, "The adolescent girl that is the Greek Left has lost its innocence. Now [that] she's lost her virginity she may learn how to take on responsibilities."
© Copyright IBTimes 2023. All rights reserved.
FOLLOW MORE IBT NEWS ON THE BELOW CHANNELS