After Paris, More Republican Governors Refuse Refugees: Interactive Maps Reveals Where Syrian Refugees End Up In The United States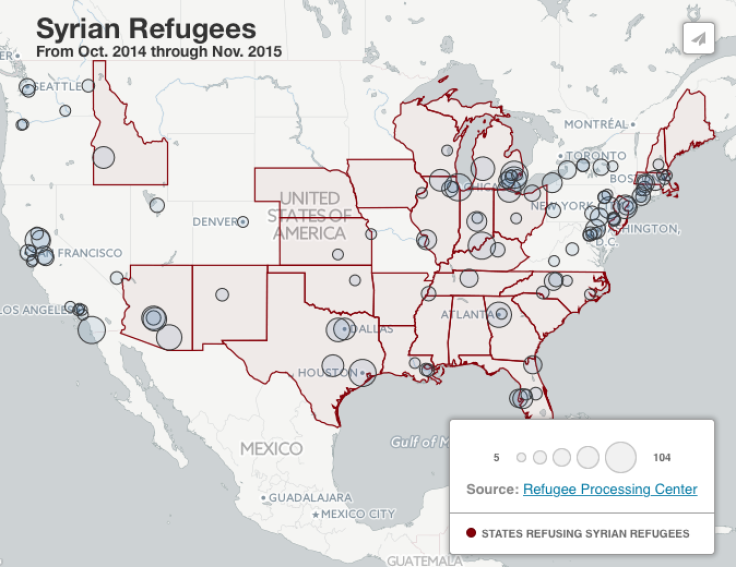 At least 27 U.S. governors announced plans Monday to stop Syrian refugees from settling in their states as a reaction to Friday's terrorist attacks in Paris. Many of them, like Greg Abbott of Texas, Rick Snyder of Michigan and Doug Doucey of Arizona, are governors of states that have already taken in their fair share of Syrian refugees, according to federal numbers.
Data from the Department of State's Bureau of Population, Refugees and Migration shows that Texas and Michigan, two states with governors that will not accept more Syrian refugees, were among the states that have received the most since the Syrian refugee crisis began in 2014.
Texas has welcomed a total of 219 Syrian refugees, 104 of them in Houston, which has accepted the most refugees. Michigan received 199 people, 66 of whom settled in Troy, a northern suburb in the Detroit metropolitan area -- home to the largest concentration of Arab-Americans in the United States.
California, whose governor has said he will allow Syrian refugees, is the only state that has received more than Texas and Michigan.
So far, eight governors from the top 10 states that welcomed the most Syrian refugees since October 2014 have announced plans to bar them from their states, including Gov. Bruce Rauner of Illinois, Gov. Rick Scott of Florida and Gov. Chris Christie of New Jersey.
For most of these states, however, Syrian refugees account for only a tiny percentage of the total refugees that they received. Texas has received 8,226 refugees since October 2014. If the state accepted only 219 Syrians, then they account for only three percent of total refugees.
In fact, Syrians made up just a trickle of the total refugees that made it into the U.S. since October 2014 -- only 1,987 out of 77,109. There are also some states that are barring Syrian refugees -- even though they were not receiving many of them.
Alabama, Arkansas, Mississippi, Iowa, South Carolina, Maine and Nebraska did not receive a single Syrian refugee in that same time period. Wisconsin has accepted one and three relocated to New Hampshire. All of these states have governors that announced Monday that they would refuse Syrian refugees.
The news adds a new wrinkle to the Obama administration's plans to allow 10,000 Syrians in the country next year.
However, experts say that because refugees are handled at the federal level, states cannot legally block the resettlement of refugees.

© Copyright IBTimes 2023. All rights reserved.