Ahead Of Tesla's Electric Truck, Proterra Announces Electric Bus With 1100-Mile Range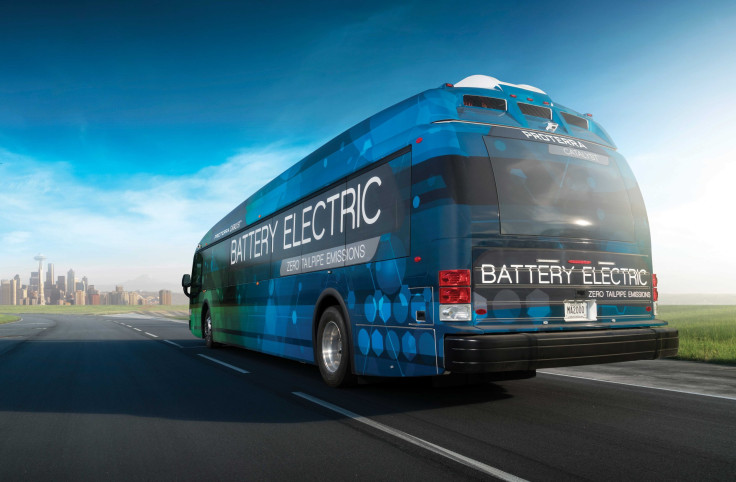 Even as the heavy-duty vehicle market awaits the launch of Tesla's electric truck, expected later this month, electric bus maker Proterra announced Tuesday its vehicle displayed a range of over 1,100 miles on a single charge. The company is also partnering with LG Chem to create a new battery specifically for the heavy-duty electric vehicle market.
Though the world record mileage for a heavy-duty electric bus was achieved under test conditions (on Sept. 4) of steady, low speeds, Proterra's achievement is still something worth cheering, given the potential environmental benefits of all heavy-duty electric vehicles, especially those with long ranges. The company's 40-foot Catalyst E2 max traveled 1,101.2 miles with 660 kWh of energy storage capacity.
"For our heavy-duty electric bus to break the previous world record of 1,013.76 miles — which was set by a light-duty passenger EV 46 times lighter than the Catalyst E2 max — is a major feat," Matt Horton, Proterra's chief commercial officer, said Tuesday in a statement shared with International Business Times. "This record achievement is a testament to Proterra's purpose-built electric bus design, energy-dense batteries and efficient drivetrain."
The company's CEO, Ryan Popple, said in the statement he believes the mass transit market will be the first to make a complete switch from fossil fuel-powered vehicles to electric vehicles.
"As we see incumbents and more companies enter the heavy-duty EV market, it has become very apparent that the future is all-electric, and the sun is setting on combustion engine technology," Popple said.
The Burlingame, California, company also said in a separate statement sent to IBT it was working with LG Chem on development of a battery cell that has been optimized for use in the heavy-duty EV space. LG Chem had developed the battery for Proterra's Catalyst E2 bus, which could travel up to 350 miles on a single charge.
"Between Proterra's demonstrated leadership in the heavy-duty electric vehicle industry, and the company's battery expertise, Proterra has been a strong partner for LG Chem to co-develop a battery cell with for this important market," Youngsun Kim, LG Chem vice president for marketing, said in the statement. "It is our commitment to be at the leading edge of designing and manufacturing advanced batteries to meet the increasing global demand coming from the electric transportation sector."
As Proterra expands its battery production facility and looks to grab a larger share of the U.S. mass transit market, Popple told IBT that economics and improved range capabilities mean electric vehicles will be the only transit buses sold by 2030. Part of his bullishness for the sector is based on the fact that there are about 70,000 municipal buses in the country, of which about 10 percent need replacement every year.
IBT also asked Popple if the company was planning to venture into the electric truck space, where Cummins already made an entry late August and Tesla is coming soon. The Proterra CEO said "there is an intense amount of interest" but the company was being "strategic about not taking on too much too soon."
While Proterra uses the industry standard J1772 CCS port for charging, meaning its vehicles can publicly charge anywhere, the lack of a wide network of charging stations is still a bottleneck that holds back larger acceptance of long-range electric vehicles.
© Copyright IBTimes 2023. All rights reserved.