AirAsia Flight 8501: 'Fuselage Located,' Images Show Wing Attached To Plane's Body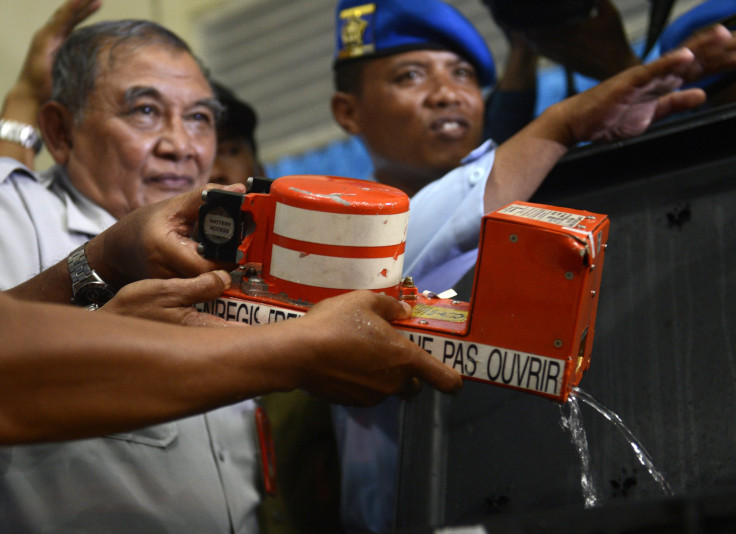 The fuselage of AirAsia Flight 8501 has been located in the Java Sea by a Singaporean navy ship, Singapore's defense minister said Wednesday. The news was later confirmed by Indonesia's search and rescue agency chief Bambang Soelistyo and AirAsia CEO Tony Fernandes.
A remote-controlled vehicle from the vessel, MV Swift Rescue, captured images of the fuselage, where bodies of several other crash victims could be found. The images showed the plane's body, with one of its wings attached. MV Swift Rescue, which is equipped with sonar that can help detect objects on the sea bed, was reportedly deployed on Dec. 30. Indonesian search officials are expected to begin recovery operations soon, media reports said.
"The accident is a tragic event resulting in the loss of many lives. I hope that with the fuselage located, some form of closure can come to the families of the victims to ease their grief," Ng Eng Hen, Singapore's defense minister, said in a statement on his Facebook page.
Air Asia CEO Tony Fernandes also confirmed the fuselage and pictures that were released.
Over the past few days, there have been several contradicting statements by officials regarding the sighting of the fuselage.
Two more bodies were also identified Wednesday as Christanto Leoma Hutama, a 22-year-old man, and Jie Stephanie Gunawan, a 21-year-old woman -- both Indonesian nationals.
Forty eight bodies have been recovered from the Java Sea so far, of which 38 have been identified. Authorities believe that more bodies may be found inside the fuselage once it is recovered from the sea bed.
Indonesian investigators on Wednesday also began analyzing data from the flight recorders, which could help determine the cause of the crash. The flight data recorder and cockpit voice recorder were both found in relatively good condition, authorities reportedly said.
"In one week, I think we will be getting a reading," Mardjono Siswosuwarno, head investigator for the National Transportation Safety Committee, told Reuters.
The data from the black box was reportedly downloaded in only 15 minutes, but analysis of nearly 25 hours of data may take several days, investigators reportedly said.
The plane was on its way to Singapore from Surabaya, Indonesia, with 162 people on board, when it went missing from radar after the pilot requested a change of course to avoid bad weather.
Meanwhile, AirAsia Indonesia reportedly admitted Tuesday that it had committed "administrative negligence" by requesting a change in its Surabaya-Singapore flight schedule, adding that it had only verbally informed the Transportation Ministry about operating the route on Sundays, according to The Straits Times. AirAsia Flight 8501, which crashed on Dec. 28, was not authorized to fly on that day.
© Copyright IBTimes 2023. All rights reserved.