AirAsia Flight 8501: Search For Bodies To Continue, Could End In A Week 'Depending On The Result'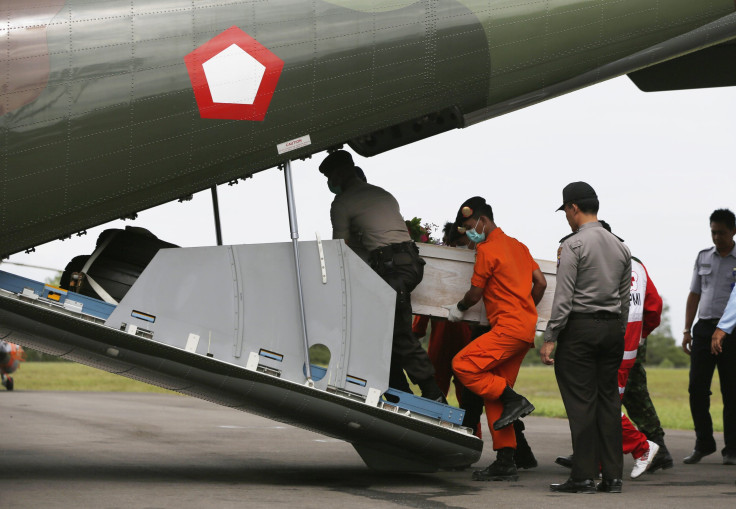 The search for bodies of victims of AirAsia Flight 8501 will continue, Indonesia's search and rescue agency said Wednesday, a day after the military officially called off recovery operations. A senior official said that the search for victims still unaccounted for could end within a week if no more bodies are found in the Java Sea, Reuters reported.
Indonesia's civilian National Search and Rescue Agency reportedly said that it would scour the sea to find more bodies and may also urge the military to join the operation. Search teams have so far found 70 bodies of the 162 people on board the Airbus A320-200, which went off radar on Dec. 28 while on its way to Singapore from Surabaya, Indonesia.
"Within one week we will evaluate (our search) depending on the result," Fransiskus Bambang Soelistyo, agency chief, said according to Reuters. "If we can find one or two more bodies, that means we have the opportunity to prolong the operation."
The military withdrew from the operation on Tuesday after days of failed attempts to salvage the fuselage of the plane from the bottom of the sea.
Indonesia's military chief reportedly said that the wreckage was too fragile to be lifted to the surface, and that the fuselage broke into pieces as it plunged back into the sea floor after ropes used to lift it snapped.
Authorities also reportedly said they now believe that no victims are trapped in the plane's main section that was found last week. The divers had managed to reach the wreckage even though rough seas and poor underwater visibility continued to hamper the recovery efforts.
Investigators are also analyzing data from the cockpit voice recorder and the black box that could help determine the cause of the crash.
Indonesia's National Transportation Safety Committee will also submit a preliminary report of the investigation into the crash this week to the International Civil Aviation Organization, but it will not include the analysis of the flight data recorders.
© Copyright IBTimes 2023. All rights reserved.