Airbus Dismisses Financing Fears After Record Year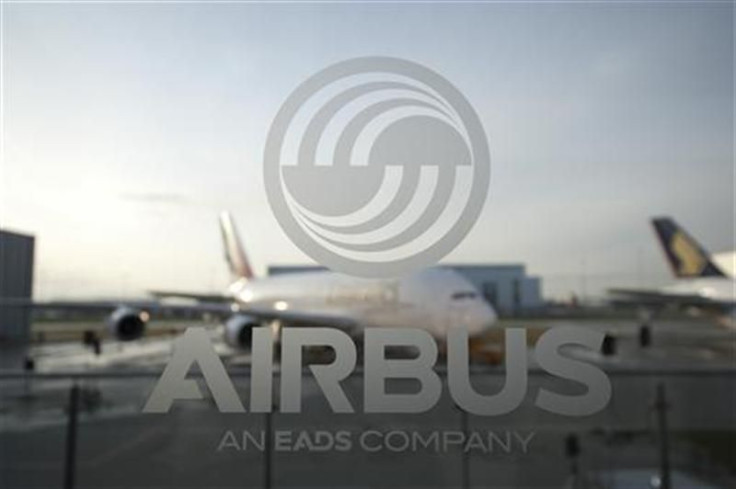 (REUTERS) -- Aerospace group EADS batted away concerns over the financing needed to maintain a record wave of jet deliveries this year, as bumper orders from its Airbus unit and a major Japanese leasing deal provided fresh evidence of Asia's rising economic power.
EADS, whose shares have risen 25 percent in the past year, is in the midst of expansion driven by growing demand from Asia and the Middle East for jetliners, insulating for the time being one of Europe's largest industrial employers from debt turmoil.
It was a tough year for the world economy but traffic is growing and the number of middle classes, by which I mean people with disposable incomes for things like air travel, will triple in the next 20 years, said Airbus sales chief John Leahy.
He dismissed recent fears of a shortage of financing for aircraft deliveries as European banks scale back their lending.
Asian banks are rushing to fill a gap left by the reluctance of French banks to keep up their traditionally important role in financing aircraft as they struggle to raise enough dollars.
The growth of Asian financing is in lockstep with the region's thirst for new aircraft, driven by urbanization and economic growth. As if on cue, Japan's Sumitomo Mitsui Financial Group and Sumitomo Corp agreed on Tuesday to buy the leasing arm of Royal Bank of Scotland in a deal worth $7.3 billion.
The two companies said they would tap a growing aviation industry in Asia's emerging markets and that the acquisition of RBS's business would help expand their overseas presence in the field.
Airbus outsold Boeing almost two-to-one in 2011 after gambling on a revamped fuel-efficient jetliner and delivered more jets than its rival for the ninth year running, while admitting it may struggle to keep its order crown this year.
Airbus said it had won orders for 1,608 aircraft or a net total of 1,419 after cancellations, giving it a record market share of 64 percent by volume or 54-56 percent by value.
The tally includes over 1,220 A320neos, a revamped 150-seat workhorse launched just over a year ago and which prompted Boeing to update its own best-selling jet as the 737 MAX.
Between them, the world's dominant aeroplane manufacturers smashed records by delivering more than 1,000 aircraft and taking orders for more than 2,500 in a single year as Asia's growing wealth continued to outshine the bleak Western economy.
Airbus said 40 percent of its 2012 deliveries would go to airlines in Asia or the Middle East.
Boeing too has expressed confidence about the ability of those airlines that remain healthy to find enough finance.
But one of the industry's most influential analysts warned aviation's superpowers not to become complacent about funding.
This is a good strong trajectory. They can stay high and even go a little higher, but their plans to keep ramping up and expect financing to be there are not entirely realistic, said Richard Aboulafia, vice-president at Virginia-based Teal Group.
This is the last strong part of world economy. The trouble is that this kind of success can go to your head.
Airbus expects to hit 570 deliveries in 2012 after reaching 534 deliveries in 2011, as reported by Reuters last week.
BOEING REBOUND EXPECTED IN 2012
Boeing last week reported 921 sales in 2011, or a net total of 805 when adjusted for cancellations, and 477 deliveries.
Last year's Airbus order surge, and a counter-punch expected from Boeing in 2012, reflect a classic battle in the $100 billion aircraft industry which they easily dominate.
Both manufacturers have decided to inject new life into the short-haul A320 and 737 models, their biggest cash cows. They are banking on demand for fuel savings to help airlines stay alive as oil prices remain unusually high through the downturn.
Airbus moved first, sweeping up the initial wave of orders in the largest segment of the industry, which is valued at $2 trillion over the next 20 years. But Boeing posted record sales of its larger and more expensive long-haul 777 mini-jumbo.
The development moves by Airbus and Boeing have reinforced their duopoly against market entrants from Canada, Russia and China, but Leahy said China, which is making its first 150-seat jet, would be a serious competitor within the next 25 years.
Airbus's end-year order book reflected an unexpected decision to downgrade the way it accounts for a key recent order for 130 aircraft from bankrupt American Airlines .
American's parent AMR Corp went into Chapter 11 in November, months after splitting an historic 460-plane order between Airbus and Boeing. Under U.S. bankruptcy law, the $40 billion mega-order is on hold until a court reaffirms or cancels it.
Airbus auditors ruled against including the AMR order in the 2011 count, though that could prove a bonus to Airbus's sales teams as they save up powder against Boeing for a tougher race in 2012.
Last year was so successful because of the A320neo that nobody could expect us to top that, Airbus Chief Executive Tom Enders told an annual news briefing.
Leahy said he expected Airbus orders to fall back to 600 or 650 in 2012 and said it was possible that Boeing would win the order race for the first time since 2006. He cited pent-up demand from Boeing's existing customers for the 737 MAX, which came on to the market a year later than the A320neo.
The U.S. company says it has 1,000 firm and provisional 737 MAX orders and has pledged to make 2012 Boeing's year.
(Additional reporting by Sabine Siebold, Editing by James Regan and David Cowell)
© Copyright Thomson Reuters 2023. All rights reserved.