Al Jazeera Journalists Sentenced To Death By Egyptian Court For Espionage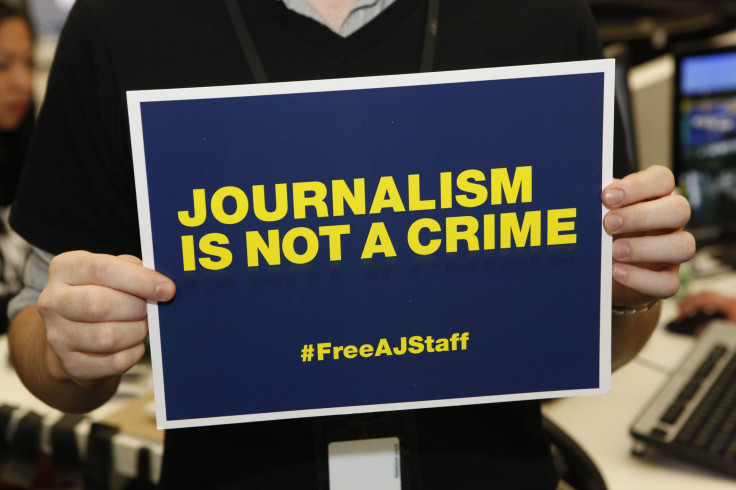 An Egyptian court Saturday handed its final ruling in the trial of 11 people, including toppled President Mohammed Morsi and two Al Jazeera journalists, accused of leaking documents related to national security to Qatar and the Doha-based television network.
Muslim Brotherhood's Morsi was Egypt's first freely elected leader and president at the time. The military ousted him in July 2013. In this case, he and two of his aides were sentenced to life imprisonment, i.e., 25 years in jail. Morsi is already facing the death penalty on other charges.
The two Al Jazeera employees — identified by the judge as Alaa Omar Mohammed, a news producer, and Ibrahim Mohammed Hilal, news editor — were sentenced to death in absentia along with Asmaa al-Khateib, who worked for a media network Rasd that is suspected of links to the Brotherhood.
According to Al Jazeera, Hilal said he was "angered" by the verdict where the entire judicial process was "fabricated."
"If you read the evidences, the only two kinds of evidences they have are the secret investigations of the police which was disclosed and the second is the confessions of others who gave statements under interrogation and torture," he said.
"This is a political case ... They want to threaten all journalists inside and outside of Egypt."
The others sentenced to death — political activist Ahmed Afifi, flight attendant Mohamed Kilani and academic Ahmed Ismail — as well as Morsi are in state custody.
Al Jazeera condemned the verdicts, saying they were part of a "ruthless" campaign against freedom of expression, and called on the international community to come together in solidarity with the journalists.
The earlier prosecution of three of the network's reporters — Mohamed Fahmy, Baher Mohamed and Australian Peter Greste — had drawn strong international condemnation.
Amnesty International called for the death sentences to be immediately thrown out and for the "ludicrous charges against the journalists to be dropped," the Associated Press reported.
In the 2016 Press Freedom Index by Reporters Without Borders, Egypt was ranked 159 out of the 180 countries listed. In December, the Committee to Protect Journalists said Egypt was second only to China as the world's worst jailer of journalists in 2015.
© Copyright IBTimes 2023. All rights reserved.