Egypt Journalists' Union Chief, 2 Board Members Charged With Harboring Fugitives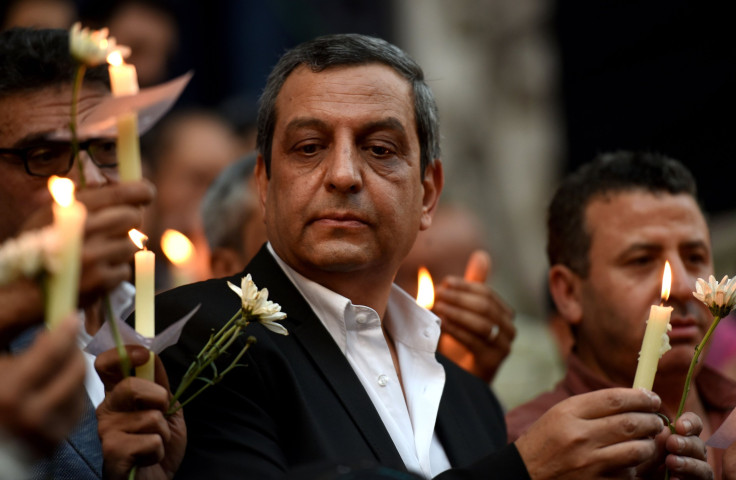 The head of Egyptian Syndicate of Journalists and two of the union's board members are to stand trial for harboring colleagues wanted by authorities and spreading false news, prosecutors said Monday.
The trial of Yahya Qalash, Khaled el-Balshy and Gamal Abdel Rahim will begin Saturday at a Cairo misdemeanors court, judicial sources told Reuters.
El-Balshy and defense lawyer Sayed Abu Zeid told the Associated Press that the three were questioned by prosecutors Sunday night. They were detained at a police station in central Cairo Monday after refusing to post bail of 10,000 pounds ($1,000) each.
"We refused to pay because the accusations are related to publishing news and that should not involve imprisonment or bail," El-Balshy said.
The charges relate to a May 2 police raid on the journalists' syndicate to arrest two opposition journalists, Mahmoud El Sakka and Amr Badr, who were seeking shelter there. Sakka and Badr work for the opposition website Bawabet Yanayer and were wanted on criminal charges.
The move against the three came less than a month after Qalash called for the interior minister's resignation and a presidential apology over the raid.
Authorities, however, denied the allegation that police forcibly entered the building.
Amnesty International termed the attack "an alarming setback for freedom of expression" and the "most brazen attack on the media the country witnessed in decades."
Magdalena Mughrabi, interim deputy director of the Middle East and North Africa Programme at Amnesty International, said in a release, "The arrest of key media figures at the Press Syndicate signals a dangerous escalation of the Egyptian authorities' draconian clampdown on freedom of expression and demonstrates the extreme measures the authorities are prepared to take in order to tighten their iron grip on power."
President Abdel Fattah el-Sisi's government has been under fire for significantly curbing many of the freedoms the citizens won after the Arab Spring. On April 15, thousands of demonstrators called for "the fall of the regime," a slogan from the 2011 uprisings that ended Hosni Mubarak's 30-year rule.
© Copyright IBTimes 2023. All rights reserved.
FOLLOW MORE IBT NEWS ON THE BELOW CHANNELS