Alabama Immigration Law Weakened Further By Court Ruling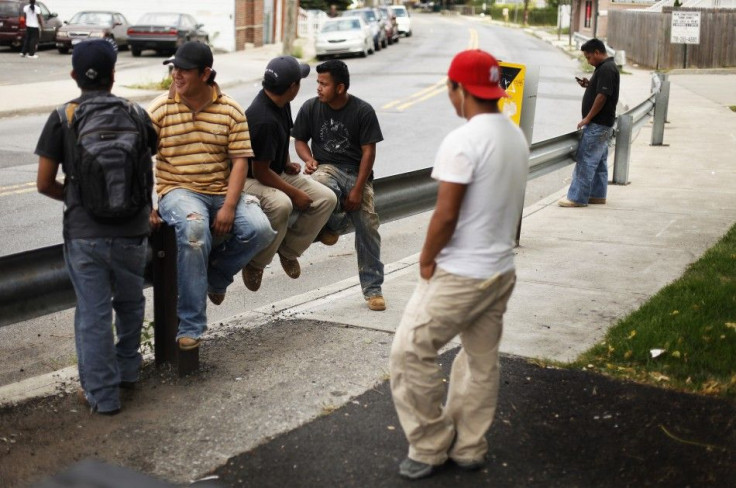 A federal appeals court has blocked parts of an Alabama immigration law that restrict business transactions with undocumented immigrants.
The ruling further dilutes Alabama's embattled immigration law, which was at the time of its passage considered the toughest in the country. Previous court rulings temporarily suspended provisions of the law that required schools to inquire about the legal status of students, made failure to carry legal documents a misdemeanor crime and made it illegal to knowingly harbor, conceal or transport an undocmented immigrant.
The Atlanta-based U.S. Court of Appeals for the 11th Circuit weighed in again on Thursday, halting one section prohibiting courts from enforcing contracts with undocumented immigrants and another making it a felony for an undocumented immigrant to do business with the state of Alabama. The latter provision raised questions about interactions, such as obtaining tags for a vehicle, that entailed state agencies.
The ruling left intact a highly contentious piece of the bill that directs police officers to check the legal status of a person they stop or arrest if they have reasonable suspicion that person is in the country illegally.
After the U.S. Department of Justice sued to block parts of the law, charging that Alabama was pre-empting the federal government's authority to enforce immigration laws, Alabama Attorney General Luther Strange in December wrote lawmakers to suggest changes to shield the law from further legal challenges.
Among Strange's suggestions were revising the bill's language to clarify what type of business transaction with an undocumented immigrant would constitute a felony. Strange had previously said that things like getting running water or renewing home registration should not count.
A three-judge panel on the 11th Circuit court declined to consider the law in full, deciding to await the Supreme Court's much-anticipated ruling on a controversial Arizona immigration law that served as a template for Alabama. Strange linked Alabama's fate to Arizona's in denouncing the latest ruling.
I will continue to vigorously defend Alabama's immigration law in the courts, Alabama Attorney General Luther Strange said on Thursday. I am hopeful that the Supreme Court's coming decision in the Arizona case will make clear that our law is constitutional.
While the Department of Justice's argument has emphasized that the law infringes on federal responsibilities, a coalition of civil rights groups who joined the lawsuit say the law's discriminatory nature violates the Equal Protection clause.
We are very pleased that the 11th Circuit understood the harms these provisions were causing in Alabama, and saw fit to enjoin them, said the Southern Poverty Law Center's Sam Brooke, who argued before the panel. This is a great day for the residents of our state.
--
© Copyright IBTimes 2023. All rights reserved.