Algeria opposition bent on protest despite govt move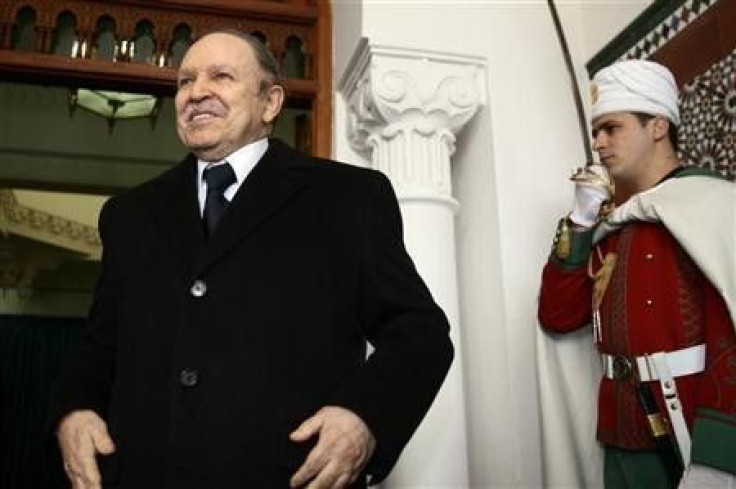 Algerian opposition groups said on Friday they would probably go ahead with a planned protest march next week despite promises from the president to heed some of their demands and allow more political freedoms.
President Abdelaziz Bouteflika, keen to stop uprisings in Egypt and Tunisia spreading to his energy-exporting state, said on Thursday he would give the opposition air time on television and soon lift a 19-year-old state of emergency.
I believe we will march as Bouteflika's new measures did not convince us, said Rachid Malawi, head of the independent union of civil servants and one of the protest organisers.
I don't think this government is serious about implementing democracy in Algeria, he told Reuters.
A coalition of civil society groups, small trade unions and some opposition parties had been planning to hold a protest march in the capital on February 12 to demand a change of government and reforms including the lifting of emergency powers.
The protest is not backed by Algeria's main trade unions or the biggest opposition forces -- the FFS party and Islamist parties which were banned in the early 1990s but still retain some influence.
BAN
Officials have said they will not give permission for a march for reasons of public order, potentially setting the stage for clashes with riot police. The authorities have said the protesters can instead hold a protest in a designated venue.
We will march because Bouteflika did not accept our demand to lift the state of emergency without conditions, said Mohsen Belabes, a spokesman for the opposition RCD party.
Algiers is the safest city in Algeria but Bouteflika is against allowing marches in Algiers.
The state of emergency had been cited as the grounds for banning marches across Algeria, but Bouteflika said on Thursday that restriction would stay in force in the capital.
Several members of the opposition coalition told Reuters they would meet in the next few days to reach a final decision on the protest and what form it would take.
Algeria shares many features with its neighbour Tunisia, where a popular uprising forced the long-serving authoritarian president to flee on January 14, and with Egypt where President Hosni Mubarak is under siege from over a week of mass protests.
Many Algerians express anger with their government over unemployment and limits on democracy.
But analysts say a revolt is unlikely because the government can use cash from energy exports to satisfy economic grievances. Many Algerians are also wary of turmoil after enduring years of conflict between security forces and Islamist insurgents.
A banned protest in Algiers organised by the RCD party on January 22 attracted a few dozen supporters and was quickly snuffed out by riot police. Several people were injured in the clashes.
© Copyright Thomson Reuters 2023. All rights reserved.