All NBA Teams 2011-2012: Players Selected to the First, Second and Third Team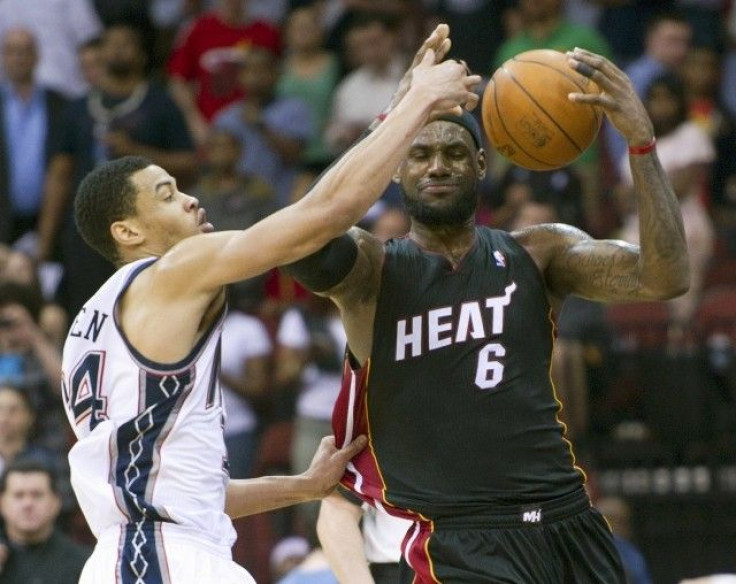 The Heat's LeBron James leads the way on the 2011-2012 All-NBA First Team.
James, who also was named the MVP of the league, averaged 27.1 points, 7.9 rebounds and 6.2 assists per game during the regular season. It's the sixth time in his career that James has made the first team.
James' teammate Dwyane Wade made the third team. The Heat, Knicks, Thunder and Clippers all had two players on the list.
A panel of 120 sportswriters and broadcasters voted for each team.
Here is the complete list of the All-NBA first, second and third teams for 2011-2012.
2011-2012 All-NBA First Team
F LeBron James, Miami 596 pts
F Kevin Durant, OKC 591 pts
C Dwight Howard, Orlando 476 pts
G Kobe Bryant, L.A. Lakers 568 pts
G Chris Paul, L.A. Clippers 484 pts
2011-2012 All-NBA Second Team
F Kevin Love, Minnesota 365 pts
F Blake Griffin, L.A. Clippers 170 pts
C Andrew Bynum, L.A. Lakers 400 pts
G Tony Parker, San Antonio 367 pts
G Russell Westbrook, OKC 239 pts
2011-2012 All-NBA Third Team
F Carmelo Anthony, New York 154 pts
F Dirk Nowitzki, Dallas 136 pts
C Tyson Chandler, New York 60 pts
G Dwyane Wade, Miami 235 pts
G Rajon Rondo, Boston 142 pts
© Copyright IBTimes 2023. All rights reserved.