Amazon And Other Online Firms Are About To Be Unleashed In India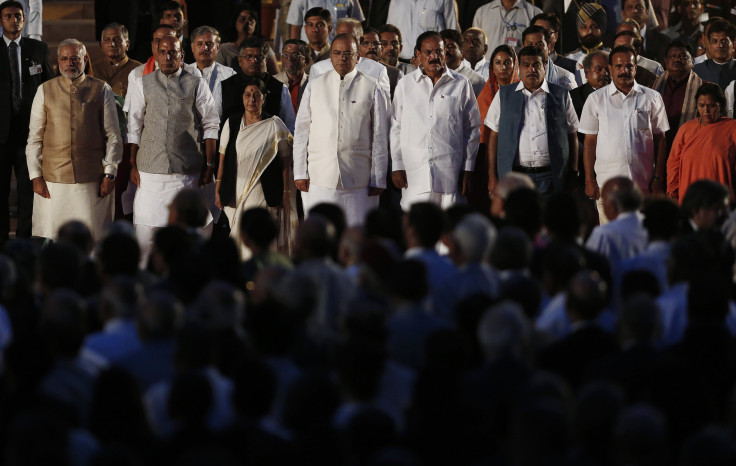 India may allow online retailers like Amazon.com Inc. (NASDAQ:AMZN) to sell their own products over the Internet as early as next month as the country's new Prime Minister Narendra Modi moves quickly to institute economic reforms and increase consumer consumption.
Global online retailers now are prohibited from selling items not sourced through third-parties.
"Most stakeholders support foreign direct investment. We have pitched for opening it up completely," a senior government official, referring to e-commerce, told Reuters Wednesday, which cited four unnamed people familiar with the situation. Industry surveys suggest that e-commerce might boost the Indian economy by four percent by 2020.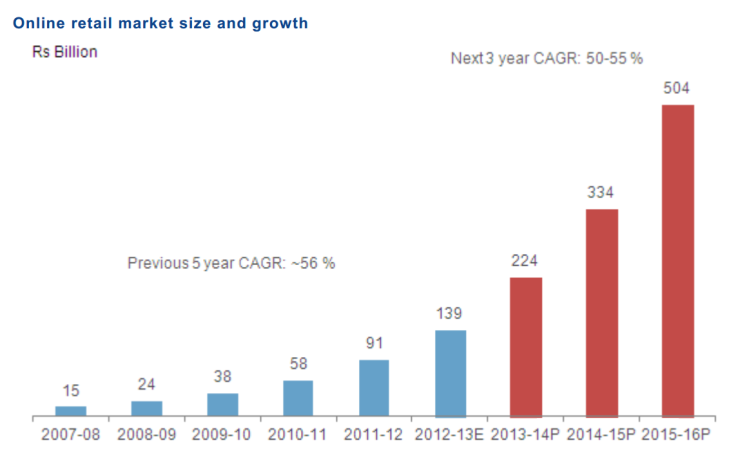 Earlier this year, Indian research firm Crisil said that the country's online retail market will expand by more than 50 percent annually for the next three years, tripling to 500 billion Indian rupees ($8 billion) by 2016.
That represents a 30-fold expansion from the end of fiscal 2008. Still, Indian e-retail represents a tiny slice of India's total retail market, which includes a vast informal retail sector, characterized by small and disorganized individual sellers rather than companies.
Two players dominate online marketplaces in India: Flipkart and rival Snapdeal. The latter brands itself as the biggest online marketplace in India and allows more than 20,000 businesses to sell on its platform, though Flipkart reportedly earns more in revenue.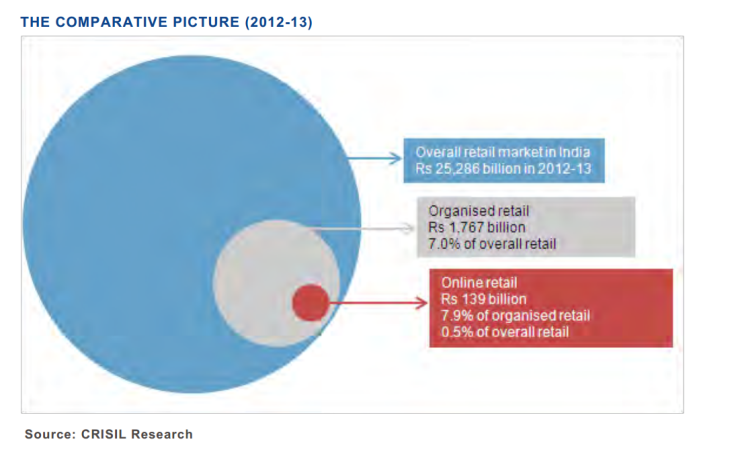 "The opportunity in Indian e-commerce is huge," Kunal Bahl, CEO of Snapdeal, told International Business Times earlier this year. "Only 0.25 percent of India's retail is e-commerce, versus 4 percent in Latin America, 6 percent in China, 9 percent in the U.S. and 13 percent in South Korea. The market here could grow to $1 trillion over the next 10 years, if e-commerce exists to the same level as in other emerging markets, of around 4 to 5 percent of retail."
Media Center, a New Delhi company that provides courses in mass communications and media, said that the country's e-Commerce market was valued at about $2.5 billion in 2009, rising to $6.3 billion in 2011 and $14 billion in 2012. Most of that, roughly three-quarters, is related to traveling , while retailing made up about 12.5 percent.
"For the longest time, no one took India's Internet industry seriously," Bahl said. "That's changed in the last twelve months, thanks to high quality companies and good management teams backed by blue-chip global investors."
Earlier this year, Snapdeal picked up eBay as an investor. The online auction and resale site led a funding round that raised $134 million for Snapdeal. The investment could lead to a buyout down the road, Re/code reported in February.
"When we make an investment and are cooperating with a third-party like Snapdeal, we hope to be successful and hope eventually we can take the next step," eBay's Marketplaces' President Devin Wenig told Re/code. "We have a history of making minority investments where at times it works well and we take the next step and end up acquiring the target."
Wal-Mart Stores Inc. (NYSE:WMT), the world's largest retailer, also stands to gain from any relaxed rules.
The Bentonville, Arkansas company's efforts to influence legislators to facilitate its business in India has sparked a furor in New Delhi in the past because lobbying is illegal in India and money spent on such activities is considered a bribe.
Amazon has been in India for about a year but under Indian rules has had to offer for sale merchandise sourced through thousands of local merchants.
"A few thousand sellers have already registered for the new service," Amit Deshpande, a director and general manager at Amazon India, told India's Economic Times website in April. Deshpande said the company already has attracted about 4,000 sellers.
© Copyright IBTimes 2023. All rights reserved.
FOLLOW MORE IBT NEWS ON THE BELOW CHANNELS