Amazon Prime To Release Smartphone With 3D User Interface, 4.7-Inch Screen
Seven years after Amazon introduced the Kindle e-reader and disrupted the publishing industry, the online retail behemoth is looking to shake up the cutthroat and highly competitive world of smartphone manufacturers.
Amazon (NASDAQ:AMZN) is set to launch a new device at a press event in Seattle at 10:30 a.m. PDT (1:30 p.m. EDT) Wednesday. While the company has not released any information that confirms the smartphone's existence, it is widely expected due to a series of leaks (and a poorly framed video).
Amazon published a teaser video at the beginning of June that showed a bunch of people looking at a device off screen and praising it with platitudes. However, about three quarters of the way through (at 42 seconds to be exact) a bespectacled woman says "that's fantastic" and the top of a phone breaches the camera frame's lower edge.
What we can see is a gray phone-sized handheld device and a reflection of a glowing screen in her glasses. While the details of the phone are still shrouded by Amazon, the video clearly shows a device that looks to be somewhere in the 4.7-inch screen range, judging by the width. It also has a matte finish, rounded corners, and the standard 3.5mm headphone jack on the top right of the phone. BGR reported earlier this spring that the phone will run on a Qualcomm Snapdragon processor and 2GB of RAM. They also released a picture of the phone, but the top of the BGR picture doesn't match up with the phone in the video released earlier this month.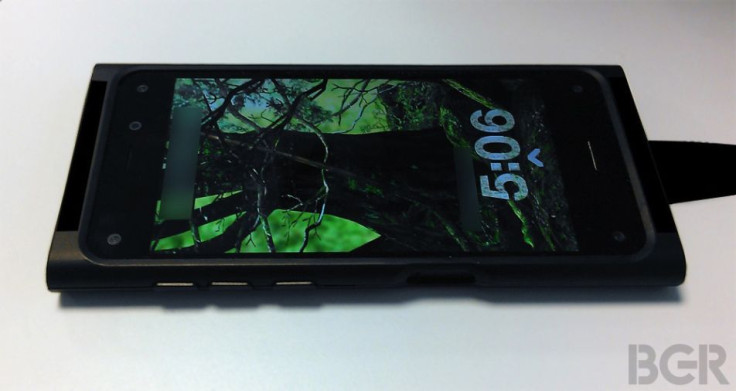 The phone is rumored to have a 3D user interface, which both HTC and LG have tried before to little success. While HTC and LG used screen filters to obtain the third dimension, Amazon is said to obtain the 3D effect by using multiple cameras (both traditional and IR) on the phone.
The phone will also run Amazon's own version of the Android operating system, called FireOS, which currently runs on both the Kindle Fire HD and the Amazon Fire TV. In a fashion similar to Apple (NASDAQ:AAPL), Amazon could be creating an ecosystem that aims to connect multiple devices. However, unlike Apple, Amazon's content services come free with an Amazon Prime membership, which could be a way to encourage non-Prime members to sign up for the annual service.
Begun in 2005, Amazon Prime gives members free two-day shipping and access to Prime Instant Video and Prime Music, as well as a free ebook ever month for Kindle owners.
© Copyright IBTimes 2023. All rights reserved.
FOLLOW MORE IBT NEWS ON THE BELOW CHANNELS