Amazon's Smartphone Targets Apple And Google, Making The Online Retailer A Top Three Contender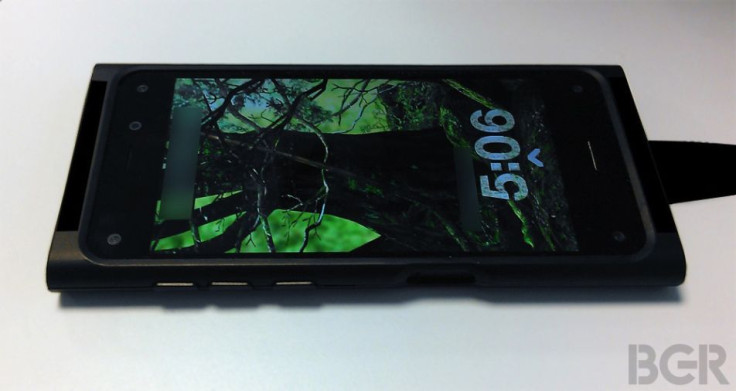 With Amazon's presumed launch of its first smartphone at a live event in Seattle Wednesday, the online commerce giant adds the key component to an expanding catalog that puts it in position to go up against Google and Apple.
Said to include a glasses-free 3D user interface, Amazon's smartphone will run exclusively on AT&T, a controversial choice since it is the second-largest wireless carrier in the United States and trails Verizon Wireless' customer satisfaction ratings (though AT&T Wireless' 4G service was rated the most reliable). Amazon CEO Jeff Bezos hasn't officially given his reasons for the exclusive-carrier decision, but it could be motivated by AT&T's Sponsored Data option.
Through that plan, launched earlier this year, sponsor companies pick up the cost of consumers' data usage if they use specific apps. Spending less for data usage, the Amazon logic goes, would allow customers to spend more on things like Amazon Prime, the subscription service that gives users all kinds of benefits -- and usually leads them to buy more goods, more frequently, on Amazon.com.
The Amazon smartphone is just the most recent product in Amazon's efforts to compete with the world's most valuable companies. With hardware like the Kindle Paperwhite, Kindle Fire HD, Amazon Fire TV, and services like Amazon Prime shipping, Prime Instant Video, Prime Music -- which just launched last week -- and one of the largest e-book collections around, Amazon may soon become a top three contender.
"There have already been many examples of [Google, Apple and Amazon] expanding beyond their core business," Chad Bartley, a senior research analyst for Pacific Crest Securities based in Portland, Oregon, told International Business Times. "This has been going on for years, this will continue, overlapping and competing of services, particularly with Amazon and Google."
In nearly two decades of operation, Amazon has grown from an online bookstore into an estimated $90 billion business with multiple platforms. It even broke into Millward Brown's top 10 most valuable brands in the world for the first time recently. But this year in particular has seen Amazon push into new categories held by its competition, categories like hardware and streaming services.
Amazon Prime helps boost all of the above. It's the cheapest service available considering what subscribers get for their annual $99 fee (Amazon raised the price $20 in April, which as the Atlantic points out is only $5 more when adjusted for inflation), meaning the service breaks down to $8.25 per month for streaming video. Adding to Prime's value, it offers subscribers free shipping for items bought on Amazon.com, a free book each month on Kindle devices from Amazon's lending library, and Amazon Prime Music, which launched Thursday.
To get the same content and services elsewhere, users would need Netflix, Google Play, and iBooks and would have to pay for shipping on most purchases made online, making the comparable cost much higher than $8.25 a month.
On the business side, Amazon Web Services (AWS) has been a strong performer, giving enterprise customers a 626 percent return on investment (ROI) after five years, according to a report by IDC.
"Overall, the organizations interviewed recognized annual financial benefits averaging over $518,000 per application," the report stated.
In March, then-Morgan Stanley analyst Scott Devitt cited AWS and Amazon Prime as key to the company's continued growth.
Amazon isn't just trying to compete in the virtual space. The Amazon Fire TV competes with the Apple TV and Google Chromecast; the Kindle Fire HD is up against the iPad and the Nexus 7; and an upcoming smartphone will be in direct competition with the iPhone 5s and the Nexus 5.
A new comprehensive ecosystem combined with Amazon Prime adds up to a formidable business that's primed to compete.
That said, Amazon still has some work to do. Amazon Prime Instant Video doesn't have the content that Netflix has, Prime Music only has 1 million songs while Spotify has 20 million, and the Kindle Fire HD doesn't sell nearly as well as the iPad, Nexus 7, or the Samsung Galaxy Tab 3, nor does it have the same number of apps. The iPhone and Samsung Galaxy S lines dominate the market, taking nearly 50 percent combined.
Check out the Amazon smartphone teaser video below. At the 42-second mark, you can see the top of the phone clearly.
© Copyright IBTimes 2023. All rights reserved.
FOLLOW MORE IBT NEWS ON THE BELOW CHANNELS