American Jobs Report Shows Vigor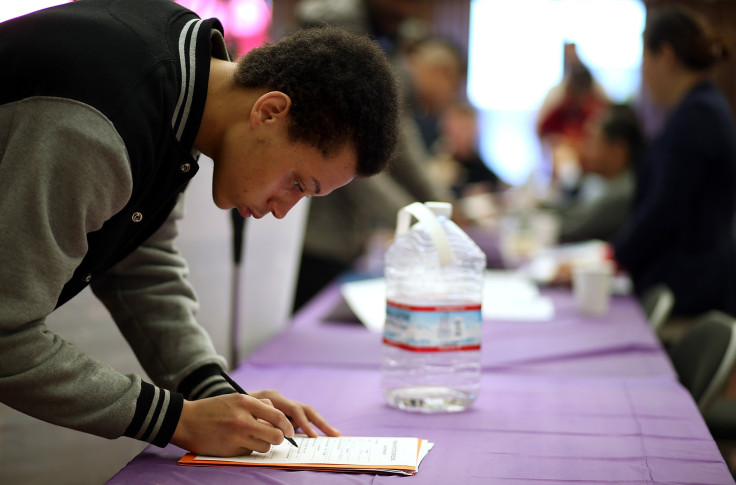 A relatively strong monthly jobs report added to a growing sense that the American economy is finally gaining significant momentum in the wake of the worst economic downturn since the Depression.
During the month of May, the economy added 217,000 net jobs and the unemployment rate remained steady at 6.3 percent, according to the Labor Department report. That marked the fourth month in a row that at least 200,000 jobs had been added, a level seen as an important indicator of general resilience, and it meant that more Americans were officially working than ever -- 138.5 million. The nation has now recovered all of the jobs lost in the Great Recession.
Yet beneath those seemingly reassuring headline numbers, grim realities remained. Most workers are seeing weak job growth, meaning that people who live on paychecks have yet to realize a slice of the spoils of the recovery. This has put a brake on consumer spending, which comprises some two-thirds of the nation's economic activity.
"That certainly has implications for the economy because corporate growth and profits are aided by strong wage growth, not too strong but enough to fuel consumption," said Joe Peta, managing director of investor advisory firm Novus. "Consumption is driven by wage growth and these are not the same quality jobs that we had before the recession."
One key measure, the so-called labor force participation rate, sat at 62.8 percent, a low last seen in the Carter administration -- an indication that many would-be job seekers have simply given up. This coupled with the stubborn reality of long-term unemployment -- some 3.4 million had been officially out of work for six months or longer -- suggested that for millions of Americans the economy has all but stopped functioning as a source of bill-paying opportunity.
This lackluster wage growth, about five cents extra per hour worked last month and 49 cents more per hour adjusted for inflation over the past year, needs to improve in order to stimulate consumption. Some believe that wage growth will pick up this year.
"The falling unemployment rate hasn't yet triggered any significant pick-up in wage growth, but we suspect that will be one of the big economic stories in the second half of this year," Paul Ashworth, chief US Economist at Capital Economics, said in a research note on Friday.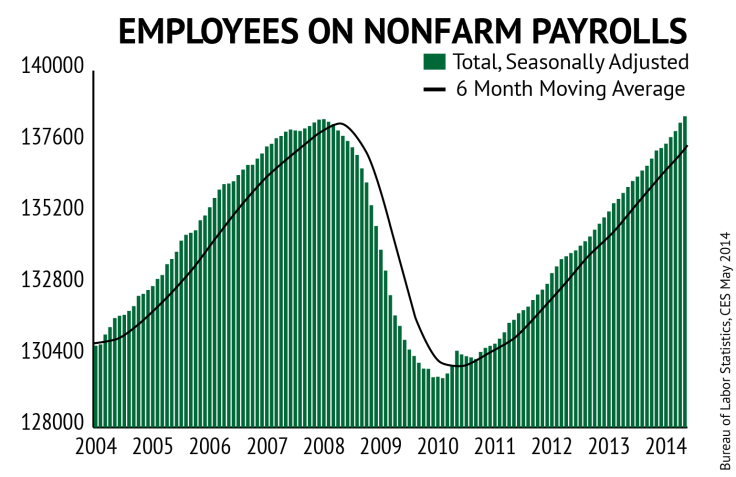 Friday's numbers show modest growth in business and professional services, which added 55,000 positions last month. But manufacturing jobs increased by only 10,000 positions, or 105,000 over the past year. For every manufacturing job that has been created in the past 12 months, five jobs were created in restaurants, hotels and temporary-placement, a strong indicator of the changing nature of the U.S. job market where lower paid positions are outpacing jobs in making things for better pay and benefits.
"Though the economy has finally recovered the number of jobs lost during the recession, the manufacturing sector hasn't made it even one-third of the way back," Scott Paul, president of the Alliance for American manufacturing trade group, said in a statement issued Friday. "Manufacturing added only 10,000 jobs in May, far below the pace needed to show a true recovery."
Rich Thompson, chief human resources officer at Adecco SA (VTX:ADEN), the world's largest temporary staffing and human resources services providers, said employers are starting to find it a little harder to find qualified job seekers, especially in engineering, information technology and health care services.
"We gained 14,300 [temporary jobs] last month. That takes us over a million from a year ago," he said. "I think this growth is the front-end sign of a stronger pace of recovery with the job market coming in at over 200,000 for the fourth month in a row. We're seeing companies now loosening the reins a little bit, realizing that a nice flexible start back to hiring can be the temporary worker."
The report showed that the economy has recovered the 8.7 million jobs lost during the financial crisis, but that milestone is largely symbolic as more jobs are needed to meet the demand of a growing workforce. Nor do the numbers account for the declining quality of jobs being created or the low workforce-participation rate, currently at a 36-year low.
© Copyright IBTimes 2023. All rights reserved.