Analysts Raise Expectations for Economic Growth in Sub-Saharan Africa, Though Commodity Prices Pose Threat For Future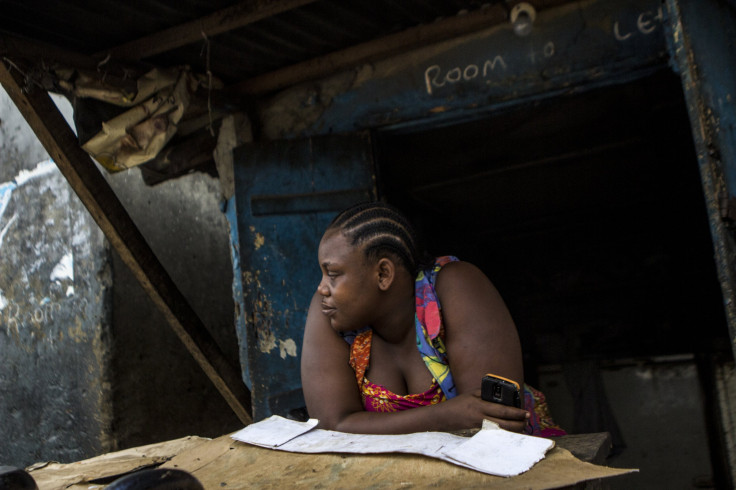 Africa is poised to grow faster than the rest of the world even after a year of public health crises, increased terrorist attacks and rising political tension. The continent will shake off the effects of the Ebola virus in West Africa and of the Boko Haram insurgency in its biggest economy, Nigeria, to surge back to levels of economic growth not seen since before the 2008 economic crisis, says a new report.
Economic growth in sub-Saharan Africa will reach 4.6 percent this year and increase to 5.4 percent in 2016, according to predictions in the African Economic Outlook, an annual report from the African Development Bank, the Organization for Economic Cooperation and Development and the United Nations Development Program. These rates would mean regional growth far beyond the predicted global average of 3.5 percent growth this year and 3.8 percent next year, according to the IMF.
"African countries have shown considerable resilience in the face of global economic adversity," Steve Kayizzi-Mugerwa, acting chief economist and vice president of the African Development Bank, said in a Monday statement.
According to the report, this strong increase is thanks to improved political stability in many countries that led to positive economic policy developments, which make markets more appealing to foreign investors -- a development that's offsetting the negative effect of rising political instability in countries like Burundi.
"Even Ebola-affected countries that lost an estimated $1.4 billion in GDP during the outbreak will be back on track by 2016," the report says. The Ebola outbreak this year affected Liberia, Sierra Leone and Guinea. It has been declared officially over in Liberia.
"Governments are improving the business environment and promoting structural transformation from traditional toward more productive activities," the report says. "Lower inflation and stronger budgets due to more prudent fiscal policies, helped by debt relief, have improved macroeconomic stability and supported growth in many countries."
Most of the countries that saw relatively low growth (under 2 percent) in previous decades were suffering from civil wars, military coups or social unrest. However, between 2001 and 2014 violent conflict has gone down, overall, and political stability is up.
Rwanda, for instance, doesn't have the massive natural resources many other countries do, but policies including reducing interest rates to stimulate growth have arguably worked; Rwanda's economic growth rate was 4.7 percent in 2013 and accelerated to 7 percent in 2014, with analysts expecting 7.5 percent this year.
That is going hand in hand with a growing influx of foreign investors. Between 2003 and 2008 greenfield investment (i.e., investment that involves building facilities from the ground up) in Africa was about 11 percent of the world's total. Today it's roughly 19 percent, according to the report.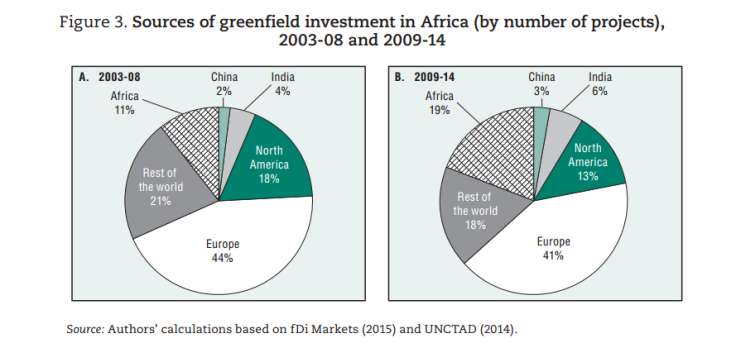 But the other main driver behind African growth is massive global demand for commodities -- and this could be a double-edged sword, as commodity prices can be volatile.
"So far African economies have been relatively resilient to the sharp fall of international commodity prices," the report says, adding that production has increased despite lower prices. "But if commodity prices remain low or decline further, growth in resource-rich countries might slow down as governments need to cut spending."
Another risk is tied to what happens to China's economy, whose growth has created a unique opportunity for many resource-rich African countries over the past decade.
For instance, between 2001 and 2014, the average annual growth in several resource-rich countries -- Angola, Chad, Equatorial Guinea, Nigeria and Sierra Leone -- rose to 8 percent. Zambia, another resource-rich country, saw its growth accelerate from just 0.5 percent before 2000 to 6 percent between 2001 and 2014.
Minerals and ores account for two-thirds of Africa's merchandise exports, which were mainly dominated by oil-producing countries. However, this makes them especially vulnerable.
"Price volatility could cause problems for Africa's commodity producers," the report says. At the beginning of this year, commodity prices hit a five-year low, which will almost certainly have a major impact on African trade, investment and growth. Nigeria, for example, has seen its currency tumble in recent months, as its oil-dependent economy was hit by falling oil prices.
This is only one example of a strong economy put in jeopardy by global forces. Economists say it's necessary for sub-Saharan African policymakers to think ahead and use the growth period to plan for the future, with special care to ensure the benefits are spread throughout the population.
"Inclusive and sustainable growth is a fundamental aspect of Africa's post-2015 development agenda for economic and social transformation," said Abdoulaye Mar Dieye, the director of the regional bureau at the UNDP, in a statement. "We need to invest in building economic opportunities, including at the local level. And especially those of young women and men, who are the architects of tomorrow's Africa."
© Copyright IBTimes 2023. All rights reserved.