Eric Garner Protests Across The Nation Were Peaceful, But Powerful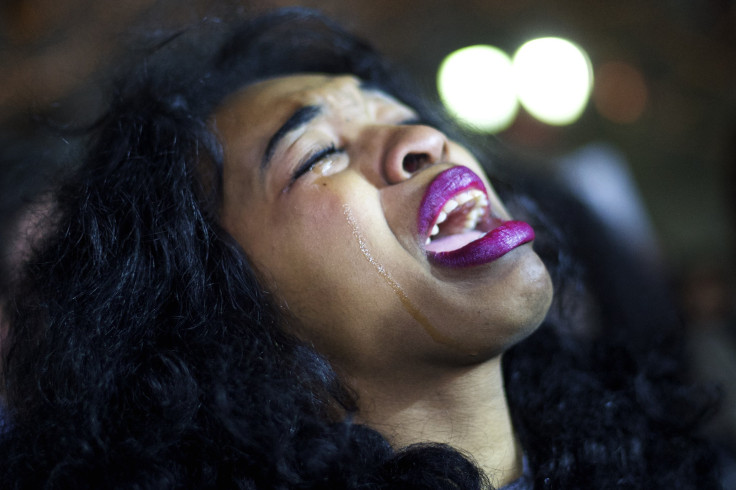 NEW YORK -- Protesters of all ages, races and religions gathered Wednesday night across the country, after a New York City grand jury decided not to indict a police officer in the chokehold death of Eric Garner. Some rallied in metropolitan areas chanting "hands up, don't shoot," "no justice, no peace" and "I can't breathe." Others lay "dead" on the ground for hours in municipal buildings. They all were determined to convey the same message: It's not just Ferguson; it's not just Cleveland; it's not just New York. It's a systemic failure of law enforcement nationwide.
There's too little trust between local cops and the communities they've vowed to serve and protect. Unarmed African-Americans have faced death at the hands of white police officers too often. And the two cases -- Ferguson and New York -- occurring so close together may have finally ignited enough attention that unequal justice can no longer remain invisible or unaddressed.
The victims' families are calling for justice and say they won't stop until they get it. Protesters echo their sentiments, urging U.S. President Barack Obama and Attorney General Eric Holder to intervene. "All lives must be valued," Holder said in a press conference Wednesday, announcing a Department of Justice investigation of Garner's death, and a "complete review of the materials gathered" during the NYPD investigation.
After meeting with community, faith and political leaders in the Oval Office on Monday, Obama announced a $263 million community policing initiative to purchase body cameras for law enforcement nationwide. The announcement came just days after violent and destructive protests devastated St. Louis County in Missouri, following a grand jury's decision not to indict Ferguson police officer Darren Wilson -- a white cop who shot and killed Michael Brown, a black unarmed teenager.
"This time will be different because the president of the United States is deeply vested in making it different," Obama told reporters. "In the two years I have remaining as president, I am going to make sure we follow through."
However, protesters question whether body cameras will suffice. In Garner's case, videotape evidence was not enough to indict the police officer who killed him. Garner was confronted by New York City Police Department officers on suspicion of selling untaxed, loose cigarettes in Staten Island on June 17. A witness-recorded video shows NYPD Officer Daniel Pantaleo wrap his arm around Garner's neck, as several other officers tackle the unarmed black man to the ground. Garner repeatedly yells, "I can't breathe" until he goes silent.
The New York medical examiner ruled Garner's death a homicide caused by an officer's use of a chokehold -- a restraining maneuver banned by NYPD policy since 1993. Despite the dramatic video, a New York City grand jury announced its decision Wednesday not to indict Pantaleo.
A transcript of the grand jury proceedings has yet to be released. However, Pantaleo's attorney told the New York Times the officer said in his testimony that he never meant to choke Garner. "He wanted to get across to the grand jury that it was never his intention to injure or harm anyone," Stuart London told the Times on Wednesday. "He was really just describing how he was attempting to arrest someone."
Rev. Dr. Kahli Mootoo, president of the Bronx chapter of the National Action Network, told International Business Times on Wednesday that a serious effort to recruit law enforcement in minority communities is critical to the solution. "When we have our own people policing our own people, there is a cultural competency level that cannot be equaled anywhere else. When someone looks like you and is the one who has to enforce that law, there's just a gentleness," Mootoo said.
New York City Mayor Bill de Blasio said the ruling was an outcome many New Yorkers did not want. "[Eric Garner's] death was a terrible tragedy that no family should have to endure. This is a subject that is never far from my family's minds — or our hearts. And Eric Garner's death put a spotlight on police-community relations and civil rights — some of most critical issues our nation faces today," de Blasio, who is married to an African-American woman, said. The New York City mayor spoke candidly and emotionally about the conversations he has with his son, Dante, about safety.
People gathered in neighborhoods across New York City on Wednesday to protest the grand jury's return of no indictment -- including a staged "die-in" at Grand Central Terminal, makeshift memorials on Staten Island, a march up the West Side Highway and demonstrations in Harlem, Rockefeller Center, Times Square and Union Square. Rallies also took place in other major U.S. cities including Philadelphia, Washington D.C., Chicago, Oakland and Los Angeles, according to several reports.
Rev. Al Sharpton held a press conference in Harlem Wednesday night with Garner's family. Garner's mother pleaded for protesters to "rally in peace," while Garner's widow called for greater police scrutiny. "Somebody who got paid to do right, did wrong," Esaw Garner said. "As long as I have a breath in my body, I will fight to the end."
Sharpton, a civil rights activist, has voiced his position against the NYPD since Garner's death this summer. "We have no confidence in local state prosecutors. Because state prosecutors work hand in hand with local police, they do not have the independence," he said at the press conference, which was held at the National Action Network in Harlem.
Sharpton said he and Garner's family were pressing Obama and Holder for a federal investigation, and the Attorney General announced that the government will investigate whether Garner's civil rights were violated in the course of his arrest and death.
African-American politicians are heeding the calls of activists and protesters. Obama has met with community leaders, officials and victims' families in both Ferguson and New York City. Holder is expected to meet with Cleveland officials and leaders on Thursday, where the U.S. Department of Justice has been investigating the shooting death of two unarmed black individuals in 2012. Last month, a white Cleveland police officer shot and killed Tamir Rice, a 12-year-old black boy who was holding a non-lethal airsoft handgun.
Unlike the unrest that engulfed Ferguson, the protests in New York Wednesday night were largely peaceful. Demonstrators echoed the final moments of the victims -- holding up their hands, as some witnesses said Brown did, or saying, "I can't breathe," as Garner did. Those details made the tragedies more personal and more powerful: These were two unarmed men, stopped by police for walking in the center of the street or allegedly trying to sell loose cigarettes, who ended up dead.
"Burning down our own communities, destroying our infrastructure doesn't help the fight; it makes it worse," said Mootoo, who attended the rally in Harlem. "What helps the fight is what we had here today — hundreds of people gathering together."
© Copyright IBTimes 2022. All rights reserved.
FOLLOW MORE IBT NEWS ON THE BELOW CHANNELS