Apple AirPods Charging Case Targeted In New Lawsuit
KEY POINTS
Apple is facing a new lawsuit alleging the company infringed on four patents
The founders of GUI Global Products claimed Apple used their technologies on the AirPods, AirPods Pro, Powerbeats Pro and their respective charging cases
The patents seem new but related filings date as far back as 2011
A new lawsuit filed against Cupertino tech giant Apple accuses it of infringing and continually infringing on patented technologies belonging to another U.S. company.
The new lawsuit specifically accuses Apple of knowingly infringing technologies mentioned in four different patents, all of them invented by Walter G. Mayfield and Daniel Martin Valdez, owners and founders of GUI Global Products, also known as Gwee.
The plaintiffs claimed that Apple used their technologies on the AirPods, AirPods Pro, Powerbeats Pro and their respective charging cases. The plaintiffs said that by making, using and selling the aforementioned devices, Cupertino has and is causing damage to Gwee, which seeks a trial by jury, an award of damages and more.
Although the plaintiffs' granted patents look like they were filed between 2017 and 2019 – the first of them filed about a year after the first-gen AirPods was released – their patents claim priority to nonprovisional and provisional filings dating as far back as Aug. 5, 2011, which is more than five years before the first AirPods came to be.
The lawsuit, a complete copy of which can be viewed here, specifies how Apple infringed on all four patents with the first and second-gen AirPods, AirPods Pro, Powerbeats Pro and their respective charging cases. Basically, all four patents describe largely similar technologies related to magnetic coupling, a hinged lid and how the devices respond when users do something with these.
The plaintiffs mention four patents: U.S. Patents No. 10,589,320, 10,562,077, 10,259,021 and 10,259,020.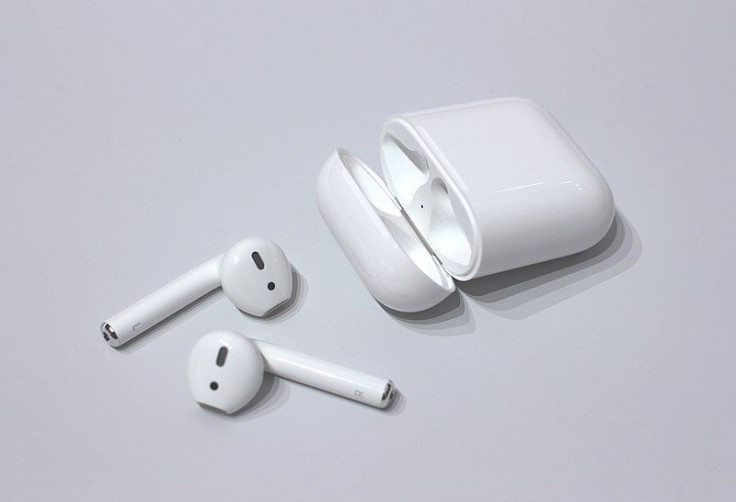 Here's a quick look at some important points to consider:
A switching and electronic device's coupling mechanics
The '320 patent's first claim talks about a "system" comprised of a switching device and an electronic device that can couple with each other using magnets. Users will be able to separate the two using force.
The two device's relationship
The switching device mentioned above activates, deactivates or sends into hibernation the electronic device depending on whether they are coupled using magnets, separated from each other or the two are coupled but the lid on the switching device is opened or closed.
Details about each device
The patents describe the switching device as a case that functions to protect the electronic device when coupled. It has a hinged lid, which is "recessed to configure to the electronic device."
The electronic device, on the other hand, is specifically described as "wireless earplugs" that has "beveled edges, ridges, recessed areas, grooves, slots, indented shapes, bumps, raised shapes, and combinations thereof."
These are but some of the details presented, but they seem to describe the Apple devices accurately. Those who are interested to know more about the complaint can read it via the link provided above.
© Copyright IBTimes 2023. All rights reserved.