Apple Beat Microsoft, Coca-Cola To Become World's Most Valuable Brand In Forbes Ranking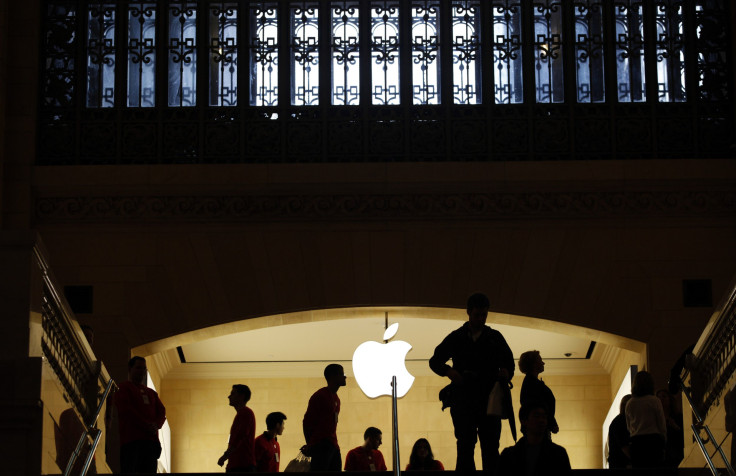 Apple's (NASDAQ:AAPL) brand was valued at almost twice that of its closest competitor and helped the company retain its number one position on Forbes' 2013 ranking of the world's most valuable brands, for the third time in a row.
Apple's brand in the list was worth $104.3 billion, a 20 percent jump over the previous year, followed by other technology giants such as Microsoft (NASDAQ:MSFT), IBM (NYSE:IBM), Google (NASDAQ:GOOG), Intel (NASDAQ:INTC) and Samsung (KRX:005935), all of whom made it to the top 10. The non-technology companies that were among the first 10 brands were McDonald's (NYSE:MCD) and Louis Vuitton (EPA:MC) while Coca-Cola (NYSE:KO) was the only non-technology company to make it to the top five.
"The heart of a great brand is a great product," Forbes quoted Kevin Lane Keller, a branding expert and professor at Dartmouth's Tuck School of Business, as saying. "Design is how a product works, how it looks, how it feels. It's functional and aesthetic. Apple has embraced that in the fullest sense possible in terms of making products simple, but also good looking and attractive."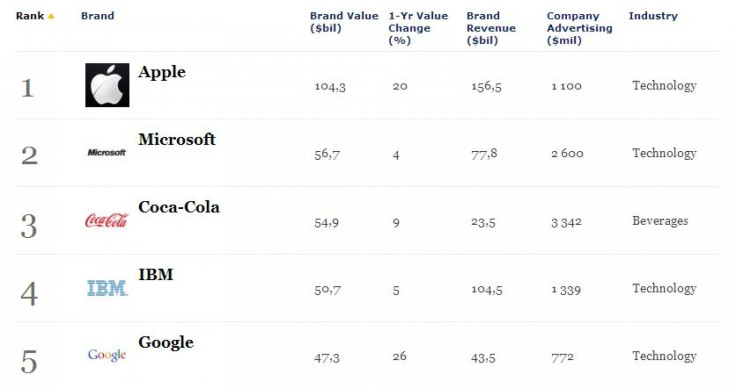 A notable point here is the amount of money spent by the companies on advertising. Samsung, which had the lowest advertising spend-to-brand value ratio among the top 10 brands, spent nearly $4.4 billion publicizing its products during the year, which equals approximately $149 million spent for $1 million earned in brand value. In comparison, Apple's ratio was only $10 million to $1 million, Apple Insider reported.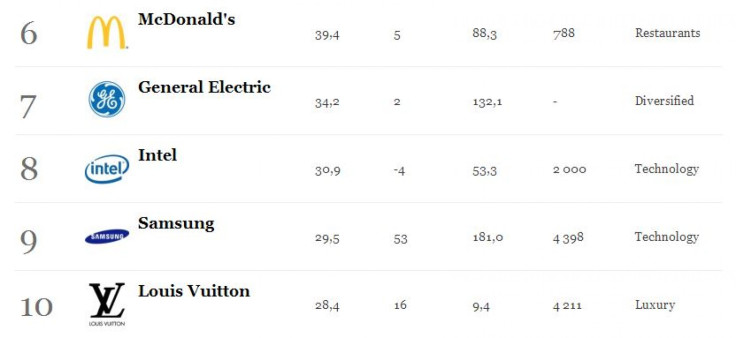 While Nokia's (NYSE:NOK) brand value plummeted by 55 percent, demoting the company to number 72, struggling BlackBerry (NASDAQ:BBRY) fell off the top 100 rankings entirely.
According to Forbes, the rankings were calculated after evaluating more than 200 global brands in 15 countries across 20 broad industry categories. The brands were valued on the basis of three years of earnings and were allocated a percentage of those earnings based on how important a brand is to the success of a business in that particular category.
For the full list of the top 100 global brands, click here.
In September, Apple was named as the best global brand in a report released by Interbrand, a New York-based corporate identity and brand-consulting company.
© Copyright IBTimes 2023. All rights reserved.