Apple Glass Concept Includes Product Comparison Feature For Shoppers
KEY POINTS
Apple is working on a new technology designed to help users with grocery shopping
The tech requires the use of a head-mounted display device, like the Apple Glass
The invention is but a patent application at the moment, however
Cupertino tech giant Apple is working on technology that can help consumers get important information about products in grocery stores. The tech can also be used in comparing products that are placed side by side in store shelves, helping users make better choices when shopping.
In a new patent application recently published by the U.S. Patent and Trademark Office, Apple detailed its concept for a head-worn device which some have dubbed the Apple Glass. It will be able to display relevant information on grocery store products, such as cereals or over-the-counter medicine, for users to see.
While consumers can actually get these information without the need for a special kind of technology, the process of finding such details is an "inefficient experience" and time and energy consuming.
In the patent application, Apple proposes methods that are "faster" and "more efficient" in providing product information. The technology also aims to "reduce the cognitive burden on a user," "produce a more efficient human-machine interface," and consume less battery power compared to searching for information using the internet.
How it works
According to the patent, the technology will require the use of an electronic device with a display, and one or more image sensors capable of detecting a first and a second product. That device could be a head-mounted display (HMD) device, such as the Apple Glass.
The system will use image sensors to detect certain products and will then retrieve information regarding the product. It will then display relevant details on the HMD device's screen.
The system can also be used to compare two products by placing a second product within a "threshold distance" of the first product. The system will display comparison information, helping users differentiate between the two (see image below).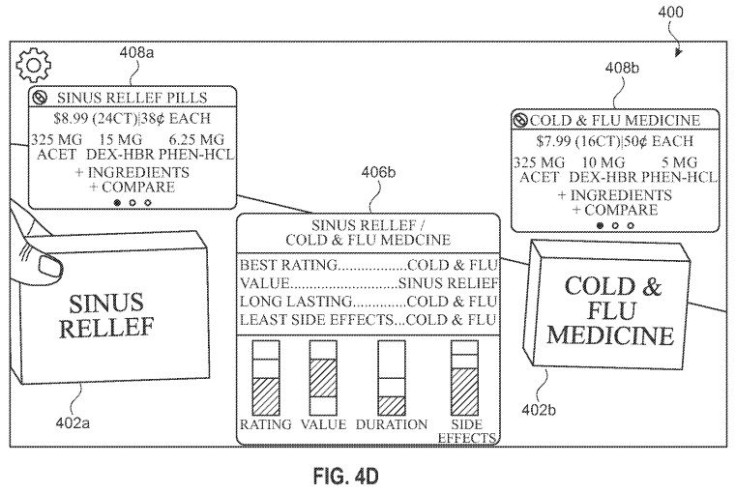 © Copyright IBTimes 2023. All rights reserved.