Apple Inc. (AAPL) Q3 Earnings Preview: iPhone 6 Demand Eats Away At Android
Consumers are still obsessed with Apple Inc.'s latest smartphone -- the iPhone 6. And just how well it sold is what investors will be looking for when Apple reports its fiscal 2015 third-quarter earnings Tuesday.
Analyst consensus estimates place projected iPhone sales for Apple's 2015 fiscal third-quarter at around 50 million units, a 42 percent increase year over year. Europe and China were likely the biggest contributors to iPhone sales, according to data from Kantar WorldPanel.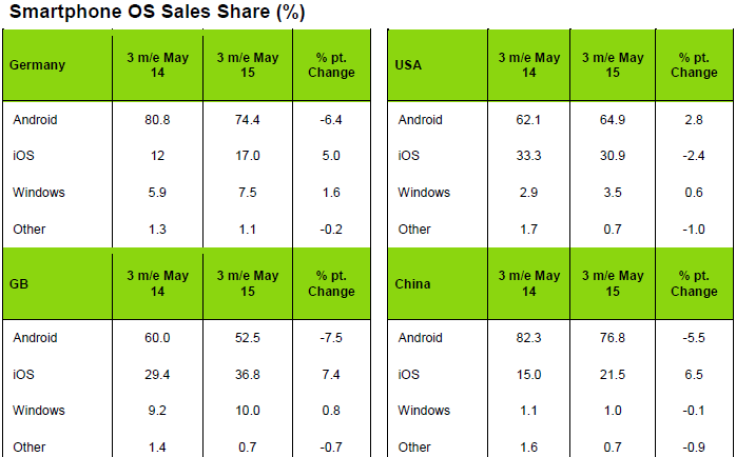 On a quarter by quarter basis, the overall smartphone market declined 2.5 percent to 326 million units, according to a research note from Canaccord Genuity. In previous years, this period was typically where Android device makers picked up in sales. But this year, Apple's latest iPhones may have caused a decline instead for high-end Android manufacturers.
"The main feedback that we got from industry participants is Apple [iPhone] sales have been so strong that they stole away from high-end Android sales," said Michael Walkley, Canaccord Genuity managing director. "They usually wait until the June quarter to launch their products. And there just wasn't the high-end demand for Android given the very strong sales that continue for the iPhone 6 models."
Wall Street expects a strong showing from Apple when it reports, with projected earnings per share (EPS) of $1.78, or $10.3 billion profit on $49 billion in revenue, and a net income increase of 32.6 percent year over year, according to consensus estimates from analysts polled by Thomson Reuters. In comparison, Apple's fiscal 2015 third-quarter guidance placed revenue at $46 to $48 billion.
Apple's Mac sales are expected to grow to 5.1 million units in the June quarter, up 16 percent from the same period in the previous year, according to estimates from IDC. But as a whole, the PC market has continued its decline, with overall sales dropping 11.8 percent to 66.1 million units. Sales of the iPad are projected to fall even further to 9.7 million units, down 27 percent from the same period last year, according to anaccord Genuity.
Apple has kept quiet about Apple Watch sales and it's unlikely to breakout specifics anytime soon. But analysts have thrown their best guesses out there with projections for the June quarter -- anywhere between 3 and 5 million units for the Watch. Since its launch, Apple has gradually made the Apple Watch available in more countries and in June began selling them in its stores through a "reserve and pickup" system.
"To be straight, I am not very anxious in reporting a lot of numbers on Apple Watch because our competitors are looking for it," Apple CEO Tim Cook said during an October earnings call. "So aggregating it is helpful from that point of view as well."
Apple Inc. will announce its earnings results on Tuesday after the bell. Following the earnings release, Apple will hold a conference call to discuss the results starting at 5 p.m. EDT/2 p.m. PDT.
© Copyright IBTimes 2023. All rights reserved.