Apple Inc, Alcoa Inc And Caterpillar Inc: 3 US Companies Hurt Most By China's Devalued Yuan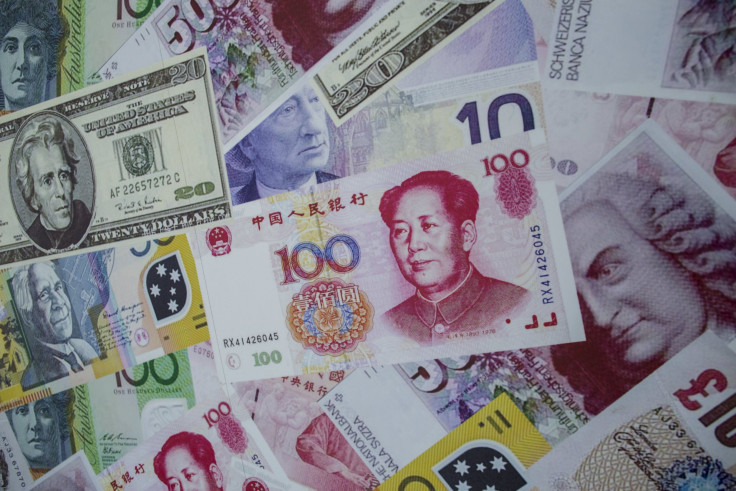 A prolonged period of dollar strength might sound good when it comes to U.S. consumer purchasing power, but it isn't exactly great news for American corporate bottom lines. The Chinese government's recent devaluation of the yuan has negative consequences for U.S. companies with significant operations in China because the move could weigh on earnings growth.
As the U.S. economy steadily improves -- and economies in Europe and Asia continue to slow down -- the value of the U.S. dollar continues to advance against major currencies. The greenback has gained more than 7 percent since January and nearly 19 percent in the last 12 months.
The potent dollar is a huge drag on growth for the benchmark Standard & Poor's 500 because the index's companies are believed to derive almost one-half of their revenue from overseas.
Here are three companies with significant exposure to China:
1. Apple
Tech giant Apple Inc. (NASDAQ:AAPL) is already coping with the potent dollar, and the devaluation further increases the cost of iPhones and iPads in the local market, Gerry Granovsky, a senior vice president at Moody's, said in a note last week.
"Although much of Apple's products are assembled in China, the company would not immediately see cost benefits from its Chinese sourcing because most of the manufacturing and assembly arrangements are denominated in U.S. dollars," Granovsky explained.
Shipments of Apple's flagship iPhone, the company's biggest product category by unit sales and revenue, came in at 47.5 million last quarter, below analysts' forecasts for 50 million.
Although growth in China remained robust, with sales more than doubling and comprising 27 percent of total revenue, separate data released this month showed Apple no longer reigned as the top smartphone maker in China during the second quarter. Chinese smartphone maker Xiaomi reclaimed its spot in the region last quarter, beating Apple and Huawei, said market research data from Canalys released Aug. 3.
Apple Inc. (AAPL) | FindTheCompany
2. Alcoa
Alcoa Inc. (NYSE:AA), the world's third-largest producer of aluminum, saw its earnings hurt last quarter by low aluminum prices. The heavily traded base metal hit a six-year low of $ 1,553 per ton last week on the London Metal Exchange as concerns about China's devalued yuan and stock market crash last month spread to commodities markets.
Alcoa's revenues come from four different areas: smelting, alumina, flat aluminum products and its engineered products segment, which includes primarily non-aluminum aerospace products, building & construction and commercial transportation. Smelting, the process of extracting aluminum from aluminum oxide (alumina) through an electrolytic reduction, is heavily affected by aluminum prices.
Earlier this year the company forecast demand for global aluminum will rise 6.5 percent in 2015, lower than a previous projection for a 7 percent gain. The company's outlook for aluminum demand could be at risk amid economic weakness in China, the world's largest consumer of aluminum. The precipitous drop in oil prices also has weighed on commodity prices, including aluminum.
Alcoa Inc. (AA) | FindTheCompany
3. Caterpillar
Caterpillar Inc. (NYSE:CAT), the world's largest manufacturer of construction and mining equipment, recently warned investors the company is facing another challenging year due in part to "continuing economic weakness" in China. The Peoria, Illinois, company, which generates roughly 60 percent of its revenue outside North America, has seen many of the industries it serves remain weak, particularly in China and Brazil, adding that it has yet to see signs of a recovery.
Caterpillar also warned investors in January its revenue this year will suffer from weak crude oil prices. That, in turn, has weighed on prices for key mined commodities, particularly copper, coal and iron ore. Weakening commodity prices, along with improved mine productivity, led to lower sales for the company's Resource Industries division.
Caterpillar, a large supplier of engines to the oil and gas industry, said the drop in oil prices over the last year could continue to weigh on the oil industry, hurting demand for Caterpillar engines used in oil exploration and production.
The company's construction industries unit dropped 30 percent last quarter in the Asia-Pacific region, as the construction industry continued to weaken in China.
Caterpillar Inc. (CAT) | FindTheCompany
© Copyright IBTimes 2023. All rights reserved.