Apple Inc. Paid Chinese App Developers $3.5 Billion In Just 12 Months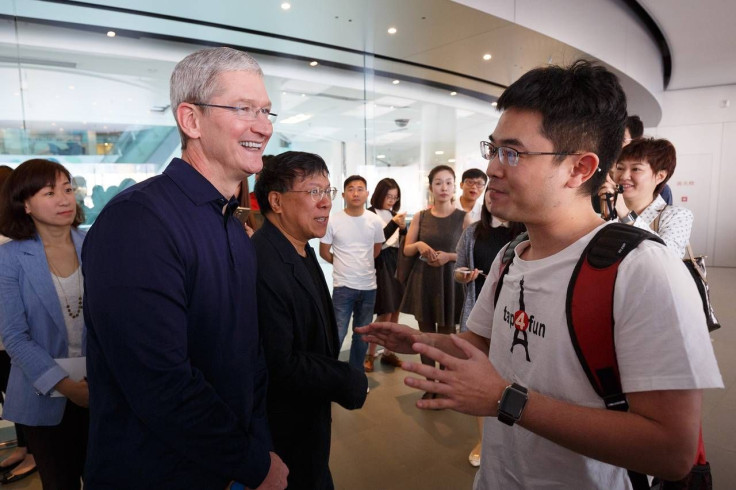 In a few weeks' time we will get an update from Tim Cook about how much money Apple has paid to developers, but according to the Apple CEO, Chinese developers alone have raked in $3.5 billion in the last 12 months, bringing the total amount earned by developers in China from the company to $7 billion.
The figure was revealed by Cook during a Q&A session with Chinese app developers in Beijing during a trip where he was also promoting Apple's recent $1 billion investment in ride-hailing app Didi Chuxing.
According to a leaked transcript of the Q&A session obtained by the Global Times, Cook added that Apple and the App Store could be a "talent incubator." Last June at its annual Worldwide Developer Conference (WWDC) Apple said that it had paid developers $30 billion thanks to over 100 billion app downloads from the App Store to date. At WWDC 2016, which takes place next month, Cook is expected to update developers on that figure.
The significance of the $7 billion app revenue figure is highlighted by Apple's dramatic 28 percent year-on-year revenue decline in China for the first quarter of 2016. As the smartphone market in China stagnates, Apple is struggling against a slew of competitors that are cheaper but offer similar features.
As a result of the slowdown in the market, Apple dropped from first to third for smartphone shipments in China from a year ago, according to figures from CounterPoint Research, with its market share slipping from 17.8 percent to 12.3 percent.
One way Apple will seek to augment falling iPhone revenues in China is by increasing revenues from its Services division, which includes the App Store, iTunes and Apple Pay.
In China, Apple is facing regulatory headwinds following the closure of its iBooks and iTunes Movies services there last month. Apple has not commented on Cook's visit to China and it is unclear if he met with any government officials during his trip, but many saw the company's investment in Didi as a way of helping ease tensions between Apple and China.
Those tensions were highlighted on Monday by a report in the New York Times, which claimed the Chinese government was forcing foreign technology companies — like Apple — to answer questions about their product's security and encryption as part of a review process that aims to ascertain if the products "pose potential security threats to the country and its consumer."
Highlighting the company's efforts to make China a priority, Apple on Tuesday released a Chinese version of GarageBand , its music creation tool. The new software will feature traditional Chinese instruments such as the pipa, erhu and Chinese percussion, as well as 300 Apple-created Chinese musical loops.
"By adding classic Chinese instruments and new Live Loop templates, the new GarageBand app makes it fun and easy to make Chinese-inspired music right on your iPhone, iPad or Mac," Susan Prescott, Apple's vice president of product marketing, said in a statement.
© Copyright IBTimes 2023. All rights reserved.