Apple Inc. Set For Biggest Pivot In History As R&D Spending Suggests Huge Bet On 'Project Titan' Electric Car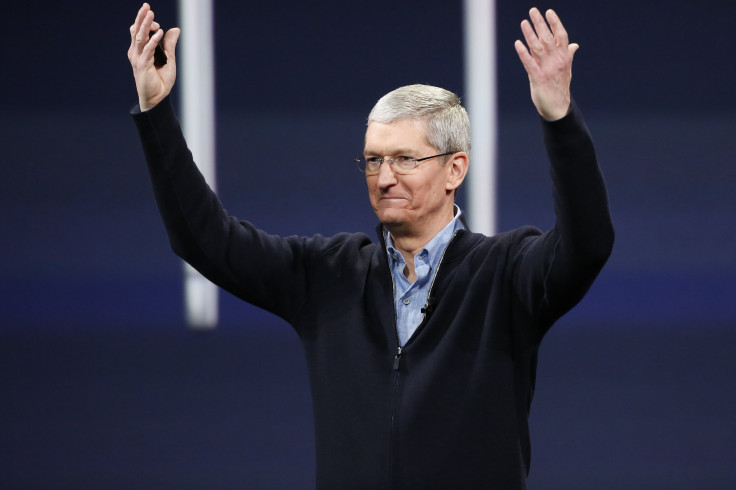 Tim Cook is always telling analysts and journalists Apple has really exciting products in the pipeline, but this time the CEO isn't talking about the next iPhone. An explosion in research and development spending suggests the most significant change in the company's history is coming as it bets billions on a secret project: most likely, an electric car dubbed Project Titan.
The shift away from iPhones and iPads to an entirely new business was always going to require big money, and — as Apple analyst Neil Cybart has shown — Apple has been dramatically accelerating its R&D spending over the last couple years.
"Apple's R&D expense saw a significant bump up beginning in mid–2014," Cybart wrote on his Above Avalon blog. "It was clear Apple was up to something big. However, after looking at Apple's Q2 2016 results, it appears I underestimated the situation."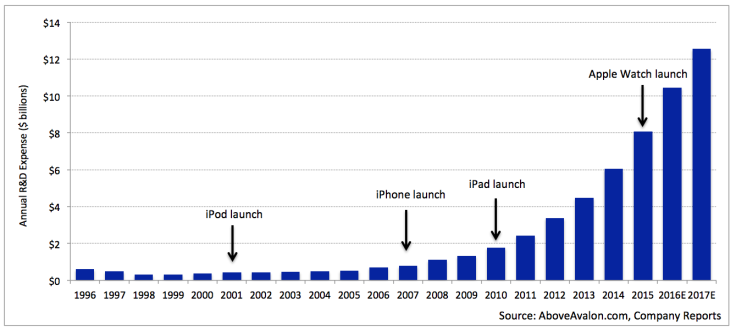 According to Cybart's figures, Apple will spend more than $10 billion on R&D in 2016, a 30 percent increase over 2015's figure and significantly up from 2011, when it was spending less than $3 billion per year. Cybart also looked at the amount of money Apple has been pouring into this area as a percentage of revenue and found that the increase in R&D spending has outpaced revenue growth.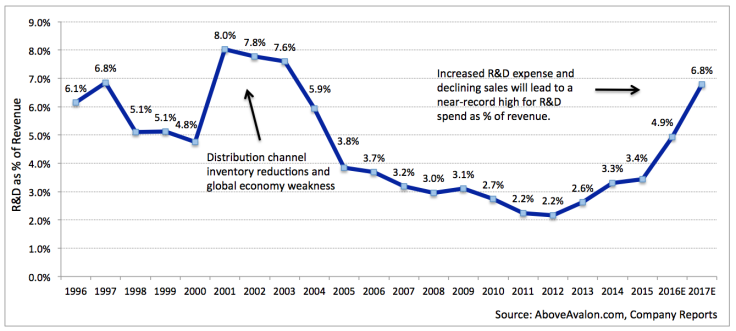 With the launch of the Apple Watch, alongside its Mac range and a growing portfolio of iPhones and iPads, it's no surprise that Apple is spending more on research and development as it tries to stay ahead of the competition in all these markets.
But Cybart believes this alone cannot explain the exponential growth in R&D spending that Apple is currently bankrolling. "Apple is not spending $10 billion on R&D just to come up with new Watch bands, larger iPads or a video-streaming service. Instead, Apple is planning on something much bigger: a pivot into the automobile industry."
Cybart points to similar patterns in Apple's history, pointing out that the development of the iPhone and iPad, as well as the development of the Apple Watch, saw two discernible increases in R&D expenses followed by periods of flat growth.
As always, Apple has remained tight-lipped about its future plans, with Cook giving only vague indications of what's to come. On Thursday, the company announced it had made a $1 billion investment in Didi Chuxing, China's biggest ride-sharing app and a major rival to Uber. When asked what this might mean for Apple's automotive future, Cook told Reuters that the company was focused on its CarPlay technology for now, but "we will have to see what the future holds."
"You see continued significant investments in research and development, because we really believe that's the future of the company," said Chief Financial Offer Luca Maestri on its earnings call last month. "We continue to invest in initiatives and projects ahead of revenue; we have a much broader portfolio than we used to have. We do much more in-house technology development than we used to do a few years ago, which we think is a great investment for us to make."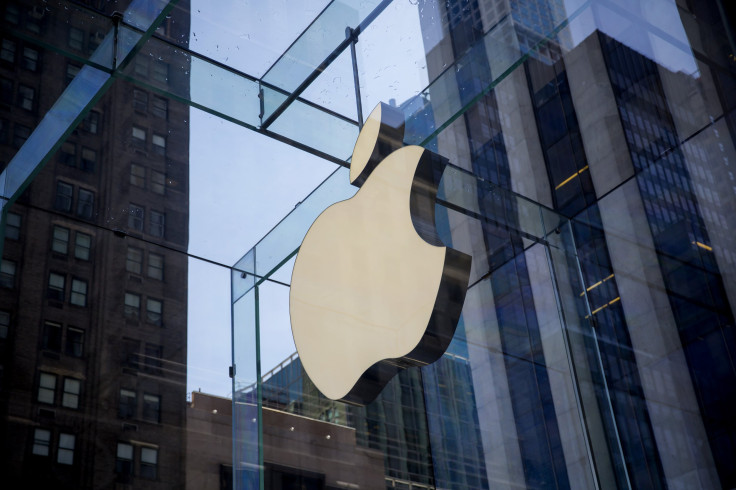 According to a report from the Wall Street Journal last year, Apple made the decision to accelerate its development of an electric car after more than a year of looking into the project's feasibility. This would align with the beginning of the ramp-up in its R&D spending in 2014, which Cybart says shows that "it was clear Apple was up to something big."
Apple has been hiring big names from the auto industry over the last 24 months, including a significant number from Tesla as well as more established companies like Ford. However, it was reported in January that the man thought to be leading the Project Titan effort, Steve Zadesky, was leaving the company for personal reasons.
Not everyone agrees with Cybart's analysis of the figures. Steven Sinofsky, a former Microsoft executive in charge of Windows, contested the assumption that the increase in R&D spending over the past three years indicates a significant pivot. "The time horizon is way too short. As [Steve] Jobs pointed out, [the] iPhone was a 10-year project. So looking at three years of R&D to pivot is off," Sinofsky tweeted.
Sinofsky leans toward the assumption that the increase in R&D spending is a result of Apple's increased portfolio of products. "It is incredibly difficult to dramatically reduce R&D on successful products, even though the impact in near term is negligible," the former Windows chief said. "But it is incredibly easy to increase spending to maintain. Every feature/add must scale across dimensions that previously didn't exist."
Apple just reported its first quarterly decline in revenue in 13 years as a result of falling iPhone sales — the impact of the slowing smartphone markets taking its toll. Investors are keen for Apple to show that it is looking at other products that could supplant the iPhone as the company's main revenue driver.
Cybart believes the scale of Apple's automotive ambitions is huge and that the company is essentially "building an entire startup focused on the electric car industry." He puts the chances of Apple bringing an electric car to market at 80 percent, adding that the cost of building the Apple car is on a scale never seen before by Apple or the automotive industry.
"Apple has likely spent upwards of a few billion dollars on Project Titan so far when including real estate and stock-based compensation," Cybart says. "When considering that Apple will likely be spending upwards of $14 billion per year on R&D by 2017 or 2018, Project Titan could easily end up being a $10-$15 billion project before Apple even ships a product. This is uncharted territory — not just for Apple, but for the entire auto industry."
© Copyright IBTimes 2023. All rights reserved.