Apple iOS 7 Beta 2: Top 5 Features And Key Enhancements From The New Update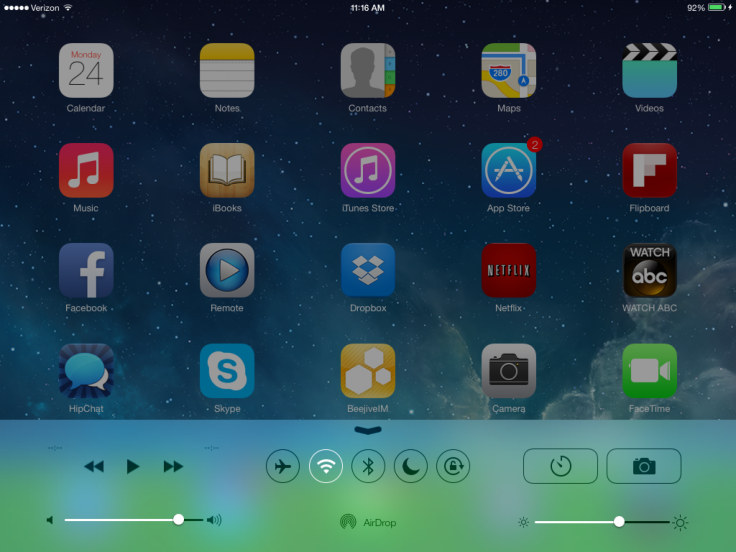 Apple (NASDAQ:AAPL) released Beta 2 of iOS 7 to registered developers on Monday, exactly two weeks after the first beta of the revamped firmware came out after the WWDC 2013 keynote on June 10.
The second beta version of iOS 7 includes many new and improved features, as well as support for the iPad, which was missing in the initial beta release. The iOS 7 is now compatible with the iPad 2, the third and fourth generation iPads with Retina displays, and the iPad mini.
In addition, the new firmware update also brings a lot of minor user-interface (UI) modifications, refining the redesigned iOS version.
Registered Apple developers can get the iOS 7 Beta 2 by opening the Settings app on their iPhone or iPod touch running iOS 7 Beta 1 and tapping General followed by Software Update. On the other hand, iPad users will have to upgrade to beta 2 through iTunes. The new beta can also be downloaded from Apple's developer page.
Developers should note that iOS 7 Beta 2, with the build number "11A4400f," will expire on August 8. Let's take a look at the top five major features, introduced by iOS 7 Beta 2:
1. Siri Gets New Male And Female Voice
The iOS 7 Beta 2 brings new voices for Siri, including a more natural-sounding female voice and a completely new male voice option. Although Apple talked about the new voices for Siri during the WWDC 2013 keynote, the feature was missing in the first iOS 7 beta. Users can access this feature in the General Settings under the Siri heading, which offers a new Voice Gender option. Moreover, Siri requests also seem to load faster than before.
2. Voice Memos Returns
The iOS 7 Beta 2 brings back the built-in "Voice Memos" application, which was excluded in the first beta. The app has received a new UI design, text-based navigation and a big graphic showing noise wavelength. There are no microphone and volume needle graphics, which are present in the previous version of the app. The app functions almost the same way as it used do before, but users can now find the saved recordings by tapping at the bottom of the app screen.
3. Messages App Gets Key UI Changes
The stock Messages app has got noticeable UI enhancements in the iOS 7 Beta 2, which include contact photos to group conversation threads, timestamps for each message that can be revealed by swiping to the right on a message and enhanced "send" animations as well as a thicker text on the Send button. Users should note that contact photos seem to appear only during group conversations, while one-to-one exchange of messages still lacks images. The iOS 7 has implemented more improvements into the Messages app. Click here for details.
4. iPad Camera Goes HDR
The iOS 7 beta 2 has added a new high-dynamic-range (HDR) option to the camera on the iPad. The HDR photography feature was first introduced for the iPhone in iOS 4.1. It allows users to capture three images of one object quickly in standard, over- and under-exposed modes. After that, all three images are combined to create the final picture.
5. Sync Google Contacts Without Hassle
Thanks to iOS 7 Beta 2, users now can sync their Google contacts with an iOS device easily by using the same on/off switches as Mail, Calendars and Notes. Google's current documentation says that users require setting up a supplementary CardDAV account to sync Google contacts with an iOS device. But the new iOS update apparently helps users avoid the additional setup.
In addition to the five major feature updates, the second beta of iOS 7 brings a lot of other key changes to the platform. Here is a quick run-down of some new iOS 7 Beta 2 tidbits:
1. A new Welcome Screen that asks for an iCloud password and allows users to launch iMessages, choose related email addresses, and set up pass codes on the device.
2. The Find My iPhone setting in iCloud offers new languages.
3. The issue with double notifications is apparently fixed. However, Apple's release note still states that some apps "may receive duplicate push notifications or no notification at all."
4. Reminders app now has a more compact list layout. There is also a new clock icon beside the search bar that lets users find scheduled reminders.
5. Music controls are now always present on Lock screen when music is playing.
6. iCloud Backups, not supported in the first beta, are now available.
If you are a registered Apple developer, and have found more hidden features and improvements inside the iOS 7 Beta 2, go to the Comments section to share your experiences.
MUST READ: iOS 7 Jailbreak Rumors: Hacker P0sixninja Prepares For Something 'Bigger Than Jailbreak;' Is It A Bootrom Exploit?
© Copyright IBTimes 2023. All rights reserved.