Apple Mac Pro Release Date Nears: Price Quotes For Custom Configurations Top $9,000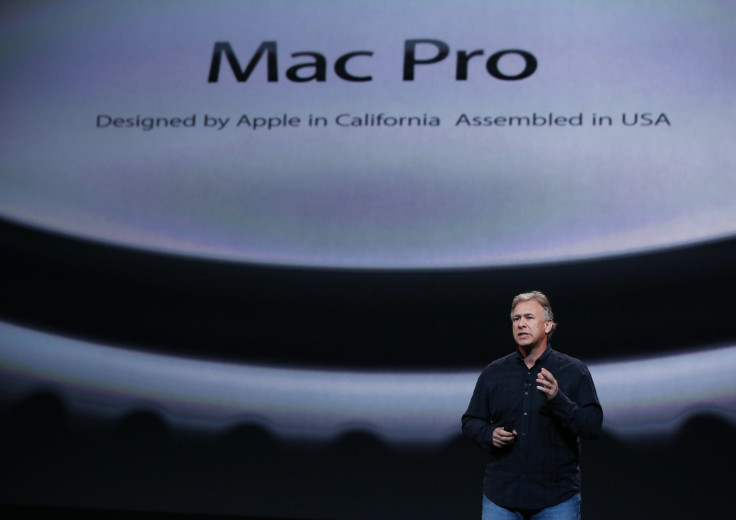 As Apple Inc. (NASDAQ:AAPL) readies the release of its most powerful professional desktop computer, the new Mac Pro, reports of pricing beyond the standard configurations suggests the maxed-out Mac Pro, the computer equivalent of a tank, could cost consumers more than $9,000.
One Canadian forum member at FCP.co said he ordered the highest-end Mac Pro -- a 12-core Intel processor, 1 TB of flash storage, a whopping 64 GB of RAM, and dual AMD FirePro D700 graphics cards. This forum user, a business customer, was told by a member of Apple's business team that the custom Mac Pro would cost about $9,700 in Canada, which would translate between $9,400 to $9,500 in the U.S. This price quote is likely lower than its true cost, since Apple almost always incorporates small discounts into major purchases like these for its business customers.
Though a $9,000 desktop computer may seem like an aberration, the price quote of that maxed-out Mac Pro aligns with reports from other Apple business customers. According to another Canadian consumer, an Apple business team member quoted a Mac Pro with 512 GB of flash and an 8-core processor at $7,700 Canadian, or $7,200 to $7,300 in the U.S. A MacRumors forum member also said the price quote for a Mac Pro with a 6-core processor, 32 GB of RAM and 512 GB of flash storage was about $4,464, though retail pricing would be higher.
These Mac Pro models are so expensive because they're build-to-order configurations; the stock Mac Pro ranges between $2,999 and $3,999 in price, and those models are certainly no slouches, either.
But the issue with the Mac Pro, beyond its price, seems to be its release date. Apple originally promised it would release the 2013 Mac Pro in December, but next week will be the final full week before the Christmas holiday. A pre-order page from a German retailer said the Mac Pro might go on sale starting Monday, Dec. 16, which makes sense since Apple typically sends its employees home during the holidays, rather than have them man a product launch with limited supplies.
If the new Mac Pro isn't released on Monday, or at any point in the next week, Apple may release the new computer at the very end of the month to satisfy its own deadline, but push out most of its stock beginning in early 2014. However, we believe Apple will try to get as many of its standard models into consumers' hands as the holiday shopping rush reaches a boiling point this week, and release custom-built configurations (like the expensive ones mentioned above) toward the end of December.
About The 2013 Mac Pro
The new Mac Pro, as I've said many times before, most closely resembles a Death Star with its cylindrical form factor wrapped around a thermal core. As we mentioned, the 2013 Mac Pro is just one-eighth the size of its predecessor with a diameter of 6.6 inches and a height of 9.9 inches, weighing just 11 pounds.
The 2013 Mac Pro features USB 3, Gigabit Ethernet, HDMI 1.4 ports, and six ports for the ultrafast Thunderbolt 2, which is Apple's new connectivity tech that delivers up to 20Gbps of bandwidth to each external device. Since each Thunderbolt 2 port supports up to six daisy-chained devices, the 2013 Mac Pro is ideal for transferring data between your Mac and up to 36 high-performance peripherals, such as external storage devices, PCI expansion chassis, A/V breakout boxes and even next-generation 4K desktop displays. Thunderbolt 2 makes it easy for the 2013 Mac Pro to connect to peripherals, but users care much more about how quickly they're able to boot up and multitask several applications at once. The 2013 Mac Pro features next-generation PCI Express flash storage, which is up to 2.5 times faster than the fastest SATA-based SSDs and up to 10 times faster than a 7200-rpm SATA hard drive and ideal for launching massive files or applications such as Photoshop or Final Cut.
Of course, quick connectivity and boot-up times in the new Mac Pro would mean nothing unless the actual tasks are performed equally fast. The 2013 Mac Pro is certainly no slouch in the computing department, with configurations up to 12 Xeon processing cores from Intel, dual workstation GPUs with simultaneous support for up to three high-resolution 4K desktop displays, and a four-channel DDR3 memory controller delivering up to 60GB/s of memory bandwidth, which is perfect for video exporting or simulations.
The ultrafast processing and connectivity of 2013 Mac Pro is made possible by the new unified thermal core; instead of utilizing multiple heat sinks and fans to cool the computer's processor and graphics cards, Apple designed a core out of a single piece of aluminum that maximizes airflow and thermal capacity by conducting heat away from the CPU and GPUs and distributing the heat evenly across the core of the Mac Pro. With this single core, the total thermal capacity of the computer can be shared efficiently among the processors, especially if one processor isn't working as hard as the others.
Obviously, the level of centralized thermal energy in the 2013 Mac Pro required an equally powerful and efficient fan, so again, Apple focused on engineering a single fan large enough to pull air upward through a vent at the bottom of the computer. Apple designed the Mac Pro's fan so air absorbs heat as it travels vertically through the center of the computer and carries it out the top. By also carefully engineering the number, size, shape and spacing of the blades, Apple was able to make the fan in the 2013 Mac Pro surprisingly quiet by minimizing air resistance with backward-curved impeller blades that run at fewer revolutions per minute to draw air more efficiently.
Unlike other Apple devices designed in California but built overseas, the 2013 Mac Pro is the first major Apple product manufactured and assembled in the U.S. -- specifically, Texas, Kentucky, Illinois and Florida, among "a dozen other states across America," according to Apple.
What do you think of the 2013 Mac Pro? Will you buy the new Mac Pro when it sees its December release date? Sound off in the comments section below.
© Copyright IBTimes 2023. All rights reserved.