Apple Pencil Revamp Features Eraser, Touch-Sensitive Surface In New Patent
A patent published by the U.S. Patent and Trademark Office shows Apple's plans for a second-gen Apple Pencil that has an eraser, a touch-sensitive surface, and is capable of providing precise tactile feedback helpful for artists.
Patently Apple reported that Apple's new patent, which is related to its second-gen Apple Pencil, shows the new device's features and gives emphasis on a so-called "deformation feedback surface" and how it works.
The patent titled "Stiffness Rendering For A Pencil" states that "there is a need for electronic devices to include more sophisticated feedback mechanisms and components for providing user feedback that is responsive to the user's physical interaction with such electronic devices."
The patent describes at length how the "deformation feedback surface" adjusts the amount of feedback it gives depending on the amount of pressure or contact stimulus a user applies on the Apple Pencil. The amount of feedback also varies depending on the part where the user applies contact, i.e. the housing, distal tip, proximal tip, and so on.
This will be very beneficial to graphic artists who draw or create illustrations using the Apple Pencil, particularly those who are dependent on the amount of tactile feedback they can receive from the device while working on their art.
Eraser
In the patent, Apple also described an eraser located at the proximal tip of the Apple Pencil (like where rubber erasers are located in traditional wood pencils). The eraser is made up of an electroactive substrate that helps electronic devices like the iPad Pro to identify it as an eraser. Users can simply turn the Apple Pencil to the other side to erase what they have drawn on the device.
The eraser, however, will only work on apps that have eraser support. The patent describes that by using a media app, users can choose what media tool that proximal tip will be. It can be the aforementioned eraser, or it can be something else: a charcoal pencil, a felt tip, a marker, a pencil, a paintbrush or paint sprayer.
Continuation
Patently Apple noted that the new patent is a continuation of a previous patent Apple filed for the Apple Pencil.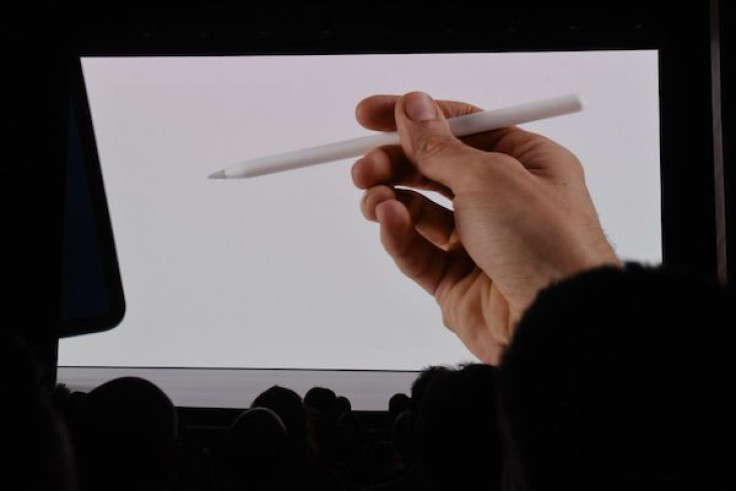 © Copyright IBTimes 2023. All rights reserved.