Apple To Release 13-Inch MacBook Pro With Retina Display In October 2012?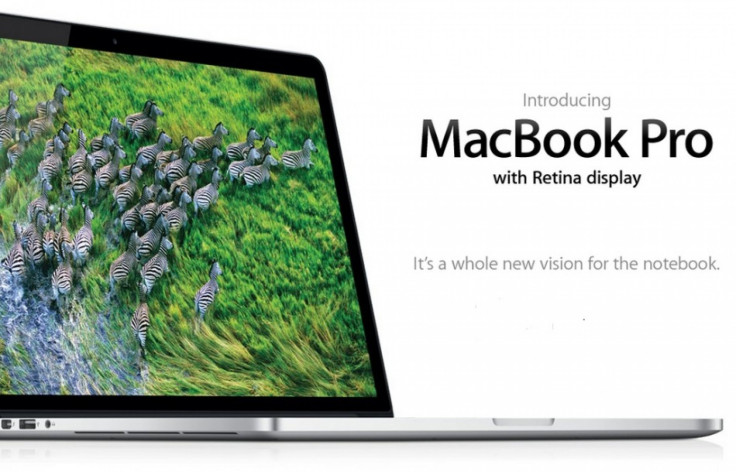 Before Apple shocked the WWDC audience with a completely-redesigned MacBook Pro with a stunning Retina Display, KGI Securities analyst Ming-Chi Kuo predicted Apple would unveil such a notebook, and he even correctly forecast most of the features, including a lighter and slimmer form factor than the current MacBook Pros, the lack of a disc drive, and the Retina Display.
On Thursday, Kuo followed up on his earlier report by sharing a new note with AppleInsider, in which he describes how Apple will follow up the 15-inch Retina MacBook Pro with a smaller, 13-inch MacBook Pro with Retina Display, to be released later this year.
[Kuo] expects Apple to ramp up production of a 13-inch next-generation MacBook Pro with Retina display in September, said Neil Hughes of AppleInsider. That would allow the product to hit stores in early October, in time for the holiday shopping season.
Kuo had actually mentioned the 13-inch model in his initial report, adding that the basic computer would sell at $1,199. Apple starts selling the 15-inch MacBook Pro with Retina Display at $2,199.
In the non-Retina pro laptop department, Apple currently sells 15-inch and 13-inch MacBook Pros. With a 15-inch Retina MacBook Pro now on shelves, it shouldn't be too difficult for Apple to port the new architecture to a smaller device. In his first report, Kuo explained that due to heating issues, Apple had to push back the release of the 13-inch model, and would only release the 15-inch model at WWDC.
We don't expect the new 13 MacBook to be available until after August this year, as it has limited space for thermal dissipation and uses a lower-yield retinal display than the 15 version, Kuo wrote at the time.
Kuo originally believed the 15-inch Retina model would be 19 mm thick, but since it's actually more like 18 mm, there's a chance that Kuo's prediction on the 13-inch model's thickness is also inflated. Kuo predicted the 13-inch model would be 18 mm thick, so there's a great chance the device's true thickness is between 17-18 mm. Not too shabby.
Supporting the existence of a 13-inch MacBook Pro with Retina Display is the discovery of a listing in the results database for the battery utility app MiniBatteryLogger, which shows a listing for a MacBookPro10,2 after the 15-inch model is referred to as MacBookPro10,1. While this designation could have been faked, MacRumors points out several reasons to believe it's legitimate.
First, the database entry appeared on April 25, well ahead of much specific information on the Retina MacBook Pro that might have helped create a legitimate-looking fake entry, said MacRumors' Eric Slivka. Second, the machine's battery registers a design capacity of 6580 mAh, roughly 14% greater than the 5770 mAh battery found in the non-Retina 13-inch MacBook Pro. By comparison, the 15-inch Retina MacBook Pro's 8460 mAh battery has roughly 22.5% greater capacity than the 6900 mAh battery in the non-Retina model.
The battery capacity ratios between the 13-inch Retina vs. non-Retina models wouldn't be exactly the same, they are at least in the same range. It would make sense that a smaller display could also shrink the capacity boost needed to power a 13-inch laptop with a Retina Display.
When Will The New Retina-Equipped MacBook Release?
Looking at the company's product release schedule in 2012, Apple released the new iPad in March and a new MacBook Pro in June. If Apple continues to release or announce a new major product every three to four months, the next major product will be released toward the end of September or beginning of October. Considering Apple said it will release iOS 6 in the fall, it's safe to say the new operating system will be released alongside a new mobile product, which is most likely a new iPhone.
Since the new MacBook Pro with Retina Display won't be a new product by that point, it makes sense to introduce the 13-inch Retina MacBook at this time. So if Apple releases any invitations in September or October about iOS 6 or a new iPhone, it would also be safe to expect a smaller MacBook Pro with a Retina Display. With additional confirmation from Kuo, who has been almost completely right in predicting what Apple will release, laptop owners looking for a cheaper MacBook Pro may want to wait until the fall to see what Apple unveils.
© Copyright IBTimes 2023. All rights reserved.