MacBook Pro With Retina Display Review: Apple Connects Beauty With Power
Review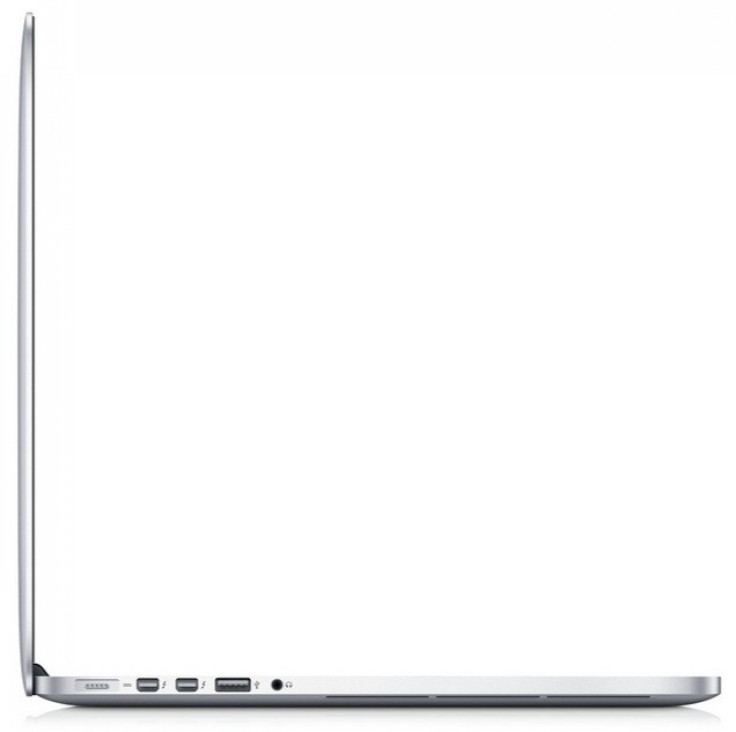 The new MacBook Pro with Retina Display takes you by surprise. The laptop is a total contradiction: It's light and portable, but it's got the power of a desktop. The controls are highly reactive and the screen springs to life with every action. Images look incredibly crisp and clear, and text looks pin-sharp. It's impressive that Apple could make this powerful laptop, which weighs slightly less than 4.5 pounds, perform as well as its as its 21-inch iMac desktop.
If you're in the market for a new laptop, or even a new computer for that matter, there is no better choice than the new MacBook Pro with Retina Display.
Announced on Monday at WWDC 2012 in San Francisco, the MacBook Pro with Retina Display has been redesigned by Apple from the ground up. Several new architectural features have been included outside and inside the computer shell to make the computer stronger, faster and less noisy, but the real showstopper is the display. As the name implies, the new MacBook Pro is the first computer to feature Apple's Retina Display technology.
A Game-Changing Display
For those that don't know, a Retina Display is any display where the pixels are packed so close together that the human eye cannot distinguish them. The first Retina Displays were featured inside the iPhone 4, and Apple recently ported the display to its 9.7-inch new iPad in March. The company has proven that it can make a Retina Display for almost any device, now that it's fit a stunning amount of pixels into a 15.4-inch display.
The new MacBook Pro with Retina Display features a 2880 x 1800 pixel resolution, which means it contains 3 million more pixels than an HDTV. It is the highest-resolution display on any notebook in the world, and it definitely delivers.
Up close, the display sings. If the new iPad feels like a layer has been removed between the user and the interface, the same goes for the new MacBook Pro, and it's all thanks to that Retina Display.
Not only are images sharper on the new MacBook Pro, but the contrast and saturation quality is also significantly higher. According to Apple, the new MacBook Pro display features a 29 percent higher contrast ratio than the standard MacBook Pro display, and the glass itself is much better to look at, too. Apple managed to reduce the glare on the screen by up to 75 percent, which makes the screen shiny but not too reflective in bright settings. Apple clearly put a lot of work into making the display disappear.
Everything looks better on the new display, but image-based applications are particularly gorgeous, especially Aperture and Final Cut Pro. While playing with Apple's film-editing software, the program launched in less than 10 seconds, speedy considering the heft of the program and all of its files. Once you're in Final Cut, however, everything is completely fluid. Watching various tracks simultaneously, or moving from track to track, all while watching a 1080p HD video in the viewfinder, it's all extremely impressive.
(For a comparison, I also tested Final Cut Pro with a couple of Apple desktops, including low-end iMac and Mac Pro computers. On those platforms, Final Cut loaded slower -- about 15 to 20 seconds -- and it was nowhere as reactive or as beautiful as it was on the new MacBook Pro with Retina Display.)
Speed and Power
It wasn't enough for Apple to create the world's greatest display on a laptop; Apple built the new MacBook Pro with Retina Display around a brand-new, all-flash architecture, which makes storing and recalling files dramatically quicker and performing actions significantly faster. Starting up, launching apps and navigating the desktop are all extremely smooth. Apple says that thanks to flash, booting the system and opening files are both more than twice as fast as on the old architecture, and copying files is more than four times faster. Working on heavy-duty programs like Final Cut and Aperture is also faster on the new MacBook Pro, but so is everything else.
Apple also boosted the speed of its chips, using the third-generation quad-core processors built by Intel called Ivy Bridge, which can run at 2.3 GHz, 2.6 GHz, and 2.7 GHz for different models, with Turbo Boost up to 3.3 GHz, 3.6 GHz, and 3.7 GHz, respectively. Apple also outfitted the new MacBook Pro with the latest graphics chip from NVIDIA: the GeForce GT 650M supports automatic graphics switching, dual display and video mirroring capabilities.
While the speed of the actual computer is important, the speed of the ports to which it connects to other devices and networks is just as much so. Apple didn't skimp here, either.
The new MacBook Pro with Retina Display features two USB 3.0 ports (which are also compatible with USB 2.0), a new HDMI port to easily transmit images to other HD devices and displays, an SDXC card slot, and best of all, two Thunderbolt ports. Thunderbolt boasts a lightning connection speed, but while many devices aren't yet accesssible with the connection, Apple wisely built adapters for Gigabit Ethernet and FireWire 800, which will allow users to connect to the Internet with incredible speed.
For wireless users, the MacBook Pro with Retina Display is also compatible with 802.11n Wi-Fi networking -- the new AirPort Extreme with simultaneous dual-band support should give your laptop an added boost -- and also includes Bluetooth 4.0, a.k.a. Smart Bluetooth, for near-instantaneous connectivity.
This kind of power, both in the computer hardware and in its connectivity, is quite a feat, considering the thinness and lightness of the device. The computer stood up to almost any test: Launching multiple applications, watching multiple videos, opening many tabs and searching simultaneously; the new MacBook Pro can handle it all.
If you really want to go extreme, the new MacBook Pro with Retina Display also supports configurations of up to 768GB of flash storage, which is about 3/4ths of a terabyte. That option, however, will set you back roughly $3,800.
Downsides
There are very few, if any, real drawbacks to the new MacBook Pro with Retina Display. The computer is beautiful, it's powerful, and it's light. If I had to pick any gripes with the computer, it would be the 7-hour battery life and the prices of the higher-end models.
The price of the basic computer -- $2,199 for a new MacBook Pro with Retina Display -- is completely reasonable; the next two models up, however, are ridiculously priced.
Apple didn't price the computer based on its processor -- the difference in GHz across the three models is really very minimal -- but the basic model only comes with a meager 256 GB of flash storage; the next model features 512 GB of flash storage but costs $600 more, while the highest end model with 768 GB of flash storage (drool) costs a ludicrous $3,749. You might as well buy the cheapest model and get a few external hard drives to make up the difference in storage.
The 7-hour battery life could definitely be improved upon, especially since users need a mobile computer that's dependable when they're not directly near a power source, which is a lot of the time. It would also be welcome if this computer could connect to cellular networks as a phone does when it can't find a Wi-Fi source, but that could be a ways off.
Aesthetically, it would have been nice if Apple removed -- or just shrank -- the black bezel that borders the screen. Besides that, there's not much wrong with this computer. At all.
The Verdict
They've done it again: Apple has managed to build another device for anyone and everyone. It may be a pro-style computer for video and image editing, but it definitely has the speed and portability of a laptop for everyone. I get the feeling the new MacBook Pro with Retina Display will vastly outperform its older brother, the MacBook Pro, and even its popular little cousin, the MacBook Air.
It has everything you could ask of a next-generation computer. Speed. Mobility. Fast connections. An incredible display for games, movies, or anything you're doing. The new MacBook Pro with Retina Display has it all, and better yet, it's price range isn't completely out of reach.
The best deal, obviously, is the cheapest model, the 15.4-inch model with 256 GB of flash storage. While this isn't much space to store files, especially multimedia, you can always connect more devices with two USB ports and two ThunderBolt ports, which will help you connect to your external devices (hard drives, speakers, etc.) at a click. The next model up, the $2,799 model, is absolutely worth the price for a slightly speedier processor and more flash storage, but despite the storage in the highest-end model, I cannot recommend the computer for its price. That is simply not worth it, especially when you get the same experience for $1,550 cheaper.

Overall, Apple succeeded in building the very best computer we've ever made. And believe it, the new MacBook Pro with Retina Display is much more than just a beautiful screen, but it is certainly that too. You will not be disappointed if you buy this computer.
© Copyright IBTimes 2023. All rights reserved.