Apple Watch Series 3 Price: Carriers Offer LTE $10 Monthly Plans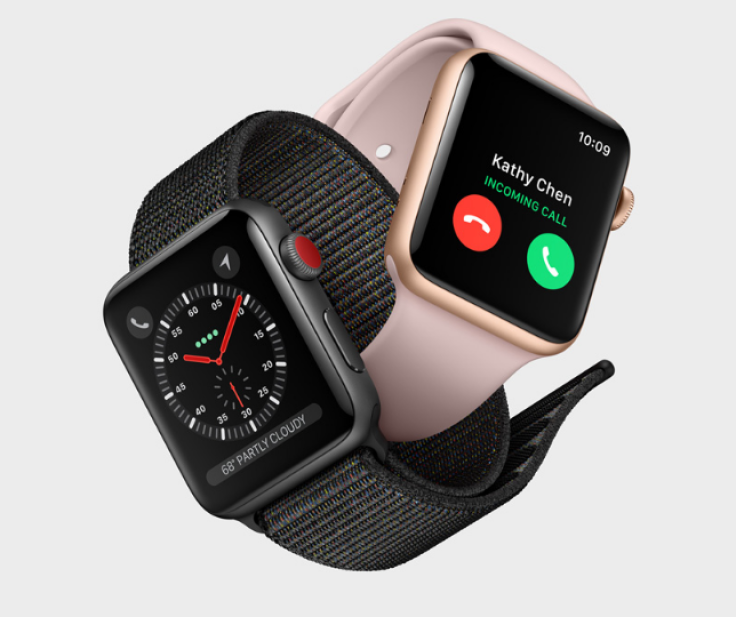 After the reveal of the LTE Apple Watch Series 3 this week, all four major carriers, Verizon, Sprint, T-Mobile and AT&T, said they will offer monthly plans for the device when hooked up to iPhone accounts.
The device is currently available for pre-order. Below are more details on the plans for the Series 3.
Verizon
Verizon is offering a monthly $10 cellular and data plan for the Apple Watch Series 3. The carrier is charging $30 activation fee for the device.
Sprint
Sprint is offering a $15 Unlimited Apple Watch Plan to send messages, stream music and answer calls on the wearable device. However, the carrier will discount $5 if the customer signs up to autopay, bringing the price down to $10 a month, like other carriers. Sprint's site says first-time activations are eligible for a three-month free trial.
T-Mobile
The Series 3 for T-Mobile customers will also cost $10 a month for unlimited 4G LTE, the company said on Twitter.
The carrier had previously received backlash when it said the Watch plan would be limited to 512kb/sec data speeds, which are basically 3G speeds. T-Mobile CEO then apologized on Twitter about the previous data speed and revealed the unlimited plan.
AT&T
AT&T is also offering a $10 monthly plan for the Apple Watch Series 3. The carrier will a $25 for the device's activation.
Unfortunately, LTE support for the Apple Watch Series 3 will not be available for millions of U.S. residents on prepaid plans.
Apple Watch Series 3 Features
Using cellular plans with the Apple Watch Series 3 means users don't have to carry their iPhone to stay connected when running short errands, like going to grocery store. The Series 3, which is the same size as the Series 2, has a display that is a multi-frequency antenna for both LTE and UMTS. Apple integrated a smaller electronic sim card half, to avoid making the LTE Watch bigger.
Besides LTE support, the Apple Watch Series 3 will come with an improved Siri. Siri will be quicker and device owners will now be able to hear the virtual assistant, rather than just reading the device's screen.
The Apple Watch Series 3 includes a new dual-core processor, which is 70 percent faster. It also features a W2 chip, which makes Wi-Fi 85 percent faster and Bluetooth and Wi-Fi 50 percent more power efficient. The Series 3 offers up to 18 hours of battery life and is water resistant.
The Apple Watch Series 3 will get a boost from watchOS 4, which includes better features for workouts, a Do Not Disturb mode and a better assistant. The update will be released on Sept. 19.
Apple Watch Series 3 Release Date, Price
The Apple Watch Series 3 will be released on Friday at a $399 starting price for the cellular and Wi-Fi model. The Series 3 standard version is priced at $329.
© Copyright IBTimes 2023. All rights reserved.
FOLLOW MORE IBT NEWS ON THE BELOW CHANNELS