Apple Won't Be Revealing iPhone 12 Series On September 15, Sources Say
KEY POINTS
Apple scheduled an online event for Sept. 15
The announcement fueled speculations of an iPhone 12 reveal
Various reports, however, confirm that the event will focus on other Apple devices instead of the iPhone 12 series
Apple has officially announced that it will be holding an online-only event on Sept. 15, fuelling speculations that the Cupertino tech giant will finally unveil this year's flagship iPhone lineup. But this may not be the case if the latest reports prove accurate.
On its website, Apple announced an "Apple Event" that will be streamed from the company's headquarters at Apple Park on Sept. 15 at 10 a.m. PDT, or 1 p.m. EDT. The company didn't mention anything about the devices that it will reveal, software versions it plans to release and so on. Aside from the time and date, the only hint the tech firm gave regarding the event is an interesting Apple icon.
The announcement itself sparked a lot of speculations among fans who can't wait to see the new iPhone 12 series, CNN reported. Apple iPhone fans, however, "may not want to get their hopes up too high for next week," the report said.
Dan Ives, a Wedbush analyst, told CNN that they are expecting the event to focus "primarily" on devices other than new iPhones. These devices, Ives said, will be the new Apple Watch and "potentially a new lineup of iPads."
Synovus Trust Company senior portfolio manager Daniel Morgan also spoke to CNN and said that Apple might unveil new lower- and high-end Apple Watch models instead of new iPhone models. He added that the Cupertino tech giant could announce other products, like the highly anticipated Apple-branded over-ear headphones and a new HomePod speaker.
Confirming the speculations
A report from Bloomberg backed these speculations, saying Apple won't be revealing the new iPhone 12 series handsets during the event.
As per Bloomberg's Mark Gurman, Apple sent media invitations to the Sept. 15 event. The invitation didn't have the "typical tag line" used to give clues regarding the devices that will be announced.
Instead, the phrase "Time Flies" is written in it, indicating that the event is related to the Apple Watch. The iPhone 12 series handsets will be announced in October, Gurman added.
Apple is believed to be working on high-end Apple Watch Series 6 models, as well as a low-end Apple Watch meant for the budget-conscious. This affordable model is designed to replace the Apple Watch Series 3.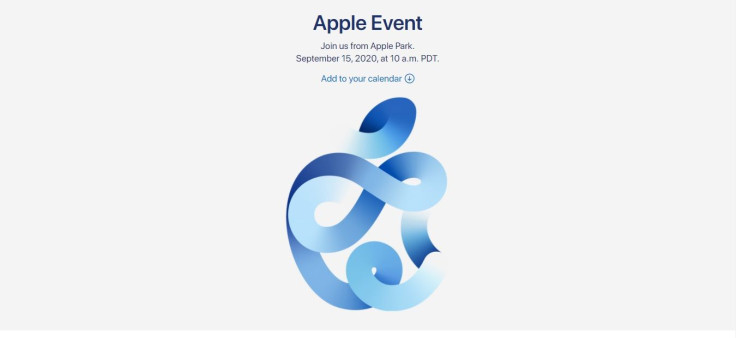 © Copyright IBTimes 2023. All rights reserved.