Apple WWDC 2013: Live Blog Updates From The Keynote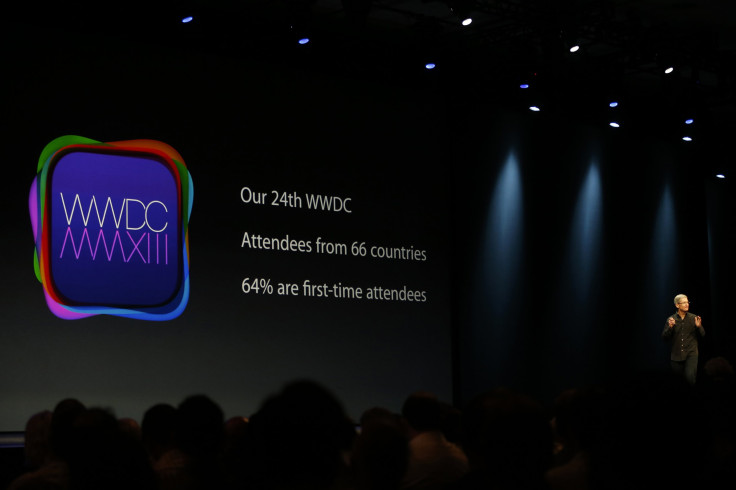 If you're looking for up-to-the-minute coverage of the 2013 Worldwide Developers Conference (WWDC) annual keynote address, look no further. We'll be live blogging the event as soon as the keynote begins at 10 a.m. PST with minute-by-minute updates from the Moscone West Convention Center in San Francisco. Apple CEO Tim Cook is expected to take the stage to help announce the latest software for iOS and Mac OS X, as well as the company's long-awaited music streaming service iRadio, a few new Mac computers, and even some potential surprises. All updates will be posted below, and all our articles can be found on our WWDC 2013 full coverage hub. Please enjoy.
Update 2:59 p.m.: Holy cow, that was a LOT of iOS 7 information. Stay tuned for a new article on this. Tim Cook closes by thanking the developers, the Apple team, and describes how much Apple's new products are driven by the people who use them. Cook also shows off a new ad.
Update 2:50 p.m.: "We have always thought of design as being much more than the way something looks. It's the whole thing. The way something actually works on so many different levels. Ultimately of course, design defines so much of our experience. I think there is a profound and enduring beauty in simplicity. In clarity. In efficiency. True simplicity is derived from so much more than just the absence of clutter and ornamentation. It's about bringing order to complexity. iOS 7 is a clear representation of these goals. It has a new structure that's coherent and applied across the entire system. We've considered the tiniest details, like refining the typography, like much larger ones to redefining all new icons, and creating a grid system to create a much more harmonious relationship between individual apps. We've also included a whole new palette of colors. Distinct, functional layers help create hierarchy and order, and the user of translucency gives you a sense of your context. These planes combined with new approaches to animation and motion, create a sense of depth and vitality. The iPhone responding to your movements gives you an opportunity to create a whole new experience of depth. In many ways, we tried to create an interface that's unintrusive and deferential. One where the design recedes and in doing so actually elevates your content. Even the simple act of chancing your wallpaper has a noticeable effect on how your iPhone looks and feels across the entire system. While iOS 7 is completely new, it was important to us to make it instantly familiar. We wanted to take an experience people know very well and actually add to it to make it useful, to make enjoyable. To create it, we brought together a broad range of expertise from design to engineering. From what we've been able to achieve together, we see iOS 7 as a defining new direction, and in many ways, a new beginning."
"This major effort is only possible because of the incredible collaboration between Jony and his amazing design team, and Craig and his incredible engineering team."
"A lot of us have our own wallpaper, and now, that liveliness actually carries through to the home screen. Because as you move the device in your hand, it actually senses your motion and the parallax. The motion conveys this information and the edge-to-edge design takes advantage of every pixel on the Retina Display. It's great for apps you use every day like Messages, Calendar, your Email is gorgeous, your friends never looked better. In Game Center, we ran out of green felt. And wood. We're saving the environment."
In our first live look at iOS 7, the device responds to the motion in one's hand. By sliding the translucent lock screen up from the bottom, you get to all your apps. When you swipe across from locations, the background changes dynamically based on day and night, and it's easy to view all locations at once, with all of the dynamic backgrounds moving behind all the information.
In calendar and messages, everything is white and all layers are slightly transparent to provide a sense of context. In-app browsing is easy with just a swipe from the side of the screen, and browsing folders is incredibly easy, and you can fill your folders with as many apps as you want. The Notification Center is given a new transparent look, and you can see all of your events today and tomorrow, but it can also be opened from the Lock Screen for the first time in iOS 7.
"It's a comprehensive, end-to-end redesign of the iOS experience," Federighi said.
Federighi described 10 major features in iOS 7. Control Center lets users swipe up from the bottom of the device to easily toggle settings, like AirPlay mode, brightness, and music – just like the Auxo jailbreaking app – in any application, making it extremely easy to change settings on the fly. Multitasking is a big feature in iOS, and in iOS 7, users can multitask all apps. In Safari for iOS 7, the full-screen look allows users to focus on their content, and the smart search field has unified search and Web addresses, as well as easy access to favorites. Tabs have a new interface that looks like the bird's eye view of a folder, and tabs are now unlimited in iOS 7, whereas before, users could only have eight tabs at a time. Browsing through one's history is also as easy as swiping from the edges of the screen, and bookmarks can be triggered with a swipe from the bottom, which also includes the reading list that's synched across a user's various Mac and iDevices.
Federighi also introduced AirDrop for iOS 7, so now, any time you want to share photos, webpages or anything at all, you can easily share documents with all of your friends using peer-to-peer encrypted WiFi. The camera app has also been updated to take photos, video, panoramas, and now even a square-cropped camera. Apple has even given users photo filters directly inside the app. The Photos app has also been redesigned for iOS 7, so your library of photo is now categorized by "moments" – photos are organized based on where the photos are taken and when. Users can even see their photo collection from afar, by months or years, and categorizing that way pulls out all your various vacations based on location information. To find the photo you're looking for from that bird's eye view, users can simply tap and hold their finger on any photo to see an easy preview. It's also easy to add effects to photos, and sharing them is also accessible via AirDrop, Twitter, Facebook, and now iCloud, where other people can share into your Photo Stream and create a group photo album. The Shared tab at the bottom of the new iPhoto in iOS 7 also shows what has been previously shared among friends and family, and for the first time, users can now share videos with one another in iOS 7.
Siri in iOS 7 has been given a new interface, which shows a sound wave across the bottom to let you know you're speaking. Apple has added higher quality male and female voices for Siri, which are now customizable for users, but it now knows how to control more of your device, so it can play your last voicemail or increase your phone's brightness settings. It can answer many more questions too, thanks to integration with Twitter and Wikipedia, and even Web search results from Bing. After Siri, Apple software SVP Eddy Cue introduced iOS in the Car, which allows one to manage their phone calls, Maps, and iMessages, all eyes-free and direct from the car's screen. Apple is working with 12 different car manufacturers to introduce iOS in the Car for 2014.
The App Store has been redesigned to show users more apps that apply to them, based on their age or what's around them, so if they're in a mall, they can download apps for Macy's or other stores nearby. The App Store will now update automatically.
In the new iTunes for iOS 7, the app shows all your purchased music from iCloud directly in your library, as well as your movies and TV shows. By turning the device sideways, iTunes in iOS 7 shows album artwork in a grid format. But most importantly, iTunes introduces the long-awaited Radio platform – called "iTunes Radio," not "iRadio" – to let users create their own stations and customize them on the fly. Users can modify the station to play more songs like the one you're listening to, or never hear the same song again, or add a song to one's "wish list," which makes it exceedingly easy to preview songs in the iTunes Store and buy them right from there. iTunes Radio is free with ads, and iTunes Match subscribers see a completely ad-free version of the service.
Update 2:13 p.m.: Cook takes the stage again to talk iOS. LOTS of details coming. Hold tight everyone.
Update 2:03 p.m.: Schiller gives the stage back to Tim Cook, who starts talking about iCloud. Cook says Apple has 300 million accounts on its iCloud server; Apple also boasts 300 million users of iTunes in the Cloud, and Game Center supports up to 240 million games. Apple iMessage has also sent 9 billion imessages and 7.4 trillion push notifications across OS X and iOS. The iCloud conversation moves to iWork, a Mac-born set of applications that was recently ported to iOS, with the new iWork for iCloud, which allows users to create documents or choose those already being worked on, and adjust them with full functionality directly on the Web browser; the new context-sensitive software can also open up Microsoft Word documents and various animations -- again, directly in the Web browser.
Update 1:57 p.m.: Apple gives a big sneak peek for its Mac Pro. A new generation of the Intel Xeon chip powers the new Mac Pro, with a 12-core CPU, the fastest ECC memory ever given to an Apple desktop computer, and roughly double the performance of the previous generation. With new PCIe-based Flash, it reads at 1.25 GBps and writes at 1.0 GBps. All expansion is external, you can add expansion chasis, all with the backwards-compatible Thunderbolt 2, which gives a 20 GBps throughput and 6 devices per port. The graphics comes with dual workstation GPUs, which can be configured up to 4096 stream processors, and 384-bit memory buses, which offers 7 teraflops of computing power to applications. With the latest third-party displays, Apple's newest Mac Pro powers up to three different 4K displays with the dual workstation graphics. Apple is working on a new version of Final Cut Pro 10 to work with the new Mac Pro, which is "unlike any Mac we've ever made," according to Schiller.
Update 1:55 p.m.: Apple marketing SVP Phil Schiller takes the stage to describe the new MacBook Air, built on the fourth-generation Haswell chip from Intel, which has more energy-efficient CPUs and two-times the GPU execution units for 40 percent faster graphics. But the biggest benefit is battery life: The 11-inch MacBook Air is going from 5 to 9 hours of battery life, while the 13-inch MacBook Air goes from 7 to 12 hours of battery life. All day battery life to watch the "entire trilogy of Lord of the Rings," Schiller says. The new MacBook Air comes with new 802.11 ac WiFi, which offers up to 3x the speed. He also explains that Apple is offering new AirPort Extreme and new Airport Time Capsule, which offer simultaneous dual-band WiFi to enhance throughput and performance. The 11-inch MacBook Air starts at $999 for 128 GB, while the 13-inch MacBook Air with 128 GB starts at $1,099. The new MacBook Air laptops ship today.
Update 1:52 p.m.: OS X Mavericks is coming this fall, even though a developer preview is available today.
Update 1:44 p.m. Federighi describes Maps and iBooks now on the Mac. Everything you do on the iOS apps is then carried over to your Mac. Federighi performs a demo of Apple Maps on the desktop, including Flyover, Directions and Search for points of interest, which can all be sent directly to one's phone instantaneously. The new Calendar app shows the continuous scrolling across days, weeks and months. While the stitching is gone -- clearly a foreshadowing of iOS 7 -- Calendar is smart enough to check Maps and Weather for you, and even checks the travel time needed to get from one location to the next. Based on your mode of transportation, Calendar performs these time-based functions by itself. iBooks looks as it does on iOS, and books can be adjusted for type, font, and even day or night. Interactive iBooks textbooks can be pinched to see all of the pages, interactive elements like HTML5 and videos feel much more intimate with a bigger screen. Users can also take notes in the sidebar, which are immediately translated into study cards for later.
Update 1:40 p.m.: Federighi introduces iCloud keychain for OS X Mavericks, which is always encrypted, and it remembers all of your passwords, including credit card information. The new Notifications in OS X Mavericks makes it much easier to reply directly to emails, texts and FaceTime directly in the notification without ever having to enter the separate app.
Update 1:34 p.m.: Apple is giving OS X Mavericks a much faster and more effective Safari browsing experience for Web users. Apple has made Safari much faster, but more importantly, browsing through one's bookmarks, favorite sites and even links shared by others on social networks is extremely easy, as it's all directly on the home page. Federighi is now going through a demo of the new Safari features.
Update 1:32 p.m.: OS X Mavericks is introducing better battery life for OS X power users, including new features like App Nap, which puts unused apps to "sleep," Compressed Memory, and Timer Coalescing. With Timer Coalescing, Apple reduces the level of CPU interruptions and transitions by up to 72 percent. Compressed Memory rapidly compresses inactive memory used by the computer to give free space to any application one is currently using, which makes responsiveness up to 1.4 times faster.
Update 1:23 p.m.: In OS X Mavericks, Apple has introduced the Tabbed Finder, Tags, and Full Screen Apps on Multiple Displays. Federighi is now going through a demo of these various features. Separate windows merge into tabs, each with different view settings. Saving documents gives users an option to save the document with any number of tags. It's easy to create tags on the fly, and assign other documents to that new tag. Tags also make it very easy to search through one's files. With a second display connected to his MacBook Pro, Federighi can freely use full-screen apps on the second display, using Spaces to swipe back and forth between various applications, and even drag assets across the apps. Apple TV owners can also use that display as yet another screen to do work.
Update 1:20 p.m.: Mac guru Craig Federighi takes the stage, admits Apple has run out of cat names. But fortunately, Apple's creative group has introduced OS X Sea Lion. Just kidding. The new name is OS X Mavericks.
Update 1:18 p.m.: Tim Cook is talking Mac. The iMac is still the No. 1 desktop in the U.S., and the MacBook Pro is the No. 1 notebook in the U.S. Apple has shipped 28 million copies of OS X Mountain Lion, last year's OS X software, which makes it the bestselling Mac software of all-time.
Update 1:14 p.m.: The developers from Anki are having great trouble with their AI robotics software, which analyzes potential actions from surrounding cars in real-time. Ah, now it works. Apple's iOS powers everything, including movement and AI, which allows the cars to drive at different speeds and even block each other.
Update 1:10 p.m.: Apple is closing in on its fifth anniversary of the App Store, with 5 billion total app downloads. Apple boasts 575 million App Store accounts, and Apple has paid developers a whopping $10 billion total since the Store was created in 2007 -- with $5 billion paid out in the last year alone. That's three times more than all other mobile platforms combined.
Update 1:06 p.m.: Apple CEO Tim Cook takes the stage. He discusses what's in store for WWDC 2013 attendees, and begins explaining Apple's retail presence -- 407 retail stores, including its newest one in a 100-year-old building in Berlin.
Update 1:01 p.m.: Apple asks everyone to turn off their cell phones. Any minute now.
Update 12:50 p.m.: Apple developers have filled the auditorium and are beginning to take their seats. Daft Punk is playing in the background.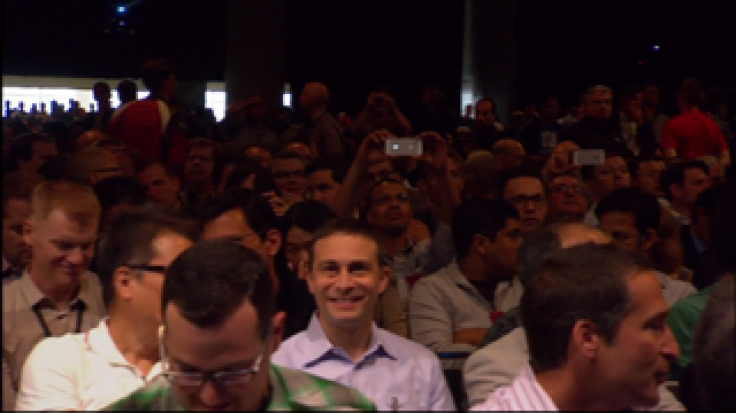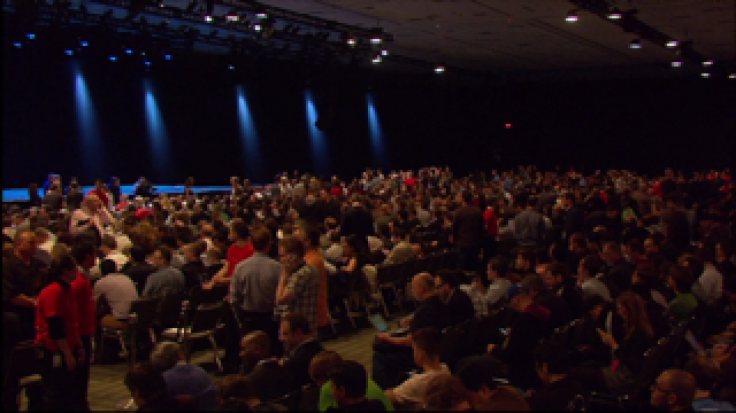 Update 12:34 p.m.: Apple has three main live stream options to view its keynote for WWDC 2013. Check out the live stream options explained in greater detail on our page.
© Copyright IBTimes 2023. All rights reserved.