Apple's iCloud Backup Still Experiencing Outage; Users Can't Restore Devices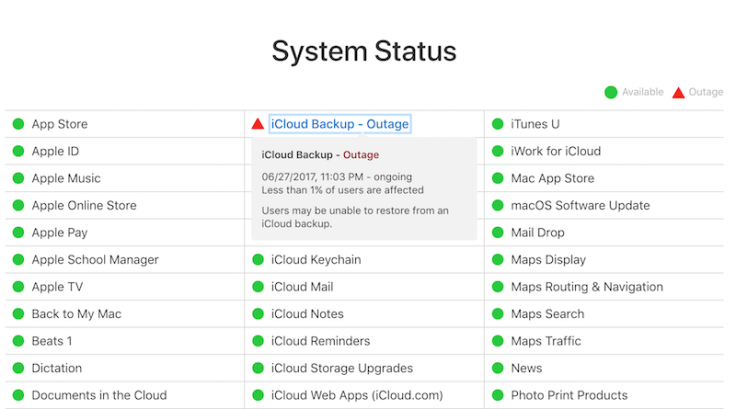 A small number of people are unable to backup their data on Apple's iCloud. Apple says that only less than 1 percent of its users have been affected by the outage, which has been going since the early morning of June 27.
The main problem here is that some users are unable to access their backup data in Apple's iCloud service. iCloud is Apple's own service that lets users store and or backup files, songs and other data from their iOS device or Mac computers to the cloud.
The iCloud Backup outage is said to have been going on since 8 a.m. PDT on Tuesday, June 27. Apple hasn't provided details as to what has caused the problem, but it has already updated its System Status page to show that the issue is already being addressed.
Apple says that only less that 1 percent of users are affected by the iCloud Backup outage, but it hasn't stopped users on Twitter from airing their frustrations over this debacle. Some users are saying that they're experiencing ridiculously long restore times, while others are seeing a message that restoring data is failing to complete, according to 9To5Mac.
iCloud backups can still actually be made on iOS devices, so this means that users' data are still safe, as pointed out by MacRumors. However, the outage means that some users won't be able to access the data that they've stored to the cloud, making it impossible for some to restore their backups on their devices.
The iCloud Backup outage has been going on for a very long time, and it's a bit unusual that Apple hasn't solved the issue yet. Another thing that's a bit worrying is that Apple hasn't given more details as to what might have caused the outage. The tech giant hasn't provided a timetable for when to expect this issue to be fixed.
Even if the iCloud Backup outage is only affecting 1 percent of Apple's users, that still represents hundreds of thousands of people who won't be able to restore their backups or retrieve their data. People who also recently purchased an iPhone, iPad or iPod touch might also be affected.
Those who just bought new Apple products typically use iCloud Backups to transfer their their data over their new devices, as pointed out by Phone Arena. Types of data that are usually transferred from a new device includes purchases from iTunes and the App Store, saved contacts and iMessages, and saves settings preference.
For those who just bought a new iOS device and want to avoid the iCloud outage, they can simply set it up as a new device. This way, they don't have to wait to retrieve their data from their iCloud Backup, but this also means that their new device won't have all their past data.
It looks like the iCloud Backup outage will continue, unless Apple finally releases a fix for the issue. The only thing that most users can do now is simply to wait it out, and hope that its resolved sooner rather than later.
© Copyright IBTimes 2023. All rights reserved.
FOLLOW MORE IBT NEWS ON THE BELOW CHANNELS